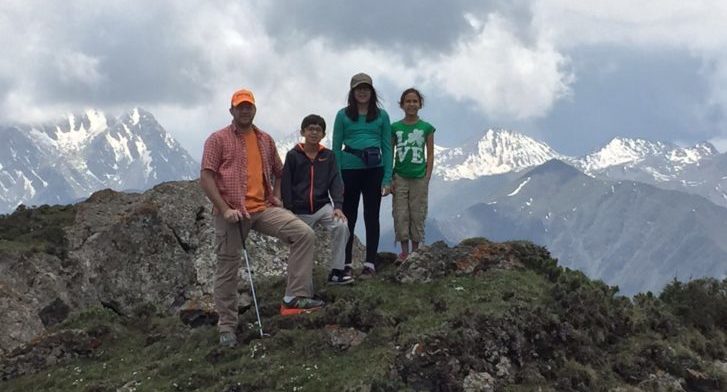 West Newsletter: October 2017
An Interview with our Kids (and other Happenings)
Before sharing the interview I would like to share three prayer requests:
1) Praise God that we are finally finished moving! It seems like we spent all summer either moving ourselves or helping other friends and teammates move. That has all finally come to an end, with only a handful of things to do around our new place. Pray that our new apartment, in a more strategic area of town, would be a blessing for many years to come!
2) We are trusting God for grace in this busy ministry, homeschool, and holiday season! Life is stressful enough without the extra cross-cultural challenges, like making all meals "from scratch" (and super-high prices for the most yummy things… $4 for a stick of butter?!), AND unreliable internet (hundreds of blocked sites: Facebook, Google, Youtube, Twitter, etc). Pray for His grace to be sufficient for all things!
3) Thank God more teams are on the way! We hosted an amazing team last month, and distributed tens of thousands of Scripture booklets among China's least reached Muslims, Buddhists, and Atheists! This is the best time of year for this particular ministry (cheap flights, long nights, and cooler weather!), and we have 3 more teams coming between now and the end of the year. Please pray for protection.
An Interview with our Kids
We were recently asked by a supporting church to have our kids answer a few questions so that they could get to know them better and pray for them more specifically. Here are the results…
What is your name?
"Gabriel Benjamin West, but I usually go by Gabe."
"Ariel Susana West. My cousin Susana is named after me and my grandma Susie!"
"Abriana Isabel West, but I go by Abby almost all the time."
Who are your mommy and daddy?
Gabe- "They are missionaries in China, but for some strange reason I like to call them "Moodah and Foodah" (German-ish accent)."
Ariel- "They are Ben and Deysi, but here in China many people call them by their nicknames Eugene and Cindy."
Abby – "When my mom was my teacher in kindergarten at the international school here, about 2 years ago, I had to call her "Teacher Cindy"!"
What do you like to do when you travel?
All three: "Go swimming, because its something we can do almost anywhere."
What do you miss most about America?
All three: "We miss our family and many American foods!"
What is your favorite thing about being a missionary?
Abby- "I get to travel to lots of different places."
Ariel- "I get to see and experience many cool things that most people don't."
Gabriel- "I get to go with my dad and teams to sneak around at night, giving away tons of Bibles to lost people."
What is your favorite thing that you can't do in America?
Abby- "Explore more interesting places and play more outside (American playgrounds are boring)."
Ariel- "I get to spend time with my cat Roxy."
Gabriel- "Bible smuggling and spending time with fun teams."
Do you have a McDonald's where you are at?
All three: "Yes, but it is not the same, especially for breakfast! We can't get hardly any of our favorite things here, like real sausage biscuits (only english muffins) and pancakes (none at all)."
What do you like to do in your free time?
Abby- loves climbing anything (walls, trees, rocks), "master building" with her Legos, and, "organizing her room."
Ariel- loves playing with her cat Roxy (and decorating her room with cat pictures), spending time her friends (from all over the world), and reading.
Gabriel- enjoys reading big books, trying to invent things, and playing in the mud.
What has Jesus done for you?
Gabriel- "He has forgiven me and made me good at hiding, so I can help my dad's teams deliver Bibles secretly at night."
Ariel- "He has saved me and made me want to help my dad with his teams." 
Abby- "He died for me, and has given me the desire to be a missionary in the Amazon jungle."
What are you most thankful for?
Gabriel- "That I have good friends here in China."
Ariel- "I'm thankful for my family (including my cat Roxy) and for my friends here."
Abby- "I'm thankful for our cat Roxy, and for being able to grow up in China."
Photo Credits: Ben West