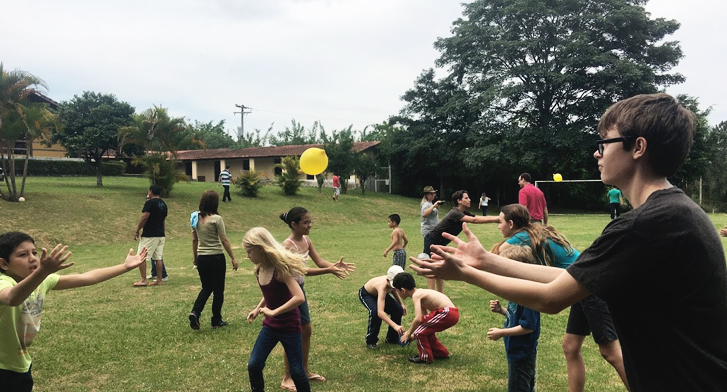 Helland Newsletter: March 2017
by Aaron & Esther Helland
Greetings from Brazil!
We have been in São Paulo now for six months and we are loving it! Along with one-on- one discipleship and cell groups ministries, we are also going to be working with children again! God has been speaking to Aaron about heading up the children's ministry in the church here in São Paulo, and the senior pastor, Esther's Uncle Abe, was really thrilled to hear. Uncle Abe had been asking God for a pastoral couple who would take over the children's church ministry, so when Aaron said we would do it, Uncle Abe felt it was an answer to his prayer. We want to reach as many children as possible, so please pray for wisdom for us.
Uncle Abe is taking Aaron and a team of pastors from our church to the US next week to study a few top, growing churches to learn as much as they can about how they organize their ministries, and Aaron will be studying the children's church programs. We want to do something of high quality that children will love and that will attract them to Jesus! In Fortaleza, we worked with slum children; we will be doing this now, but we also want to organize the children's ministry as a whole and make it super exciting and fun, to reach as many children as possible! Thank you for your prayers for the best children's outreach ever!!!
Wherever we travel we continue to see God's mighty hand. On a recent trip back to Fortaleza, we saw many people healed, including one lady who had lost all cartilage in her knees and had severe pain. During the worship time, she was totally healed and was able to run around the church with no problem at all!  We also received a wonderful visit from Bishop Brad Reynolds from Ephesians 4 Network who gave a powerful word and very anointed ministry at the Fortaleza church.
On a personal note, our four children started attending a Brazilian Christian school for the first time last week and are loving it! Even our youngest is so excited to go every day, even though he doesn't understand all the Portuguese yet.  Praise the Lord for a great transition from English home-schooling to the Brazilian Portuguese school.
Photo Credits: Aaron Helland