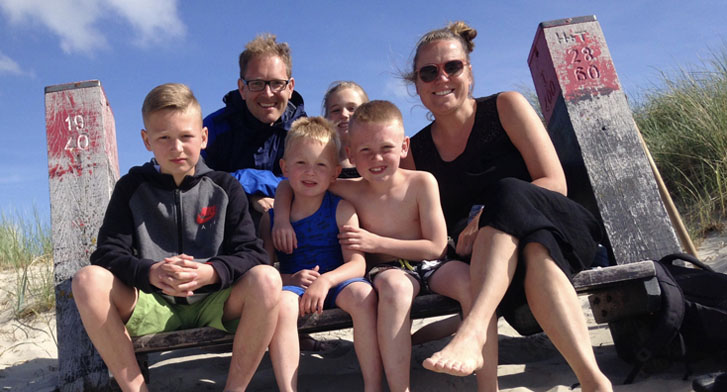 By Matt & Femke Helland
"Una Vida Nueva" from Prostitution
For nearly a year, we have been weekly visiting the prostituted women of the Red Light District in Amsterdam. We are happy to share that we have been a part of helping three ladies step out of prostitution and are currently talking to more women who want to quit. Not only have we seen lives radically changed, we have also seen new Spanish speaking groups started in different parts of the city. Every group has women involved who have worked or still work in prostitution. We are seeing lives being changed through Jesus.
One of these women who quit prostitution named Sarah*, asked Matt to come to her house and do a Bible Study with all of her friends. After the second meeting, she said, "If I say Bible study, five or six of my friends come. If I say barbecue, then they all come." So we decided to do a barbecue the next week.
More than 30 people showed up at her house. During the barbecue, we got to pray and prophesy over everyone present. Sarah said that after we left, everyone kept talking about God and about the healings they saw and the prophetic ministry they experienced. We celebrate the victories we have seen, but desire to see more take place.
Most of the Hispanic prostitutes in the Red Light District know us now. Pastor Mateo is how Matt is known. Sarah said the first time she saw him, she thought he was a crazy Spanish speaking white man calling himself a pastor. Since then, she has become a faithful member of our weekly Bible studies and the one who is inviting her friends most often.
Maria* is another woman who has worked as a prostitute for over 12 years. She saw no hope and no way out of prostitution. The first two times she came to our office, she cried profusely. Now her face has totally changed. We have been able to help her find a new home and get the help she needs to start una vida nueva (a new life).
These stories excite us, but there have been so many stories we have heard that continue to break our hearts. We never thought we would become pastors to prostitutes, yet we find this ministry to be a great joy and honor. Would you please pray with us that we will be able to help out the women who want to find una vida nueva? Will you pray for us that we will be able to start a new Spanish speaking church called Vida Nueva?
*Names have been changed.
New Book Available
By the end of July 2017, Matt's Book, Prophesy and Heal the Sick: How to grow in Prophecy, Words of Knowledge, Healing, and Power Evangelism, will be available to order on Amazon. This book is full of practical guidelines and personal experiences from years of teaching Schools of Prophecy around the world. This is a great way to read about our lives, but also to get the tools to be able to prophesy and heal the sick yourself. We can recommend it for individuals as well as for groups.
International Ministry
In the next months, Matt will be ministering in Holland, Mexico, Belgium, USA, and Ukraine. Earlier this year, Judah (our oldest son) joined Matt for a large youth camp in Ukraine. We enjoy it when our kids can join us in ministry because we love to do ministry together.
Please pray for wisdom and protection as new doors of ministry continue opening up in many places. Our dream is to see thousands of new disciples and new churches planted through the power of the Holy Spirit in the decades to come. We pray that "Vida Nueva" will be one of them. Thank you for partnering with us though your prayers and financial giving to make this dream come true.