In this months Leadership Cast we sit down with the new president of Southwestern Christian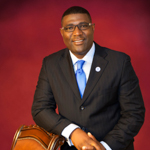 University, Dr. Reggies Wenyika. President Wenyika has been working in higher education since
1993 and talks with Garrett Magbee (IPHC Website Manager / Communications) about his background, calling into higher education, and the benefits of Christian higher education.  Make sure you do not miss the great insights President Wenyika shares in this episode as well as his heart for higher education, SCU, and his Christian faith.