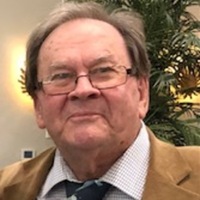 Rev. Robert Parham Brown
April 30, 1940 - January 17, 2022
Rev. Robert Parham Brown (81), of Stuart, FL went to his heavenly home on January 17, 2022, after a long battle with cancer. "Bobby" modeled the heart of Christ and was a known, effective prayer warrior. He served as a missionary to the Virgin Islands and Africa for 20 years. He was born in Griffin, GA to his late parents Benjamin and Gladys Brown.
He was survived and will be missed by his beloved wife of eight years, S. Rebecca Crocker Brown, his siblings, Benjamin Brown III, Leslie (D. Charles) Brown Corbett, Abigail Brown Eldridge, Lewis Brown, Frank Brown, his daughter, Ruthie Lynn (Frank) Ceja, his stepchildren, Curtis (Wanda) Crocker, Jeffrey (Joyce) Crocker, Matthew (Laura) Crocker, James (Sandee Jo) Crocker, Wesley (Patricia) Crocker, and many nieces, nephews, and grandchildren.
Rev. Brown is preceded in death by his parents and former wife, Dixie Ellen Brown.
He left this earth as quietly as he led his life. His final resting place will be at the Florida National Cemetery in Bushnell.
Arrangements are under the direction of the Treasure Coast Seawinds Funeral Home, Stuart.  There is an online registry at: www.treasurecoastseawinds.com
-------------------------------------------
On behalf of the International Pentecostal Holiness Church and, in particular, its missionary family, I extend our most heartfelt condolences to Rev. Brown's wife, S. Rebecca Crocker Brown and his family and friends. 
We are born, we live, we die. But we also know that we are held in the hand of the Almighty God who knows no time, who is eternal. And we know that nothing, not even death, will separate us from the love of God, which is in Christ Jesus our Lord.
May the Lord of peace Himself give you, his family, peace at all times and in every way. 
The Lord be with you all.
Bishop J. Talmadge Gardner
Executive Director
World Missions Ministries