Overcoming Obstacles in Vietnam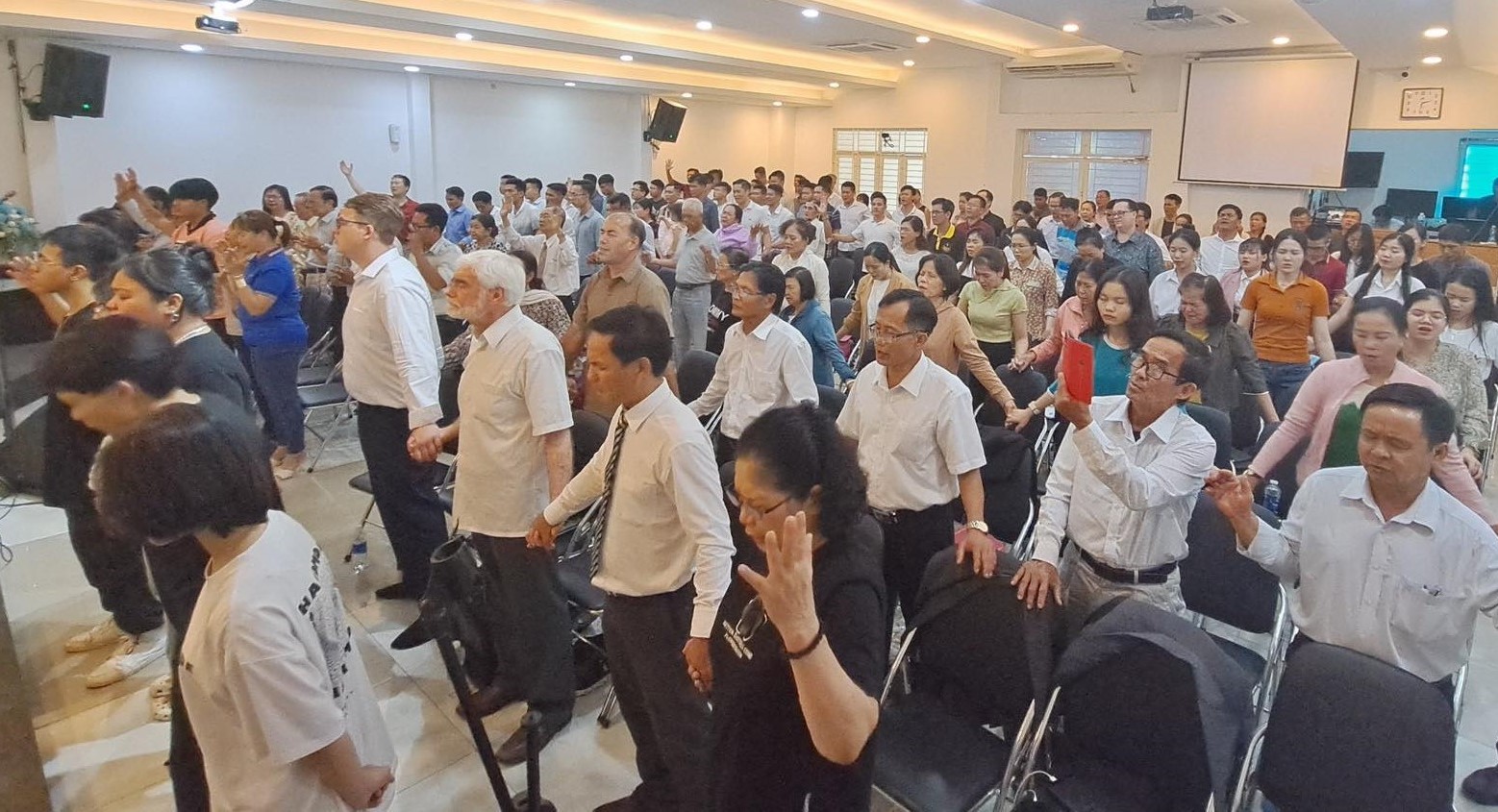 The 100 million people of Vietnam practice a mixture of Buddhism, Taoism, and ancestor worship. Evangelical Christians make up less than 2% of the population, and the ruling Communist party tries to keep that number small by restricting their freedom to worship and evangelize.
Our team made a recent trip to Ho Chi Minh City, Vietnam to hold a conference with our IPHC pastor there, Rev. Joshua Le. Pastor Joshua is a powerful worship leader and composer. The conference was aimed at ministering to Vietnamese pastors and leaders who labor in difficult circumstances and face much opposition.
Attendance exceeded 150, including both independent pastors and denominational leaders. The Lord affirmed that these individuals were chosen by Him to bear fruit in this land. We took time to pray for each one, asking the Lord for a fresh anointing and confirmation of their ministry. We came away with a strong sense of unity in Christ, assured that we are laboring together for His glorious Kingdom.
One afternoon we paid a visit to a special ministry run by Catholic nuns, who care for more than 60 children and young adults afflicted with cerebral palsy. Families from all over the country send their children here to be cared for by the sisters. Pastor Joshua and his wife Lily regularly bring supplies to the center and spend time with the children. Some communicate well, others do not at all. It was a heart-wrenching experience. We are thankful that these children can know the love of God, and we look forward to the day when God will give them strong, new resurrection bodies!
We also spent some time at a recovery center, where over 70 young men and women have found deliverance in Christ from drugs and other addictions! They are learning how to follow Jesus amid the world's deceptions and temptations, and are being formed into faithful disciples, equipped to serve.
I had the privilege of preaching at a street outreach service led by some of the recovered addicts where five individuals came forward to seek salvation in Christ. Worshipping together with these passionate young men and women as they sang and shouted the praises of their Deliverer was an unforgettable experience!
Points for Prayer:
• Pray for the pastors, evangelists and believers in Vietnam as they battle against government restrictions and religious opposition. Pray that the Word of Christ will go forth and bear fruit.
• Pray for blessing upon the businesses of Christian men and women, that they may finance the work of the Kingdom.
• Pray for the sisters at the care center and the individuals housed there. Pray for resources and provisions, for grace and strength for the workers, and for God's healing love for the afflicted.
• Pray for the staff and inmates at the recovery center, that lives will be redeemed and transformed as a witness to the love and power of Christ.
Thank you for partnering with us to fulfill the Great Commission in Asia!
Russell & Sandra Board
"The mark of a great church is not its seating capacity, but its sending capacity" - Mike Stachura