Children Mobilizing Children to Pray for Unreached People Through Song!
Dear Faithful Supporters,
A great opportunity is at our door this March in Malawi to welcome musician, artist, song writer and child evangelist Soekie Krog from South Africa. Her desire and ours click! We want to record Malawian children worshipping God and singing songs to mobilize other kids to pray for the unreached people groups. Children are engaging children to be part of the Great Commission using their gift.
Soekie and Ami will work with the national team in Malawi to make this happen. On arrival, we will meet with the team and make sure the planning we have done in February is all on track. Six schools will be visited to experience devotional ministry in song. The first week of training will provide Pastors and Children's Ministry Directors three days of presented information on the challenges to grow in this ministry. In the second week, four days will be dedicated to training Sunday school teachers and the choir masters. Then, six kids will be auditioned and recorded singing Chichewa and English songs. On the weekends, the team will visit churches where they will be leading worship with kids and parents together. Learn more about Soekie by visiting her YouTube channel: @SoekieSandraKrogRadikids.
INVITATION: Anyone free to join in for this music mission experience with Soekie and team are welcome. It will just take a ticket to Lilongwe, Malawi. You will need to arrive on March 23 and depart on April 10. Budget for a daily rate of $150 to cover travel, food and meals. Travel with your COVID vaccination card or negative test.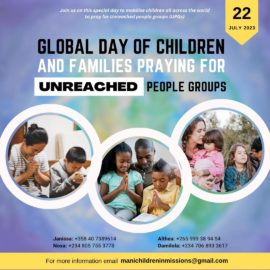 We are developing resources in preparation for the Global Day of Children and Families Praying for the Unreached People Groups on July 22, 2023. This event will be via Zoom and the link will be made available in July. Join in and be part of experiencing children being moved by the Holy Spirit to call out salvation and harvest workers for the nations.
Just before I left Mauritius in the end of January, we trained a group of individuals who will be leading the children's workers on this global day of prayer on strategies of how to accomplish the Great Commission. Last year, 150 children participated in Mauritius, and more in Malawi. During the training, it was important the teachers learned to help children understand God's heart for missions and that He wants to save all lost people. Children need to not only understand what lost means, as well as the unreached people groups in the world, but they need to be taught the heart of a missionary and the preparation to see salvation in the nation they go to.
This is an invitation to become a partner in this ministry work to lead children to Christ-likeness.
This month, would you prayerfully consider partnering with me in a Faith Commitment to support my personal budget? This support allows me to remain on the field till January 2026 and to partner with God in His will (Matthew 18:14).
You can give at give.iphc.org/project/meyer-althea-ministry, or by check to World Missions Ministries with 10101S in the memo line.
Pictures: During training, the teachers were mapping out the areas where the most unreached people in the world live.
Thank you for giving a hand,
Althea Meyer