GREETINGS FROM THE GULF COAST (HARVEST) REGION
Recently the governments throughout The Gulf Coast Region have put into action many of the same restrictions of the USA. Travel has been brought to a standstill, many businesses have been shut down, and church buildings have been closed. However, through it all, and at this point, the work still goes on with online services and small (permitted) groups.
MAHANAIM CHURCH CELEBRATION BEFORE THE RESTRICTIONS
Phyllis and I were invited to a church celebration. This work was started on our last tour. Along with all that we do, we were able to help with the training (the pastor is one of our graduates of the School of Ministry), funding, and ministering there several times.
HELPING US HELP THEM
Unbeknown to us beforehand, we were given a certificate of appreciation during the meeting. Actually, it is "OUR" certificate. You, our supporter, helped us, help them. TEAM WORK WORKS! PTL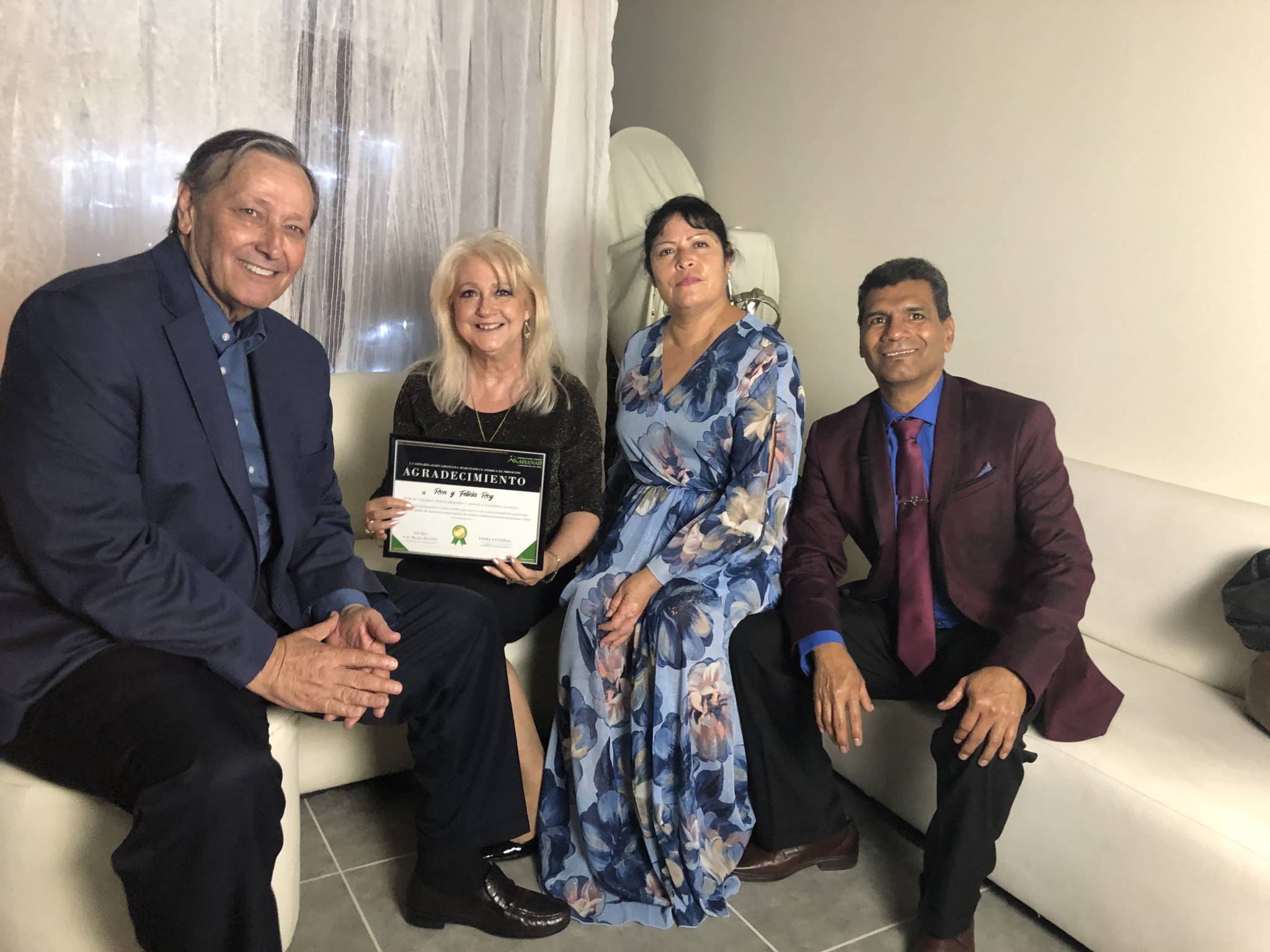 CELL GROUPS AND METHODS
Several years back, many of our churches adopted and innovated the cell group method to fit their cultural settings. Because of that decision, many of our works can continue with a semi-hands on approach due to the restrictions placed upon the churches. In short, despite the restrictions of no large gatherings, the cell group method is serving its purpose while staying within acceptable governmental guidelines.
ONLINE SERVICES
It is amazing to behold, the born again nature as it seeks to express the Great Commission. A pastor shared with me, when the restrictions were put into effect the first Sunday, that they had over 7,000 viewers as the service was streamed. Assuming that there were two to four people per household, we estimate that we had somewhere from 7,000-21,000 people join us for service that Sunday. Ministry goes on, just a little differently, and is reaching more people in each service. That is a win!
UTILIZING OUR INTELLIGENCE, WE GLORIFY GOD
God is an intelligent individual. When we use our intelligence, we glorify Him. In times like these, we should put into practice thinking out of the box. Many are motivated by circumstances and fear. No one should downplay the COVID-19 crisis. However, we can still function as the Church and approach this crisis using new and innovative ideas and methods. The methods we use can change and sometimes need to be changed. The method is important, but more important are the results. PTL
GUATEMALA
All is holding together. The biggest concern for our churches is the economy. The restrictions can play havoc if left in place for too long.
BELIZE
Belize is going through harder times. All businesses have been shut down. Many of our people sell perishables and such for income. If there is no income, lost produce, no reinvestment funds, no money, and no food, then a disaster is not far away. As of this writing, our team is asessing what can be done and how to reach out to the most vulnerable, not limited to but, starting with our own. This is what family does and should do. PTL
HOPE FOR THE FUTURE - THIS TOO SHALL PASS
The reports we are gathering indicate that our churches in the Gulf Coast Region are moving forward, reaching out, and adjusting. Harvesting is work, and dedication to the task is a must. Lately, this includes online services, people waking up and joining in prayer from their homes at an appointed hour, staying active, being diligently faithful, and moving forward. I believe these five important steps is the method for the moment that will help the Church to shine at its brightest in this time of uncertainty. We (you and I) are playing a vital and sometimes behind the scenes role, helping to make an eternal impact for the good.
PHYL'S CORNER GREETINGS
God has been very gracious to us. January 17, little Adrian (Riaan for short) Joseph Burger was born (Ron calls him Little Ron, I wonder why lol). Amber is doing well, and her husband can spend time helping. In January, Ron and I were able to spend a little time with them. He is so precious.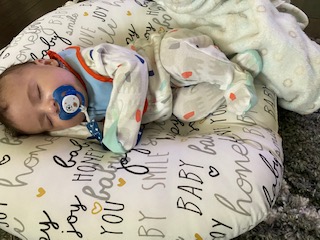 THE WORD OF GOD
I'm so thankful for the word of God. We can stand on His promises that are forever true. When I wake each morning, I'm encouraged in my spirit by these words, "Let the joy of the Lord be your strength." May you also, my dear friends, be encouraged during the times we are living. As Ron mentioned earlier, "THIS TOO SHALL PASS."
Thank you for all of your prayers and support. We appreciate and love you.

Blessings to you and yours,
Phyllis
IN CLOSING
There is nothing new under the sun and, more importantly, God was not surprised by this crisis. Our faithfulness, in good times, is easy and doesn't require much sacrifice. However, faithfulness in hard times can be a not so easy sacrifice. That is when commitment to the cause plays a vital role in all that we do. We only need to look at Mt. Calvary for a prime example.
"And whatsoever you do in word or deed, do all in the name of The Lord Jesus, giving thanks to God and the Father by Him." (Colossians 3:17)
SOWING AND HARVEST
We shall reap if we faint not. If you or someone you know would like to help with relief aid to Belize, contact me with the contact information listed in this letter.

IN HIS SERVICE
LOVE AND BLESSINGS
Ron & Phyllis Roy