Greetings from Belgium, my dear brethren! 
"Peace and prosperity to you!  I want you all to know about the miraculous signs and wonders the Most High God has performed for me. How great are his signs, how powerful his wonders! His kingdom will last forever, his rule through all generations." Daniel 4:1-3 (NLT)
Daniel 4:1-3 records Nebuchadnezzar's words describing God's dealings with him during the time of his humiliation. These are the same words that come to my mind each time I write this letter to all of you, especially in this month of April when God has shown His powerful wonders.
Starting with the Oasis Center, even during all the renovations we are doing for it to function as a cafeteria in the mornings for five days a week, we were able to prepare Easter gifts for the girls of the district. As gifts, we put together key rings. It was a joy to not only give them away but to make them.  We pray that each person who received one is blessed and can feel the love of God every time they look at it. We produced 200 key rings, and none were left over. We then distributed the gifts on April 13. We choose this day to target those from Eastern Europe since the Orthodox Church celebrates Easter a week later than the Western Church.
Another one of God's wonders we were able to see this past month was that two people who have been coming to our devotional and fellowship time professed to give their lives to Jesus. One of them, with tears in her eyes, told us she had never owned a book in her life and that she was glad her first book was a Bible. We pray their professions were sincere and that we will soon see the fruits of the transformation Jesus made in their lives.
This past month, CrossPoint Ministries had the privilege of hosting our General Superintendent Dr. A.D. Beacham, Jr. to share with us on Good Friday and Easter Sunday. It was an honor to be able to receive his words during this celebration and then be able to pray for his life and ministry. My regional leaders Harold and Kathleen Presley were also present. I thank God for the denomination to which I belong. From the moment Mauricio and I set foot on the mission field, IPHC's backing and support has been strongly present in my life. Whether during the challenges and failures or the victories and triumphs, the denomination has given constant support and has not changed or ceased.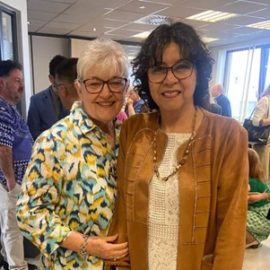 That same week I received a visit from a very dear friend Marylin Deaton who, together with her husband, has pastored for many years in Florida and has been very involved in supporting missions work in Belgium, Ukraine, Peru, and others. Her advice and prayers were of great importance to my life after my husband passed. Without them, I am not sure I would have been ready to return to the mission field three months after he went to be with them Lord, nor could I carry out the ministry that I am doing now. Of course, all the glory goes to God, but He uses His children so that we can minister to one another when we feel faint. God allows us all to be ready to minister to those who are in need.
In April I was also able to participate in a meeting of pastors who belong to the network of churches under the coverage of A-Net (Antioch Network) and who represent us in front of Belgium's government offices. From the moment our church was registered in Belgium in 2007, we received legal coverage from this institution, and our relationship has grown since. God bless and fill this institution's leadership with wisdom as they cover dozens of churches in this country.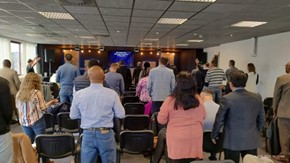 Another activity I was able to participate in this month was training entitled Church Planting Essentials. Dynamic Church Planting International (DCPI) provides very effective material for all those who want to plant churches by drawing from all the experiences of those who have learned the best ways to do it. The lessons I enjoyed the most were the 12 Biblical Principles and Avoiding Mines in Church Planting. At least two churches are preparing to be established in Belgium thanks to this training. Glory to God!
The last thing I want to share with you is that I finally got my driver's license this past month. Hallelujah! It took several hours of class, four different exams, and several hundred euros invested, but I was finally able to obtain my license. Now, I must do the necessary research to find the right car to buy.
I ask for your prayers for this coming month as I travel to Poland for an installation and recognition service for the pastoral couple who has been doing a phenomenal job with the Ukrainian community that took refuge in Poland after leaving Ukraine due to the war. In my next letter, I will inform you of this event.
May the Lord bless you, make His face shine upon your lives, and grant you peace.
Lulu Salazar
Missionary to Belgium