One thing I have come to love about missions is that it is ministry 24/7. There is always something happening – somewhere in the world and you soon realize that you cannot be everywhere that you need or would like to be. The ministry sphere of the IPHC is simply too vast. Two significant events happened in August that you need to know about. Unfortunately I was not able to be at either event, but Max [Max Barroso, Director of the Awakening] has captured the essence of both events in his descriptive report below: "During the month of August, The Awakening (WMMD's Youth and College Department) had the privilege of hosting two of our continent-wide young and emerging leaders' gatherings in Europe and Latin America.
In Europe, over 60 leaders from Belgium, Netherlands, United Kingdom, Spain, Turkey, Romania, Hungary, United States, and Norway gathered in the beautiful Hungarian countryside for the second edition of Euro Quest! The theme of the conference was "Restoring the Altar of God in Europe," and we were honored to be ministered to by some of the key emerging leaders from within our movement in Europe. Leaders such as Krisztina Revesz from Hungary, David Trujillo from Spain, Jasmine Crilly from the UK and Timotei Bulzan from Romania – each shared their hearts in the general sessions.
It is evident that the Lord has begun something unprecedented among this generation of European young people! The spirit of unity and oneness in purpose was tangible. The deep personal connections and strong relationships formed throughout the days are priceless. One of the highlights of each day was observing leaders from different countries talking across the table about how they could begin working together or be a blessing to one another! As different nations led the congregation in worship each night, everyone could feel the ancient cultural barriers and differences crumbling at the mention of His name. Witnessing the altars filled with leaders pouring out their lives as an offering and crying out for their land was just one more confirmation that Europe's brightest days are still ahead!
The Euro Quest Group in Hungary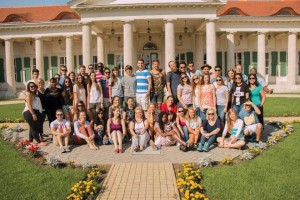 LAMCAR Quest (Conferencia Hispanoamericana de Liderazgo) was hosted in Costa Rica where over 200 leaders represented 11 different nations! We welcomed young people from Mexico, Guatemala, Honduras, Guyana, El Salvador, Costa Rica, Panama, United States, Argentina, Bolivia, and Chile. It was a great privilege to have Presiding Bishop Doug Beacham, Rev. Misael Lucano from Bolivia, Rev. Diego Passuelo from Argentina, and Dr. Lou and Mrs. Becky Shirey ministering at this year's edition. The theme for the conference was "Release for Revival" and we certainly did encounter God in a powerful, meaningful way during the entirety of our time together. God is raising a mighty army of young and emerging leaders in Latin America that are willing to pay the price to see a mighty revival in their lifetime! The Awakening is a very special ministry. There connection and investment with emerging global ministry leaders is critical to our continued transformation as a global Pentecostal movement. Great job Max and Team!
The LAMCAR Quest Group in Costa Rica
-Talmadge Gardner
Executive Director
World Missions Ministries