Revival in the Amazon
IQUITOS, PERU – On Monday, May 16, 2022, a five-story, 200-meter barge, filled with 200 youth, pastors, and leaders, set its course down the Amazon River as a means to train and equip a generation to fulfill the Great Commission while evangelizing the unreached people groups of the Amazon. What they saw in the following days was not only the discipling of the 200 students on board, but also a revivalistic move of the Holy Spirit beginning to break out in the heart of the Amazon. It was something like the local pastors of Iquitos had never seen before, and it's not over yet.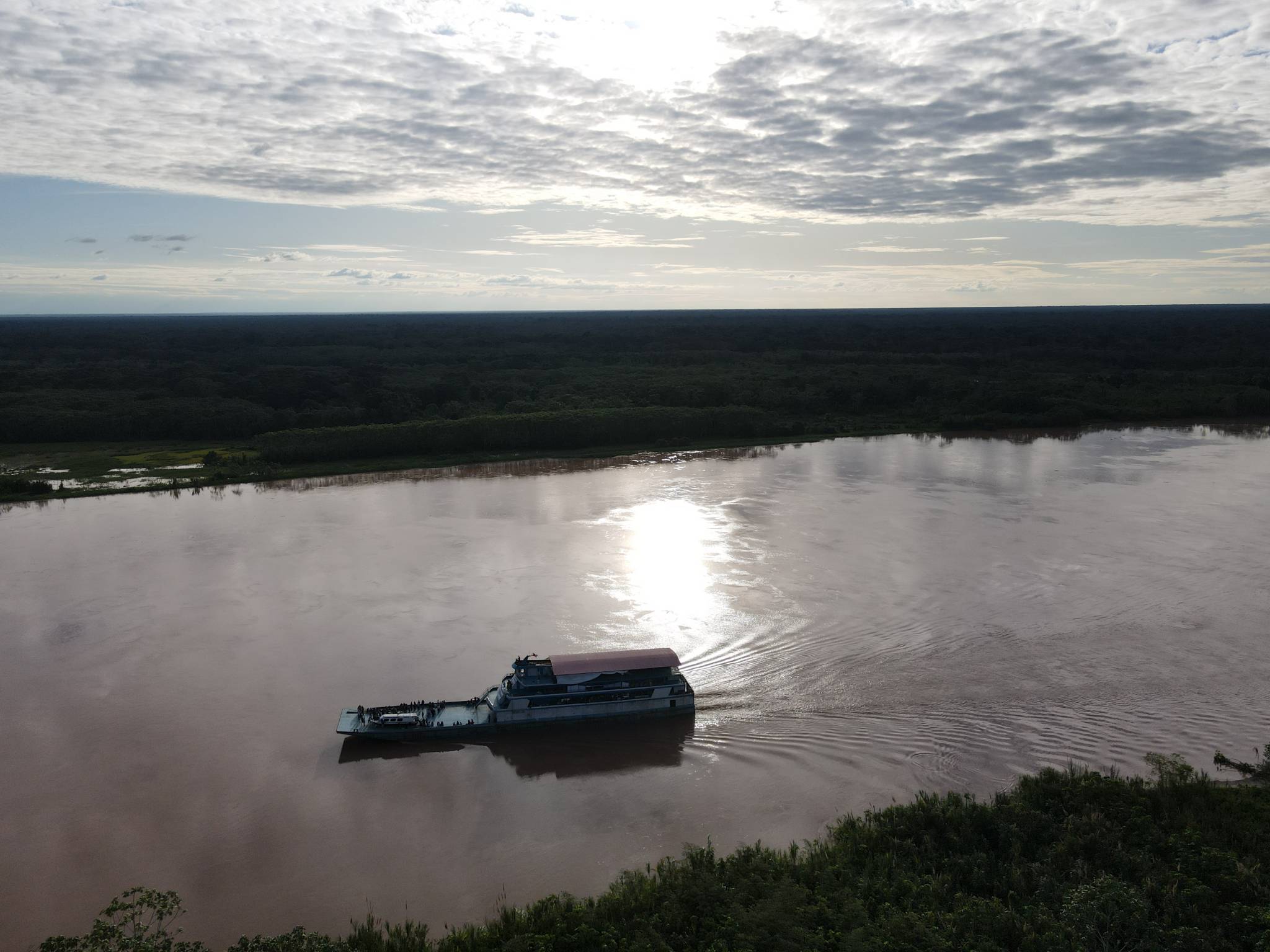 Rios de Fuego (Rivers of Fire), as IPHC Missionary to Peru David Hodges and his team of pastors and leaders have named the mission, is what Hodges calls a floating school and a direct thrust into the harvest. However, the full scope of what God is doing through Rios de Fuego didn't begin on May 16. This has been spoken through generations of prophecies, and it has been the direct result of bold prayers prayed by Hodges, his family, the youth of Peru, and the pastors in Peru.
According to Hodges, in 2019, a group of pastors began praying for an awakening in South America. After a major evangelistic event held that year, Hodges and the pastors began to see a spark in the youth of their country.
"What I saw during that time was that the youth were awake, they were desirous, they were desperate for a move of God, they were willing to pay the price, they were willing to do whatever they had to do to see God move, and they believed for a revival," Hodges said.
The Peruvian pastors knew God was beginning to ignite a generation, and Hodges and his team knew it was time for action.
A few months later, in 2020, Hodges partnered with the IPHC World Missions Ministries' The Awakening to begin The Awakening Peru campus in Jicamarca, where they soon hosted their first School of Missions to equip, resource, and mobilize young emerging leaders from Peru and South America into the harvest.
While some of their equipping took place in the classroom, one of their ministry training grounds became the city of Iquitos. It was there that Hodges says he received a word from the Lord saying, "This is the land that I have chosen to give birth to a great revival in South America."
Hodges didn't know how, and he didn't know when, but he knew God was preparing them to see a great awakening in South America and a generation who would respond to the call of God on their lives. So, they did what they knew best to do: Pray. That's when a small, all-night prayer vigil in the jungle of Iquitos turned into 400 to 500 young people and pastors uniting in prayer to see a move of God.
That night, Hodges asked the pastors what it would take to see revival, and they responded, "The churches being united and preaching the gospel together in the Amazon."
In that moment, Hodges was reminded of a vision the Lord had given him in November 2020. In the vision, he saw three boats going down three rivers and heard, "The three rivers of revival in South America."
It was then that vision of what would become Rios de Fuego was first shared amongst a room of pastors as Hodges asked, "What if we were to take boats up the Amazon, fill them with young people and pastors, and begin to train young people to do missions right around the Amazon."
According to Hodges, the pastors responded, "You're crazy. That'll never happen. Getting the churches to join together will never happen. Getting everyone out there together on the Amazon will never happen, and getting young people to actually commit would be near impossible." Then came the question, "Where are you going to get the finances?"
The pastors set before him a challenge that if he prayed and saw a sign from the heavens, then they would believe him.
That night Hodges prayed and saw in the sky rainbow halos around the moon they had never before seen in that part of the jungle.
Hodges recalled the voice of his father, a cotton farmer in north Florida, telling him, "Whenever you see a rainbow around the moon, there's ice, and it means the harvest is urgent." He continued his recollection, "There's an urgent moment that has to be responded to, or you lose all the cotton. You'll lose the harvest."
As Hodges remembered his father saying, "You'll lose the harvest," he was reminded of the Old Testament prophets saying, "The harvest is lost."
Hodges ran to the Pastors and told them of the sign in the heavens, that they must take a boat on the Amazon, and to trust that the money would be there. According to Hodges, a local pastor ran outside, fell to his knees, and began to weep. At midnight the pastor began to prophesy and cry out, "It's a new day for the Church. It's a new day for a new generation. There are new chapters that are going to be written in South America. Revival is going to break out."
In the months that followed, Hodges began to seek the elders of the church of Peru and began researching the prophecies of old over their country and over South America. As he searched, Hodges found words from past missionaries and revivalists who spoke of a fire that would rise from northeast Peru and move through the Amazon rivers like rivers of fire.
"All of these prophecies point to a time when the generations would come together as in Malachi 4, which has been our heart's cry in this movement," Hodges said. "That the hearts of the fathers would turn to the young people, and the young people would turn to the past. God is a God of generations, and this revival that's going to come is not a revival of youth. It is the revival of generations as in the prophecy, and we are seeing that. We are seeing the elders of the church that have empowered these young people to send them out under the anointing of prophecy from generations past."
Now, this mix of generations, denominations (over 30 churches represented), and five nationalities composed of Peruvians, Chileans, Brazilians, Argentines, and Americans are sleeping in tents and hammocks, side-by-side on a barge. They have set course down the Amazon over the last week, where they are seeing the culmination of prophecies of past and present collide in revival.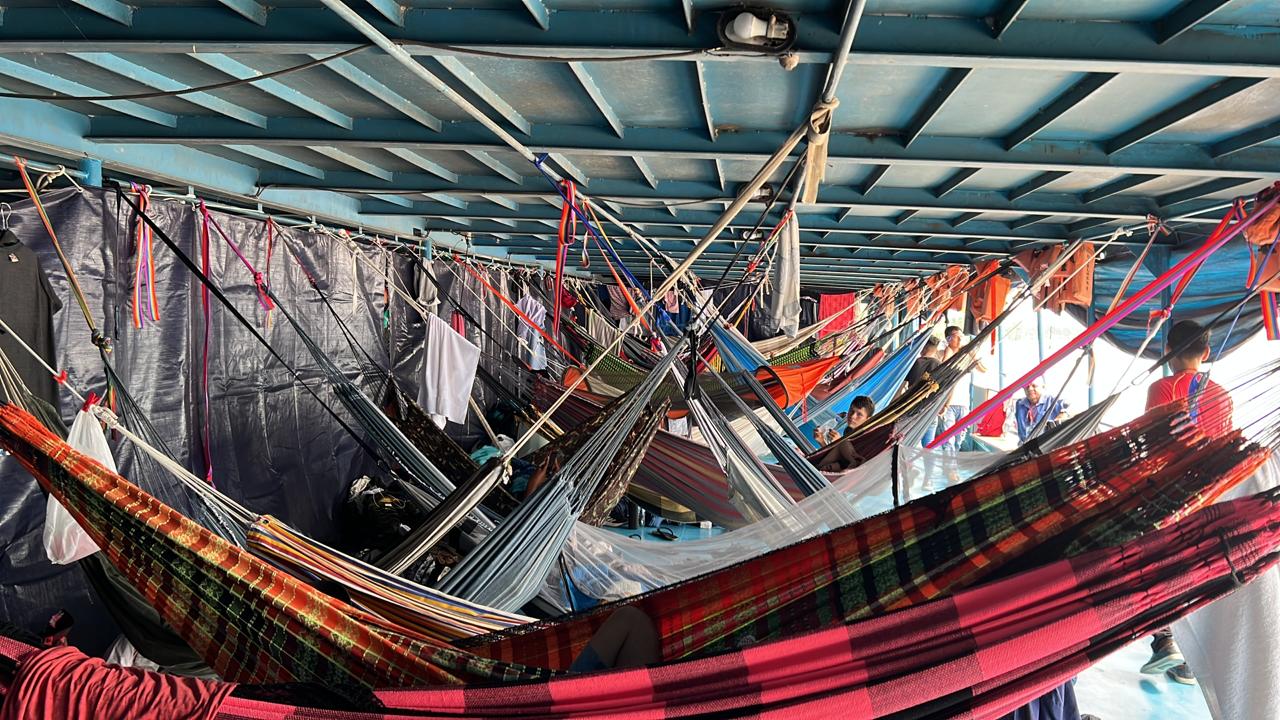 According to Hodges and his team, the 200 missionaries on board, including 13 pastors and many of the School of Missions students who have been with Hodges since 2020, spent their first four days of travel in training on the boat level they have converted into their church.
On day one, the team trained on the man and mission of Jesus. Day two focused on the working of the Holy Spirit through his people. Day three covered the role of the believers in the Great Commission, and on day four, they taught on practical ways to pray for the sick and the lost.
"We focused very little on the how-tos because by then, most of them understood that they were going to put hands on the sick and they were going to see healing," Hodges said. "From there, we began to take the city as an army."
He continued, "On that first day, we took time to pray with them for one hour. We sent them out onto the streets, and within 15 minutes, we began to get pictures back of healing and salvation. People that had said they were going to commit suicide that very day were freed, delivered, and were asking where they could go to be baptized."
That first evening in the city of Yurimaguas, Hodges said they began to minister the simple gospel of Jesus. As they began preaching, healing started to break out.
"All of a sudden, people started raising their hands saying, 'I'm healed, I'm healed," he said. "We had people jumping up and down saying, 'I haven't been able to jump up and down.'"
That night, to baptize new believers, those from neighboring houses were carrying out buckets, even cups, of water to fill a small blowup pool where the team would baptize over 50 people right there in the central park of the city.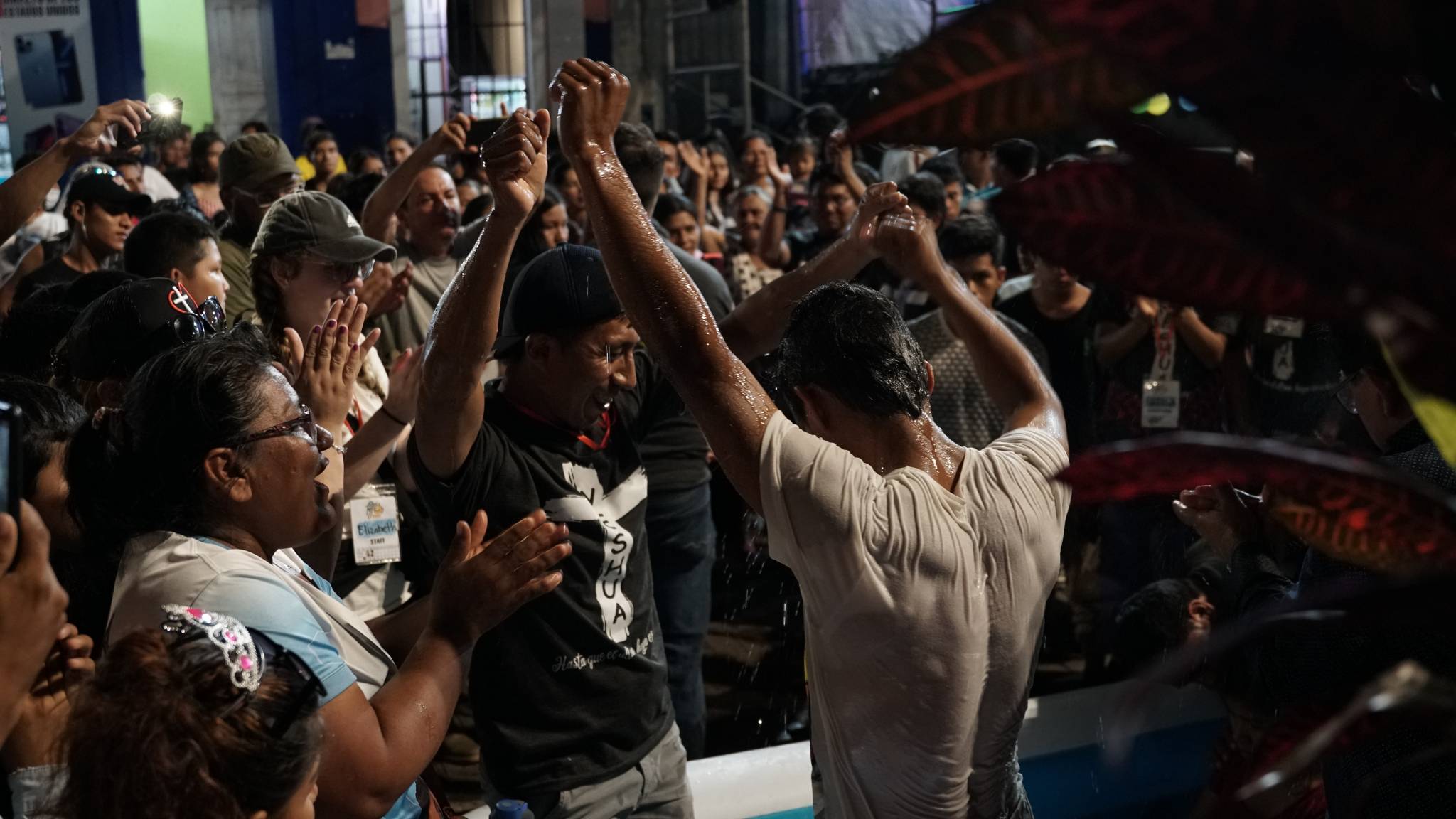 "Miracles continued to break out. People were delivered from demonic oppression right there in the middle of the town," he said.
That was just city number one. From there, the 200 missionaries continued traveling up the Amazon River.
Up to the last point of contact, and according to what is thus far only a rough statistics, the 200 missionaries have placed gospel tracts in the hands of over 30,000 people and evangelized one-on-one to over 900 individuals. They have also seen over 500 salvations, over 120 reconciliations to Christ, over 140 water baptisms, and over 60 divine healings in the cities of Yurimaguas, Lagunas, and Maypuco. Since that time, the team has visited the cities of Saramuro and Saramurillo, San Regis, and Santa Rita. On Friday, May 27, the team is set to arrive and minister in Tamshiacu, a city that Hodges calls the headwater of witchcraft.
Once the barge has returned to the mainland, all aboard the boat will proceed to a two-day retreat to allow them time to rejoice, process, and stabilize their emotions before returning home. However, this will not be the end. In fact, Hodges and his team believe this is just the beginning.
"This has just been a walk with the Holy Spirit. I never dreamed to stand here like this with the church of South America. I never could've seen that we would actually be marking history for the church of a nation, or possibly even a continent," Hodges said as emotion overtook him. "I dreamed of being able to do some type of evangelistic event, but never to join churches from around nations and begin to call out to the Amazon Rivers and to see the church activate itself after a pandemic and after burying 130 of their greatest pastors in their city, and to be part of that renewal and restoration of the church and the restoration of vision and calling the generations back to the prophecies and calling them back to their destiny."
Beyond the work of the missionaries on the barge, the team is not only seeing a revival of hearts turning back to God, but also a revival of the Great Commission.
"This is no longer about just evangelism. It's actually activating them into the call of the Great Commission out here on the rivers," Hodges said. "There are young people out here on the boat that want to do missions, but there's young people on these rivers that don't even know what missions is. They don't even know what the Great Commission is. After sitting here today and yesterday with these pastors in these towns and speaking to them about the Great Commission and that they're called, not just to receive missionaries and churches from Iquitos and wait for somebody to come, but for them to actually be going, one of them shared that they have a boat that they can take up the river to begin to disciple. They didn't even realize they were called to do that. There's an activation happening here that I don't think any of us really realized the scope of what's happening."
Members of the Rios de Fuego team, such as Pastor Carlos Pina, Pastor Caleb Valles, and one of the team's logistics coordinators, Ruth Mery, all shared that what has started on the Amazon has no end in sight.
"There are more than 300 communities in the Peruvian Amazon that are waiting for a visitation like the one we did in this training, Rivers of Fire," Pastor Caleb Valles said. "Therefore, I'm thinking about these white fields that need to be accomplished. The Great Awakening. This is the first step."
Planning for Rios de Fuego continues as pastors such as these unite in prayer and reliance on the Holy Spirit's guidance. Soon, Hodges and his team hope to fill another barge to continue more training, to empower more missionaries, and to see what has started in the Amazon continue to spread until every person has heard the name of Jesus.
As ministry efforts continue, Hodges, his team, and the pastors and youth of Peru and South America request the prayers of the Global Church.
"We need intercession. We need someone to stand in the breach for us," Hodges said. "This younger generation needs to know that the elders are backing them in prayer. They need to know that they're being seen and that this is not something that's quiet.
"I'm trying to understand everything myself at this point," Hodges said. "This is an explosion."
Peru has sown a great financial seed into the harvest by raising over $50,000 to begin this movement. You can help support Rios de Fuego and the ongoing ministry taking place on the Amazon River by giving to IPHC Giving Project #61503P – Peru el Despertar Campus.
A Word from IPHC World Missions Ministries Executive Director, Bishop J. Talmadge Gardner:
Since being challenged by the Arise 2033 vision to plant 5,000 new churches outside of the U.S. and establish an IPHC ministry presence in 50 new countries by 2033, World Missions Ministries [WMM] began training and resourcing missionaries, national leaders, church planters, pastors, and evangelists in six strategies. Those strategies are:
Prayer
Evangelism or winning the lost
Discipling believers
Planting churches
Targeting the 7,416 [The Joshua Project] unreached or unengaged ethnic groups in the world
Changing a paradigm by challenging nations to become sending, as opposed to receiving nations.
In pursuit of our fifth strategy [Targeting the 7,416 (The Joshua Project) unreached or unengaged ethnic groups in the world], World Missions Ministries and The Awakening have been praying for opportunities such as this to take the gospel message to people and places – in this case, deep in the Amazon jungle - who have never heard the name, Jesus. This may be the only time that anyone will be afforded this opportunity.
To the young missionaries on the Amazon River, take what you have experienced and learned here and put it into practice wherever you go. The same Holy Spirit that anointed and empowered you in the Amazon will anoint and empower you wherever you go and wherever you live if you will continue to make yourself available.