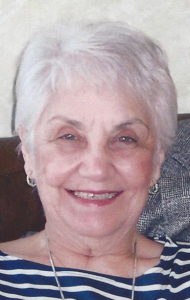 "Bette Anderson, age 86, of Hot Springs, died Friday, May 13, 2016.
She was born on December 16, 1929 in Heavener, Oklahoma, the daughter of Carl Gallardo and Delsie Wallace Gallardo. On October 6, 1946 she married Bill Anderson. She was preceded in death by one son, William J. "Billy" Anderson, III; her parents; three brothers, Frank Gallardo, Carl Gallardo and Jack Gallardo; and two sisters, Isabelle Gallardo and Eva Anderson. Bette was a member of First Assembly of God in Hot Springs and a homemaker.  She is survived by her husband, Bill Anderson of Hot Springs; three sons and daughters-in-law, Michael K. and Ana G. Anderson of Guanajuato, Mexico, David K. and Rhonda Anderson of Edmond, Oklahoma and Daniel M. and Glendora Anderson of Hot Springs; one daughter, Debra Anderson Churchill of Fort Worth, Texas; eleven grandchildren; sixteen great-grandchildren; numerous nieces, nephews and a host of friends.
Sixty-nine years ago, October 6, 1946, Bill and Bette Anderson were married in Bremerton, Washington….a young sailor and a shy teenager. Since then, the Andersons have served as pastors, missionaries, and in administrative positions in the International Pentecostal Holiness Church, which they have served for almost 65 years, headquartering out of Oklahoma City.
Bill and Bette Anderson were appointed as missionaries to the Philippines in 1982 and were assigned to the island of Mindanao.  Anderson was assigned to teach in the Mindanao Bible Institute.  As an experienced builder, his tenure was marked by a construction explosion of churches, resulting in significant growth in the southern part of the island chain. Bette was a faithful wife who supported and assisted her husband in every area of ministry."
"The conference suffered a major setback two years later.  Representatives of the New People's Army, a Communist front insurgency that worked in stealth in the jungles surrounding Mindanao, contacted Anderson.  These operatives told him his life and Bette's were in danger and demanded payments for protecting them.  Anderson phoned the U.S. Embassy in Manila to advise the U.S. government of the threat and to seek counsel.  "Under no circumstances was he to pay any protection money," was the advice he received.  Instead, he should flee Mindanao on the next plane.  The Andersons left their furniture and belongings in Mindanao and flew to Manila, where they stayed with the Howards until they could arrange to return to Oklahoma City.  Classes had to be suspended at the Mindanao Bible Institute."
The Andersons returned to their home in Oklahoma City in 1986 where he was elected superintendent of the Oklahoma Conference (now Heartland Conference) and served for the next eight years.  In July 1994, they retired and moved to Hot Springs, Arkansas and have made it their happy home for 20 years and have never looked back.
Services will be held at 7 p. m., Monday, May 16, 2016 in the First Assembly of God, Hot Springs with the Rev. Mr. Larry Burton officiating. A second memorial service will be conducted in Oklahoma City at River of Life Pentecostal Holiness Church on Thursday, May 19, 2016, at 10 a. m.  The Rev. Mr. Richard Goad, pastor, and the Rev. Dr. Dwight Burchett will speak at the service. Interment will be in the Chapel Hill Memorial Gardens in Oklahoma City, Oklahoma. Arrangements are under the direction of Davis-Smith Funeral Home, Hot Springs."
Sources: Hugh's News, Davis-Smith Funeral Home, The Simultaneous Principle by Frank Tunstall)