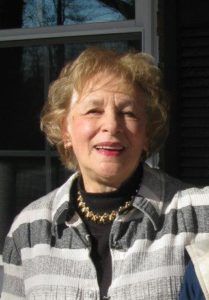 The World Missions Ministries family extends our prayers and deepest sympathy to Marlene Durr's family and loved ones. In 1993, Marlene was approved as an IPHC Tentmaker to teach English in Hungary. We are grateful for her dedication to missions and we thank the Lord for her life and service.
"Marlene Lucille Ferrante Durr, age 79, of High Point, NC died on April 26, 2017 at Hospice Home after a courageous battle with cancer.
Marlene was born June 22, 1937 in Ellwood City to Domenic and Mary Ferrante. She grew up in a neighborhood where everyone took care of everyone and all were considered "family." She attended Duquesne University and graduated with a bachelor's degree in nursing. She was a home health nurse in the lower end of Pittsburgh after graduation, which continued to be her nursing passion throughout her life.
She married John Durr in 1959 in Ellwood City, Pennsylvania and had six children."
"Marlene dedicated her life to missionary work. She served missions for her Lord in Hungary, Nicaragua, and the Honduras and in her community through her church. She committed her life to the work of her Lord and Savior and blessed many with her missionary works. Her greatest passion was the jail ministry that she loved and dedicated her time to until she was no longer able to leave her home.
She is survived by her six children, Mary & Jeff Bryant, High Point, NC, Amy & Lou Coleman, Clifton, VA, Rebekah & Troy Travis, Cincinnati, OH, John Durr, Jr., Joshua Tree, CA, Loretta & Louie Rosinko, Woodstock, GA, Domenic & Stacie Durr, Sebastian, FL, her mother, Mary Barry Ferrante, High Point, NC, ten grandchildren Lesley & Michael George, Kathryn Bryant, Chris Coleman, Dominic Travis, Rachel Travis, Kersti Kodas, Megan Rosinko, Zachary Rosinko, Isabella Rosinko, Emma Grace Rosinko and two great- grandchildren Makayla George and Yana-Leigh George.
A funeral service will be held at The Bridge on Friday, May 12th at 11:00 am, located at 1080 Old Greensboro Rd, Kernersville, NC 27284.
The family will meet one hour prior to the funeral in the presence of her ashes. Per the wishes of Marlene, please send all flowers to The Bridge, to the address above and any love gifts should be donated to the Prison Ministry of The Bridge.
[Editor's Comment: I want to thank the Rev. Dr. Hugh Hoyle for sending me this announcement of the death of our sister in Christ, Marlene Durr. Our son, Greg Morgan, met and worked with Marlene in Budapest, Hungary when he was a tent maker missionary. 
Greg wrote the following about Marlene… 'She was a great lady. She was a godly woman. I enjoyed spending time with her in Hungary. She even went to Italy with me to see the Bollings. We also flew to the Netherlands together for a missions retreat.']" 
Hugh Morgan (Hugh's News)