WOW! THE CHURCH LOOKS SO IMPRESSIVE!!! BEAUTIFUL PEWS, CARPETS, AIR CONDITIONING, BEAUTIFUL PULPIT, AND STAINED WINDOWS…
The first church service in the States is normally quite a culture shock to us after being in Africa for three years. Many of our churches in Southern Africa have concrete floors, no ceilings, basic windows, outside toilets, no air conditioning, and handcrafted pulpits made from scrap timber. Nevertheless, the people there are full of the joy of the Lord: dancing, singing, and giving testimony of God's provision and greatness.
GRADUATION & WEDDING
One highlight of our furlough has been attending the High School graduation of our granddaughter, Shaan Delport.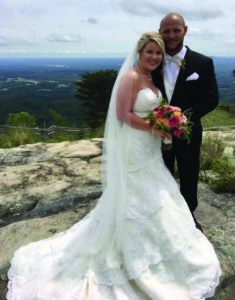 Another has been Joe marrying our grandson, Trysten Delport, and his beautiful bride, Rachel Lowry Delport.
OUR MISSIONARY JOURNEY
The one thing, which has sustained our journey as missionaries, is God's calling. For twenty-nine years, we have experienced God's guidance and direction in our lives. He has never failed us, regardless of the challenges we have had to face. The fourteen years we spent in Zimbabwe were very rewarding as we invested in the lives of leaders, people, and children. It was during that time, God called us to Central and Northern Mozambique to a broken country and hurting people, who had suffered 17 years of civil war. This was one of the most rewarding times of our ministry, as people received Jesus as their anchor.
We were requested to move in 2002 to serve as Regional Directors for Southern Africa, overseeing the work in six countries. Over the past 15 years, we have experienced a phenomenal move of God in this region. Following are some of the recent highlights:
•The South African PHC established its twelfth conference in 2016
•The General Conference of Botswana had a very successful 2017 annual conference in Mahalapye, Botswana. They are planning to start two new conferences.
•The ISOM (International School of Ministry) leadership training program has been very effective in our church in Francistown, Botswana. It is also being established in other areas of the country.
•In June 2016, we celebrated the dedication of our church in Maputo, Mozambique. The church already has 300 people in attendance and is growing.
•In November, 21 students graduated from Advance School of Ministry in Lilongwe,
OUR MISSIONARY JOURNEY CONTINUED
•DCPI training is doing well in South Africa. Most of the conferences have participated in the training programs with good results.
•Quite a number of teams from the USA have visited Mozambique over the years.
•Joe did numerous leadership-training events at churches and conferences throughout the year.
•The General Conference of South Africa has been working hard in establishing the ISOM training program, starting in early 2017. Each of the 12 conferences have committed to having at least five churches engage in the program. This means that there will be 60 training centers.
•The Mozambique Southern Conference licensed 22 young leaders, and challenged them to become church planters in the cities and towns in the region.
•Swaziland has seen phenomenal church growth. In eight years, our South African missionaries, Rev. Xolani and Thembeka Ngema, have planted six churches. They are targeting Manzini, the second largest city in Swaziland to plant the next church.
SPECIAL REQUEST
We need additional monthly support to enable us to return to the field. If you are able to contribute to our ministry in Southern Africa, we will appreciate it very much.
You can contact us at: joedelportwmm@aol.com or 864-999-0148.
THANK YOU FOR YOUR SUPPORT!!!
Joe & Maggie Delport