Dear Friends,
The past few months have been some of the busiest of our lives. They have held tens of thousands of miles on the road, multiple trips to the mountains of Peru, and dozens (hundreds?) of opportunities to teach and preach in churches in both North and South America. We are exhausted and looking forward to a bit of rest during this holiday season. With that in mind, we want to go ahead and wish you all a (belated) Happy Thanksgiving and a hearty Merry Christmas!
Thank you for your faithful prayers and consistent support!
Not Your Normal Christmas Bible Reading
I love these faith-filled words from the suffering Job, looking forward to Christmas and beyond:
"Oh that my words were written! Oh that they were inscribed in a book! Oh that with an iron pen and lead they were engraved in the rock forever! For I know that my Redeemer lives, and at the last he will stand upon the earth. And after my skin has been thus destroyed, yet in my flesh I shall see God, whom I shall see for myself, and my eyes shall behold, and not another. My heart faints within me!" (Job 19:23-27, ESV)
The World's Highest City: One Year Update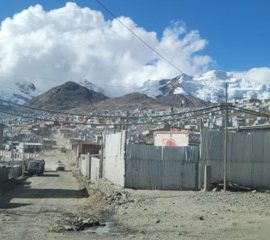 After our sixth trip in six months (March), we had to halt our monthly trips to La Rinconada, mainly due to a prolonged closure of the runway in the gateway city of Juliaca. One notable exception was the short visit by three Americans on July 16. Over 1,000 Gospel tracts went out in just two hours in what they described as "the most sinful place they'd ever seen".
Then, just this past weekend (Dec 3-5) another Peruvian team was able to go. Besides delivering a load of long sought after Bibles, they report that "everything went well. We were able to preach, evangelize, and give the brothers at [the little church] words of encouragement."
These trips are not easy. A lot of planning and expense goes into what turns out to be one day of ministry in the world's highest city.
Pray that God would continue to provide for future visits, and raise up more laborers to serve this city!
TibetAndina Mission
This past summer I hosted a couple of trekking teams to the high Andes of Peru. The Gospel was preached, thousands of tracts and Bibles were distributed, and many isolated believers were exhorted and encouraged.
But the spiritual state of the Andes doesn't compare to the spiritual darkness still enveloping Tibet. We want to plant churches in the Andes, but also raise up Andean missionaries who are both spiritually and physiologically equipped for ministry on the Roof of the World (TibetAndina.com).
Pray for churches to be planted in the Andes, and Andina missionaries mobilized for Tibet!
Mexico to Mae Sai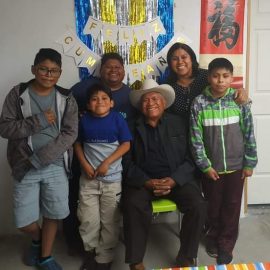 We are still waiting for everything to come together for our long-time teammates in China (10+ years) to move to Thailand. We hoped they would be there by now, but it just hasn't been possible. Best case scenario will have them on the ground during the first quarter of 2023.
They will be based just a few miles from the Golden Triangle, with all of its ethnic diversity and spiritual darkness, with Myanmar, Laos, and China all within 50 miles (as the crow flies). One of their future responsibilities will be to oversee the arrival (and cultural training) of new missionaries arriving from Latin America.
Please pray for Jose, Eloisa, and their boys (Danny, Sammy, & Haziel) as they prepare to return to Asia!
Pray for China! But Which Province?
Everyone has heard of China's biggest and most famous cities (Beijing, Shanghai, Hong Kong), but few could name even a handful of China's inland provinces. Hudson Taylor founded the China Inland Mission in the 1800's for precisely this reason, because so few ventured beyond the known port cities into China's interior. We all know we should be praying for China, but very few know anything specific about China!
We have been brainstorming ways to help Christians better intercede for China. Starting with my home state of Oklahoma, we are matching up each state (and county) in the United States with a particular Chinese province and county. Ultimately, we want Christians from every state and county in America adopting and praying for every province and county in China!
Visit PrayforChina.us and Pray4Gansu.com to learn more and find out which Chinese province and county to pray for!
To Stay in Touch:
• Call/Text: 405-265-5695/405-728-6397
• Email: china.myadventures@gmail.com
• Blog: https://china.myadventures.org
• Facebook: www.facebook.com/china.myadventures
• Twitter: www.twitter.com/chinaadventures
• Instagram: www.instagram.com/chinaadventures
In Christ,
The West Family
"All who are with me send greetings to you. Greet those who love us in the faith. Grace be with you all." (Titus 3:15)