July 2019
The word "Genesis" in Hebrew means beginning, first, best, chief, choice part. In Greek, it means origins, source, or beginning. These meanings bring a personal thought: The beginning of God in your life will continue on until it is finished. What God began in you is truly majestic! He will finish in you what HE has started. Philemon 1:5; Philippians 1:6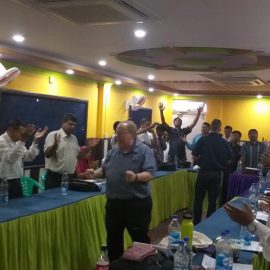 India "Western Conference IPHC"
The Western Conference continues forward and is growing under Pastor Tony Misquitta. Along with leading the conference, he leads Youth Church and Inner City Church weekly. He is leading a cell group that is forming into a church with people from Rajasthan. We are thankful to those who are working alongside Tony to help make this possible. Tony and Roma recently celebrated Zion's first birthday. Judith and I were able to Skype call, pray over him, and greet the entire church.
Recent Ministry
Chase Granstaff and I (Danny) recently traveled to multiple locations in Nepal, holding four "inquiry meetings" with current and new pastors. The presence and power of God (especially in the prayer times) were evident and refreshing. We are excited about the young pastors who are joining our IPHC network. They are capable young men.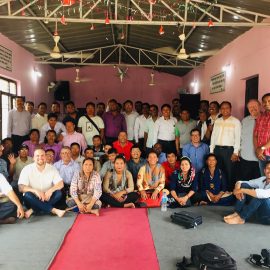 Judith, Kristina, and Marites held a ladies' meeting in Kathmandu. Several pastors' wives and lady pastors attended. The presence of the Holy Spirit was beautiful, and we were all encouraged. It requires tremendous strength and courage for a female to be in leadership in this culture.
Graduation day also came for Pastor Gurung, our Province Six Director in Nepal. He received his Bachelor's in Theology at Kathmandu Bible School. We were honored to help him with this achievement.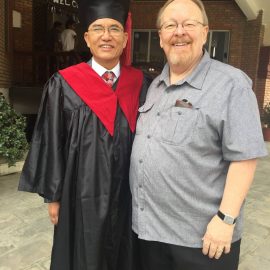 NEPAL DISASTER RELIEF NEWS
There is so much flooding here, with daily reports of deaths (108 people dead, many more injured, and some missing) from mudslides, building collapses, and drowning. The flooding goes down to India from Kathmandu and many other places in Asia. Several Pastors have reported property damage at their churches and schools. There is also loss of housing, as well as food shortages. The needs are great.
As of this time, we have eight IPHC churches and five IPHC families who have been either totally washed out or have major damage to their homes and churches. There is an IPHC affiliated school of over 200 children who need a retaining wall, or the whole school may collapse. (The school wall has collapsed, but work has started on the repairs.) We cannot do any of this without your help during this crisis! The total estimated cost for all present projects: $6,950 USD. You can give to PTP Disaster Relief - Nepal Flooding at the following link: https://give.iphc.org/missions/314612
Danny & Judith Williams