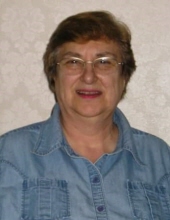 Carol Ann Backus Nagy
1939 - 2021
Carol Ann Backus Nagy, 81, passed away on Saturday, March 20, 2021, at Wayne UNC Healthcare in Goldsboro. Carol was born on December 2, 1939, to the late Arthur Backus and Aldea Paquin Backus.
Carol devoted her life to serving God. She served as a missionary all over the world, spreading the gospel. She was a member of The Bridge Church in Princeton, NC. Before becoming a missionary, Carol worked as a Rural Letter Carrier for the U.S. Postal Service. Carol also served in the United States Navy.
A graveside service to celebrate Carol's life will be held on Saturday, March 27, 2021, at 11:00 AM at Wayne Memorial Park, with Pastor Andy Stovall presiding. The family will receive friends immediately following the service.
Carol is survived by her daughter, Aldea LaParr, son, Gary Clairemont (Lisa); grandchildren, Andrew LaParr, Timothy LaParr (Taylor), Scott LaParr, Amanda Clairemont, and Matthew Clairemont; and great-grandchildren, Serenity LaParr and Oaklynn LaParr.
In addition to her parents, Carol is preceded in death by a son, Keith Clairemont, brother, Arthur (Tim) Backus, and son-in-law, Gary Lynn LaParr.
In lieu of flowers, the family suggests memorial donations be made to Hope Extended, PO Box 881 Goldsboro, NC 27533, in honor of Carol.
Online condolences can be sent to the family at www.seymourfuneralhome.com
Carol had a big heart for missions. After participating in several mission trips, she chose to join IPHC World Missions Ministries as a short-term missionary in 2009 to team up with career missionaries, assist wherever there was a need, and, when possible, teach the skill of woodworking, a craft she was passionate about. That craft turned into a ministry called The Carpenter's House. 
In her own words, "The purpose of The Carpenter's House is to give believers an avenue to support their family and their local church. Students learn wood crafting in various forms and practical business training. They learn life skills of working with excellence in an environment where creativity is fostered and released." 
A mobile workshop was born in the Dominican Republic, but it did not stop there. After making several trips to Belize, she was determined to set up a woodworking shop on the IPHC Belize campground. That shop continues to minister to the local community and church today. Her excitement for this ministry was evident, and teaching and empowering her students was her desire. She stated, "As these students gain skills they can teach others to support themselves, but most importantly, they can show the love of God through their new found skills and creative ideas. Praise be to God. He really is the teacher."
 The IPHC missionary family extends its deepest sympathies to the family of Carol Nagy.
Grace and peace!
Bishop J. Talmadge Gardner
Executive Director, IPHC World Missions Ministries
** Obituary Source: https://www.seymourfuneralhome.com/obituaries/Carol-Ann-Nagy?obId=20395645&fbclid=IwAR1z4HUAnc1QlElnuvDzSuvSLUHssRyP1EoSvy5dXK4uFiPT3dcsSZSxLLQ#/obituaryInfo