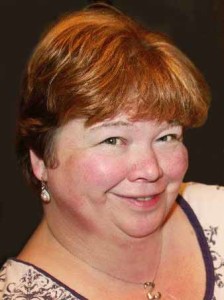 "Cheryl Perdue James, age 56, died Wednesday, July 29, 2015 at her residence. A celebration of Cheryl's life will be held Saturday, August 8, 2015, at 3:00 P.M. at Empire Pentecostal Holiness Church in Cochran. Burial was in Bowers Cemetery.
Cheryl, raised in Hawkinsville and Dodge County, was living in Reidsville. She was the daughter of the late William Hilton and Alice Sheffield Perdue. She was a member of Emmanuel Worship Center in Swainsboro and was a short term missionary to Belgium as part of the World Missions for International Pentecostal Holiness Church. Cheryl was a member of the gospel singing group Final Chapter with Gena and Victor Stripling.
Survivors are her son, Bill (Amanda) Perdue of Hawkinsville; her daughter, Casey (Jimmy) Rollinson of Carrollton; grandchildren, Elijah Perdue, Dylan Perdue, Dakota Perdue and Kendyl Jean Rollinson; cousins, Cheryl Floyd of Cochran and Dee Ann Greene of Roddy.
The family will greet friends after the service Saturday at Empire Pentecostal Holiness Church."
(Mathis Funeral Home)

---
World Missions Ministries Division of the IPHC would like to pay tribute to the life and ministry of Cheryl James. We were shocked and saddened by the unexpected news on Wednesday July 29, 2015, that she had departed from this life.
Cheryl made her first missions trip in November 2001 to Brussels, Belgium where a passion was born in her heart that never left.
In 2003 she was approved as a Short Term Overseas Worker. This program was later restructured and is now called "Short Term Missionary."  She was still an active participant, her last trip to Belgium being September 17 – December 15, 2014. In January 2015, she attended Passport (our missionary training program) in Greensboro, NC. At that time she told everyone of her recent time in Belgium and of her desire to return again in the fall of 2015.
Cheryl attended Passport and our School of Missions multiple times over the years. She always had a heart to learn and a strong desire to be with other missionaries and missionary candidates sharing her experiences and encouraging each one. She never missed an opportunity to visit Churches, Great Commission Meals, Conference activities, or any time and place where she could share her calling and needs on the field.
From 2001 until now, she made quite a few trips to Brussels, usually for a week or two. In 2006 she stayed 10 months and 2007 for 5 months. Several other years she stayed 3 months for each trip. Each time she left they invited her back. Bert Phagan, the pastor she worked most closely with, wrote to our office several times requesting her return and expressing his appreciation for her service.
Cheryl was totally committed to her Lord Jesus Christ. She had a cheerful countenance and a servant's heart, qualities that were greatly appreciated by all who knew her.
The World Missions Ministries Division staff in Oklahoma City and the missionary family all thank the Lord for the life and ministry of Cheryl James. Our prayers and sympathy go out to her family, her Church and all those who knew and loved her.
Praise the Lord for the assurance of the eternal reward she is now enjoying in heaven.