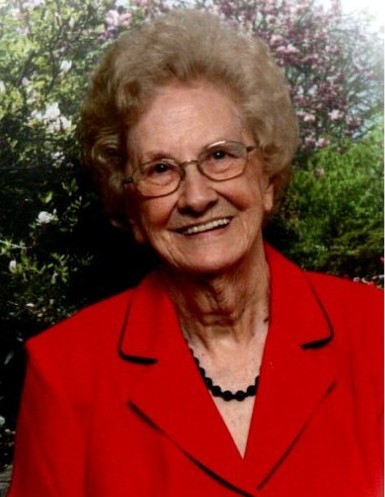 Ida "Dorothy" Sowell
January 26, 1927 - April 12, 2020
Ida "Dorothy" Sowell, age 93, of Danville, VA, passed away on Sunday, April 12, 2020, at Sovah Health-Danville.
Mrs. Sowell was born on January 26, 1927, in Danville, VA, a daughter of the late Vessie Wall and Nettie Thornton Wall. She was an ordained minister and a graduate of Holmes Bible College with a Bachelor in Theology. She was a member of Schoolfield Pentecostal Holiness Church. Mrs. Sowell spent 25 ½ years as a missionary in South Africa and Zambia. She was married to Wilmer Lee Sowell who preceded her in death.
Mrs. Sowell is survived by her children, Cathy Andrews (Daryl) and Joan Jones (Burke); grandchildren, Shawn Jones, Robert Jones (Lauren), Jacob Jones (Ashley), Kerry Lee McLean (Quentin), and Oliver Robinson; great grandchildren, Robert Jones, Kaylee Jones, Jonathan Mize, Caleb Jones, Tristan McLean, Chloe McLean; sisters, June Hylton, Lorna Hughes and Louise Dalton; sister-in-law, Dorothy Wall; brothers, Bobby Wall (Lavalon) and David Wall (Barbara); she is also survived by many nieces and nephews.
In addition to her parents and husband, she was predeceased by sisters, Hazel Taylor, Beryl Soyars, Esther Soyars, Nancy Garwood and Patsy Pyron and brother, Woodrow Wall.
In order to comply with federal and state restrictions a private graveside service will be held in Danville Memorial Gardens with Rev. Michael Pressley officiating.
In lieu of flowers the family request memorial donations be made to The World Missions Global Outreach , c/o Schoolfield Pentecostal Holiness Church, 1380 West Main St. Danville, VA, 24541.
Swicegood Funeral Service is respectfully serving the Sowell family.
Please sign the guestbook at www.swicegood-barker.com, www.facebook.com/swicegoodbarker, and www.godanriver.com.
To send flowers to the family or plant a tree in memory of Ida "Dorothy" (Wall) Sowell, please visit our floral store.
From World Missions Ministries 
On behalf of the World Missions family of the IPHC, we honor the life and ministry legacy of Dorothy Sowell, affectionately known to many as Dot.  Dot, along with her husband, Wilmer (1925-2009), served as IPHC missionaries to South Africa and Zambia from 1967 to 1993.  Her ministry included youth, Sunday School, Women's Ministries, Bible quiz, and children's Bible club.  She was a writer and educator at the Bible school in the Krugersdorp Church and a teacher of the Theological Education by Extension [TEE] program, which greatly enhanced the training of national ministers in South Africa and Zambia.  Dot was an outstanding teacher of the Word of God.
Dot and Wilmer made a great team.  The Sowells understood the importance of training national leaders, and soon after arriving in Zambia, they began the Theological Education by Extension program.  They later expanded this emphasis of training nationals to include the development of Sunday school and youth programs, and a Christian Education department for Zambia in 1986.
Today, the Zambian national church is strong.  Writing for The Simultaneous Principle in 2005, Dr. Frank Tunstall describes the impact of Wilmer and Dot Sowell's ministry teaching national leaders:  "It is apparent the Holy Spirit sent Wilmer [and Dot] Sowell to help consolidate the revival begun during the ministry of John Guthrie."  Today, Zambia is a thriving national church with over 800 churches and 108,000 members.
Personal Tribute from Bishop J. Talmadge Gardner
I first met aunt Dot and the Sowell family when I was 10 years old.  Wilmer, Dot, Cathy, and Joan arrived in Krugersdorp, South Africa in 1967 to begin their service as Career Missionaries.  From that day until the last time I saw her, she remains a favorite.  Kind, unpretentious, resourceful, confident, rock solid, committed, faithful, energetic, genuine, generous, graceful, classy, and compassionate - the living embodiment of a Proverbs 31 wife/woman.
Proverbs 31: 10-31 The Message [MSG]
Hymn to a Good Wife
10-31 A good woman is hard to find,
and worth far more than diamonds.
Her husband trusts her without reserve,
and never has reason to regret it.
Never spiteful, she treats him generously
all her life long.
She shops around for the best yarns and cottons,
and enjoys knitting and sewing.
She's like a trading ship that sails to faraway places
and brings back exotic surprises.
She's up before dawn, preparing breakfast
for her family and organizing her day.
She looks over a field and buys it,
then, with money she's put aside, plants a garden.
First thing in the morning, she dresses for work,
rolls up her sleeves, eager to get started.
She senses the worth of her work,
is in no hurry to call it quits for the day.
She's skilled in the crafts of home and hearth,
diligent in homemaking.
She's quick to assist anyone in need,
reaches out to help the poor.
She doesn't worry about her family when it snows;
their winter clothes are all mended and ready to wear.
She makes her own clothing,
and dresses in colorful linens and silks.
Her husband is greatly respected
when he deliberates with the city fathers.
She designs gowns and sells them,
brings the sweaters she knits to the dress shops.
Her clothes are well-made and elegant,
and she always faces tomorrow with a smile.
When she speaks she has something worthwhile to say,
and she always says it kindly.
She keeps an eye on everyone in her household,
and keeps them all busy and productive.
Her children respect and bless her;
her husband joins in with words of praise:
"Many women have done wonderful things,
but you've outclassed them all!"
Charm can mislead and beauty soon fades.
The woman to be admired and praised
is the woman who lives in the Fear-of-God.
Give her everything she deserves!
Festoon her life with praises!
I had the privilege of traveling to Zambia last year for their General Conference.  Bishop Chrispin Zulu, the National Overseer of Zambia and other leaders showered me with questions about Mrs. Sowell.  Her legacy as a Bible teacher, servant leader, mentor, helpmate, and Christian lady continues to this day.
We can never fully ascertain [this side of heaven] the full impact of one's ministry.  I do know that the missionaries who served in Africa in the 60's through the late 90's left an indelible imprint on the ministry fabric of that continent, which today boasts the IPHC's largest ministry presence globally with more than one-million members.
Cathy and Joan, your mother was a dear and godly lady and was greatly loved by her missionary family.
May the peace and comfort of the Holy Spirit sustain you, her blood family, as you walk through this "valley of the shadow of death".