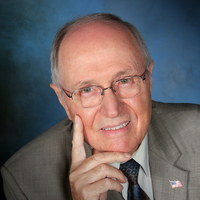 Rev. Elvio Canavesio
March 3, 1931 – March 3, 2022
Elvio Canavesio went to be with his Lord and Savior on March 3, 2022; his 91st birthday.
He was born on March 3, 1931, in Leones, Argentina, to Domingo and Dominga Canavesio. When he was five years old, his mother set him on the bed and said to God, "I don't have much, but I give you Elvio." This humble gift and consecration would result in countless lives coming to Christ throughout a ministry which spanned more than 65 years.
At the age of 15, Elvio gave his heart to the Lord and, a couple of years later, he attended Bible School in Buenos Aires. There, he fell in love with the missionaries' daughter, Emma Andresen. Since her father would not let them marry before he had an education, Elvio decided to attend Holmes Bible College, and off he went with no money in his pocket and not speaking a word of English. In 1957, upon his graduation from Holmes, Elvio returned to Argentina and married Emma. Together, they pastored churches and traveled with a revival tent, going from city to city evangelizing.
In Argentina, Elvio and Emma raised their two children, Esther and David. Eventually, they became United States citizens and were ordained as full-time missionaries with the Pentecostal Holiness Church. In 1974, Elvio became the supervisor for all the Latin American and Caribbean work. It was then that the family moved to Oklahoma City and, from there, he continued traveling to all the nations in his care.
In 1978, Elvio, Emma, and David moved to Costa Rica and, just nine years later, Emma passed away from cancer. Then, when all seemed lost, God proved himself faithful, as Elvio fell in love with, and married, long-time missionary June Carter. Together, they continued working throughout Latin America until their retirement in 2001. Retirement, however, was not the end as they settled in South Carolina and began a timely and successful ministry with the growing Hispanic community there, which included teaching in the Instituto Nacional de Entrenamiento (INE).
He is preceded in death by his wife Emma Canavesio, his parents Domingo and Dominga Canavesio, and his brother Celestino Canavesio. Elvio is survived by his wife of 33 years, June Canavesio, daughter Esther Nix and husband Danny Nix, son David Canavesio and wife Jennee Canavesio; four grandchildren, Bryan Nix, Seth and wife Madeline Nix, Emily and husband Kitt Herron, and Andrew Canavesio; one great granddaughter, Galia Nix; one sister, Raquel and husband Beto Busto, and many nieces and nephews.
Elvio's life was marked by a fervent passion to reach the lost. When he arrived in heaven, on his 91st birthday, there must have been a multitude of souls there, celebrating his arrival and thanking him for sharing the message of Christ's salvation with them.
To send a flower arrangement or to plant trees in memory of Elvio Canavesio, please click here.
There will be a funeral service for Rev. Canavesio on Friday, March 11. Please click here for more information about location and time.
-------------------------------------------
On behalf of the International Pentecostal Holiness Church World Missions family, we honor and remember, with gratitude, the life and ministry legacy of  REV. ELVIO CANAVESIO, and we give thanks to God for his service as a revered missionary and minister of the gospel of Jesus Christ.
To Ms. June, Esther, Danny, David, Jennee, Bryan, Seth, Madeline (and Galia), Emily, Kitt, Andrew, and Raquel please accept our deepest condolences. Know that the thoughts and prayers of your IPHC family, and especially your missionary family, are with you in your time of sorrow and grief. We are praying that God will give you His strength in this, your time of great need. 
IPHC World Missions Ministries has been blessed to have had many extra-ordinary missionaries serving over the course of its 100+ year history. Elvio Canavesio without a doubt was one of the most proficient and charismatic/magnetic missionaries in the rich history of IPHC World Missions Ministries. A man of deep faith, prayer, vision, courage, and perseverance. Time is proving that he is irreplaceable. 
William James said, "The great use of life is to spend it on something that will outlast us."
When the World Missions Board appointed Elvio as General Supervisor of Latin America and the Caribbean in 1972, the Pentecostal Holiness Church was established in four Latin American Countries: Argentina, Cuba, Costa Rica, and Mexico.
By the time of his retirement in 1999, and after having served as General Supervisor for 27 years, the IPHC had established a ministry presence in 17 new countries. The LAMCAR Continent went from having 71 churches and 1,150 members in 1972, to a membership of 717 churches and 63,000 members in 1999.    
In 2nd Samuel, Chapter 3, King David said; "A great man and a Prince has fallen in Israel this day." I paraphrase this statement by saying…."A great 'missionary' and a Prince has fallen in the Church of Jesus Christ this day."           
Elvio Canavesio has now entered the Church Triumphant. But, his legacy is embodied in people like me, and the many who he influenced.
Well done Elvio! 
Bishop J. Talmadge Gardner
Executive Director
World Missions Ministries