HELLO, FRIENDS,
After spending 10 months in the USA on furlough, reality hit once we flew over Johannesburg, South Africa, realizing we are back in Africa. The first picture on the left reveals the true identity of where we live and the contrast there is in everyday life. On the right side of this photo, you will see, what we call, an informal settlement, which consists of tin shacks, no electricity, no running water, tires on the roofs, and unpaved roads. On the left, across the street, behind six-foot walls, among leafy trees, shady street corners, and swimming pools, you find a more influential middle-class suburb.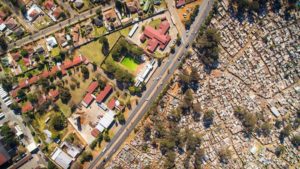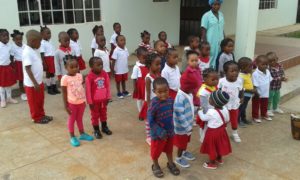 ESCOLINHA A PUREZA DA MÃE
The pre-school in Maputo, Mozambique, is doing very well. There are 37 children enrolled, and the school is attracting new children every week. Originally, Maggie helped send the Director, Pureza Chichava, for pre-school training, after which she received a diploma. The training enabled her to establish the pre-school, which is serving the community where the church is established.
ADVANCE TRAINING IN MALAWI
Our Advance National Director in Malawi, Rev. Charity Mkamanga, reported that they are having a well-attended Advance School of Ministry training for two weeks. Thank you, Charity and Althea Meyer, for your commitment to empower leaders.
AND THE GOSPEL MUST FIRST BE PREACHED TO ALL THE NATIONS.
MARK 13:10
Joe & Maggie Delport