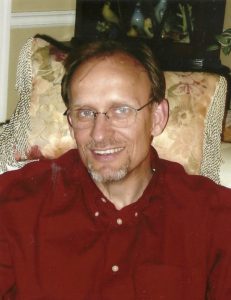 Philip Thomas List, Jr. passed away on April 14, 2018, at the age of 57, during his recovery from heart bypass surgery in Birmingham, AL. He is survived by his wife of 33 years, Kelly Mitchell List, and their four children: Nathan List (Katie Kirkpatrick), Rogersville, AL; William List (Kristen Hays), Auburn, AL; Rebecca List Bolton (Drew Bolton), Huntsville, AL; and Caleb List. Philip and Kelly are also blessed with three grandchildren, Levi, Gwen, and Eden List. Philip was preceded in death by his father, Philip Thomas List Sr. He leaves behind his mother, Gailya List; his sister, Sharon List Wooten; his brother, David List; and his youngest sister, Elizabeth (Beth) List Newport. Philip was born in Lancaster, SC on September 11, 1960. He lived there during his early childhood until the family left in 1962 to begin their ministry as missionaries in Durban, South Africa. Philip set a strong example as the oldest of his siblings, demonstrating a love for the Lord and a desire to serve people from an early age. Known for his gentle and kind nature, Philip received a call to ministry as a young boy. There are many stories to recount, but one of the family favorites is the time when Philip was a young man, he took his own lunch and walked down the road to give it to a man working in a field. He wanted to have the opportunity to not only share his lunch, but the good news of Jesus with him.
The family later moved to Zimbabwe where Philip graduated from Lord Malvern High School in 1977. He then traveled, by himself, at 18 years of age to go to bible school in America. He earned a Bachelors' Degree in Pastoral Ministries from Emmanuel College in Franklin Springs, GA, in 1981 and a Masters' of Divinity from Regent University in Virginia Beach, VA in 1992. Philip was a third-generation pastor with the missionary calling of his father and grandfather to the continent of Africa.
Philip had a deep spiritual heritage and unique calling of God. During his ministry, Philip was graced and anointed by the Lord to serve as a youth pastor at Trinity Chapel in St. Augustine, FL. He then moved to Huntsville, AL in 1983 to serve as the youth pastor at Faith Chapel where he met and married his beautiful wife, Kelly, in 1985. He also served as an IPHC missionary in North Africa; a missionary consultant; and a mentor. He received his minister's license in 1982 and was ordained in 1984.
"As a missionary family, we extend our condolences to his wife, Kelly; children, Nathan, Will, Rebecca, and Caleb; his mother, Gailya; his sisters, Sharon and Elizabeth; and his brother, David.
Philip, Jr. and I graduated from Emmanuel College together in 1982. He was a remarkable man of God.  While we are all saddened and grieve Philip's earthly departure, I do rejoice in the fact that as a child of God and on the profession of His faith, Philip, Jr. is with the Lord, and consequently, he is more alive and whole than he has ever been." – Bishop Talmadge Gardner