Ministry in most Southern African countries is slowly returning to a near-normal pace. Although COVID is still present, most of the restrictions are easing off. Churches have more attendance, and the fear of contracting COVID is more tolerable. People need fellowship, and sitting at home is not helping the situation. For that reason, we should be admonished by the writer of Hebrews when he says in Hebrews 10:25, "Let us not give up the habit of meeting together, as some are doing. Instead, let us encourage one another all the more since you see that the Day of the Lord is coming nearer" (GNB).
SOUTHERN AFRICA COUNTRIES: HIGHLIGHTS
SOUTH AFRICA - In December last year, South Africa held its Quinquennial National Elective Conference. I was honored to preside over the conference since Bishop Gardner could not attend because of COVID restrictions. Bishop Joel Dibetsoe and the General Executive Board individually were re-elected by acclamation.
On February 18-19, South Africa PHC held their 2022 vision casting meeting in Pretoria. Most of the 16 conference boards were present, and the primary emphasis was evangelism and church planting. With God's help, Africa can plant 5,000 churches by 2033.
ESWATINI (Swaziland) - Eswatini is still experiencing political unrest as the people no longer want the monarchy to rule the country. There is so much poverty and unemployment. I went to Eswatini in the first week of March to encourage the leadership. They want to develop a new leadership base. Therefore, I will be introducing them to the Advance School of Ministry program soon.
MALAWI - The country of Malawi, especially the southern region, was devastated by torrential rains and flooding in the aftermath of Cyclone Ana. Many bridges washed away, crops were underwater, and people lost their homes and belongings. Bishop Devie Chilonga and the leadership of PHC Malawi express their sincere appreciation to People to People Disaster Relief for assisting them with financial aid. They have been able to provide much-needed staple food to our church members in the region.
Malawi is progressing very well under the leadership of Bishop Devie Chilonga. In 2021, they planted 22 new churches and gained 2,596 members.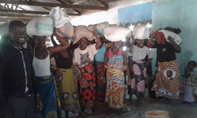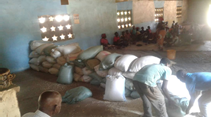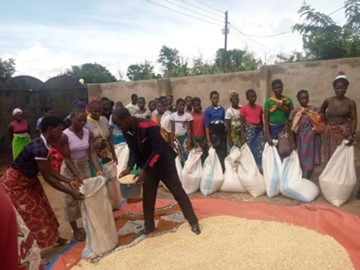 MADAGASCAR - From January this year until the end of February, the Indian Ocean Islands have been affected by four cyclones. Our church in Antananarivo, the capital city, was severely affected by the aftermath of Cyclone Batsirai. Many people had to flee their homes as the floodwaters rose. Pastor Tojo and Deborah Ranaivoarimanana did an excellent job accommodating many people in the church building. Food distribution was made possible through People to People Disaster Relief, for which the church was very thankful. Many people were exposed to the gospel when the church people distributed the food parcels.
The church in Antananarivo is progressing very well. They have three Sunday services with an average of two hundred and fifty people in each service. On Tuesdays, they hold a service in the city centre with an attendance of about 200 people. They are training pastors who will be planting churches in the urban and rural areas of the island.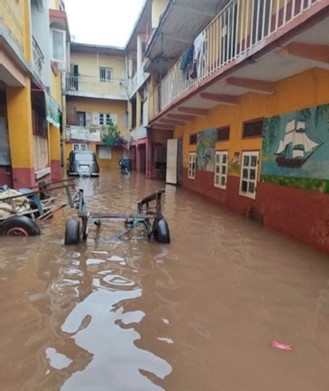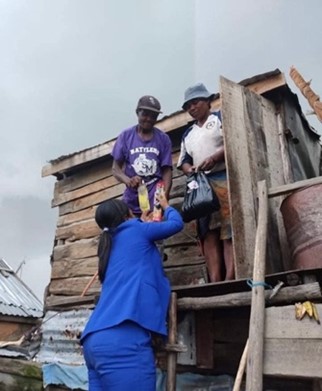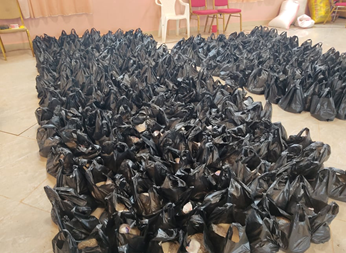 TANZANIA – REFUGEE CAMPS - In November last year, Bishop Berrings Mlambya and members of the National Board traveled to Nduta (Burundi) and Nyarugusu (Democratic Republic of Congo) refugee camps in Northern Tanzania. The trip was to encourage, assist, and equip the Congolese and Lundi refugees based in the secured camps. Tanzania, for many years, has become home to many refugees who fled the turmoil and civil wars in their home countries. There are also displaced Mozambicans fleeing from their country due to brutal attacks by the Islamic State and Al Shabab terrorists in Northern Mozambique. Generally, life is tough, especially for children and women. They do not have electricity, proper housing, restrooms, schools, or food. They are not allowed to go out of the camps. Most children are born in the camps, and they know nothing of the outside world; even local radio signals are not available. They strongly need spiritual revival.
The IPHC has three churches in the Congolese camps of Nyarugusu, Kasulu, and Kigoma. They have three licensed pastors and one ordained minister. The number of IPHC members in this camp now is 607 in total. In November, 27 members migrated to the U.S. through a UNHCR program.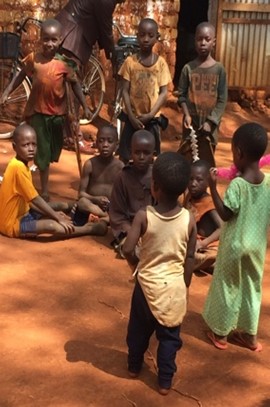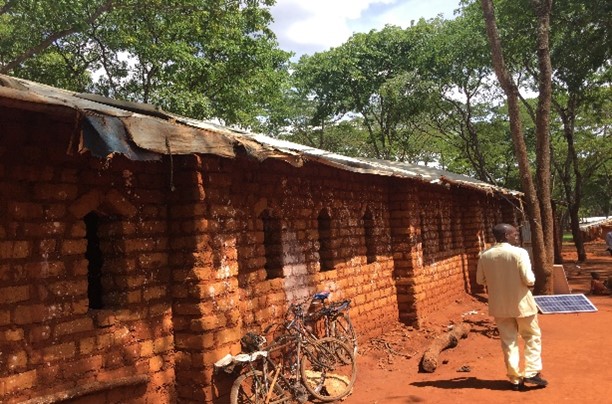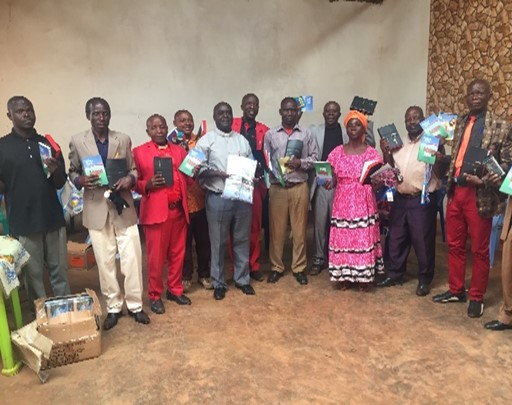 ADVANCE SCHOOL OF MINISTRY - Education is a great need in Africa, and training leaders is a positive way to fulfill the Great Commission. Advance School of Ministry plays a significant role in accomplishing this task, and Malawi, Zambia, and Zimbabwe are still beneficiaries of the program. One conference in South Africa has inquired about using ASM training to equip their leaders. In addition, many of our National Bishops, Conference Bishops, and local church pastors are graduates of ASM.
MAURITIUS - In November, Maggie and I went to Mauritius at the invitation of Rev. John Leopold, the lead pastor of our work on the island. The church has excelled in the past seven years, and Pastor Leopold requested that I ordain seven leaders and license another 13 people. It was a great time of celebration as new leaders were preparing for ministry. They now have seven churches, and they have also started a children's ministry program on the island with the help of missionary, Althea Meyer. There are so many underprivileged children living in shantytowns and not attending school.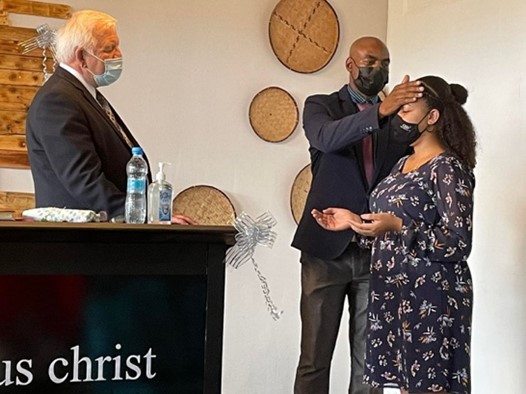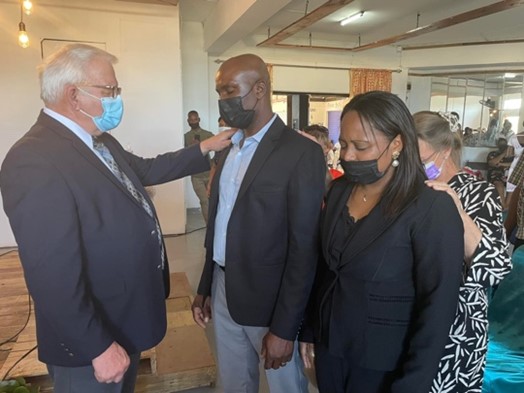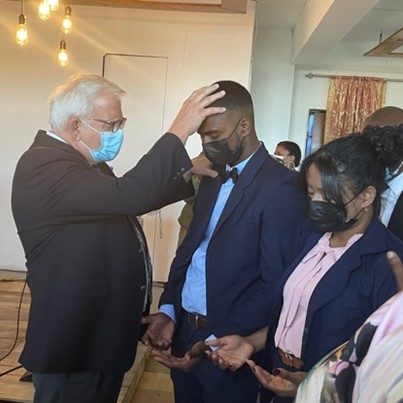 SOUTHERN AFRICA MEN'S MINISTRY - The Men's Ministry (MM) in Southern Africa has been very active, especially during the COVID-19 epidemic. Zoom has become a common means of communication to connect leaders on a different level. Men's Ministry South Africa former Director Rev. Gideon Ingwane did an excellent work engaging men for the ministry. The current MM director, Rev. Dr. Mpai, has stepped into some big shoes and is now leading SA Men's Ministry to a new level. Elder Moses Masese, the Zambian MM Director, is a phenomenal leader, and he is setting the pace for MM in Southern Africa. Leaders from other regions in Africa are also joining the virtual meetings. We are so grateful for Rev. W. A. Mills, the U.S. MM Director, for instructing and empowering men every week.
Men's Ministry's mission is to call men into authentic manhood on their journey of becoming like Jesus; men who reject passivity, accept responsibility, lead courageously, and expect the greater reward: God's reward.
ZIMBABWE - I flew to Zimbabwe in November last year to assist them with their constitutional reviews. It is gratifying to experience the enthusiasm of leaders wanting to advance and make positive changes. Although Zimbabwe is still experiencing many hardships, the church is doing well spiritually, and they are evangelizing and planting new churches in different regions of the country.
MOZAMBIQUE - In 1990, when Maggie and I were living in Zimbabwe, I traveled many times to the central-northern part of Mozambique during the last three years of the civil war. God opened doors for us to minister the gospel to many people who escaped the war living in the refugee camps. I was able to teach the new converts, and eventually, many of these people experienced the call of God upon their lives. When the war stopped in 1993, most leaders returned to their rural villages. One of the first things they did was to plant a church. We had tremendous growth during the ensuing years. When Maggie and I moved to South Africa for our new assignment, central-northern Mozambique was no longer under our jurisdiction. Fast forward 19 years, I sent Bishop Rui Chichava, the Southern Conference Superintendent, to the central-northern region of Mozambique to assess the condition of the churches. On his return, he reported finding an additional 32 churches. We praise God for an excellent report.
In March, we had conference elections in the South of Mozambique, and then Bishop Chichava and I flew to the country's central region to establish two new conferences. We then had three conference elections in one and a half days. I appointed Bishop Rui Chichava as the National Bishop of Mozambique to help excel the work. He is a very well-respected leader and has excellent visionary abilities.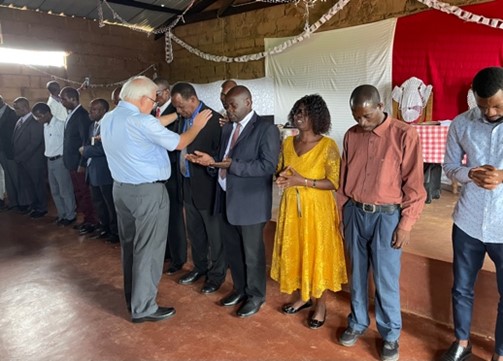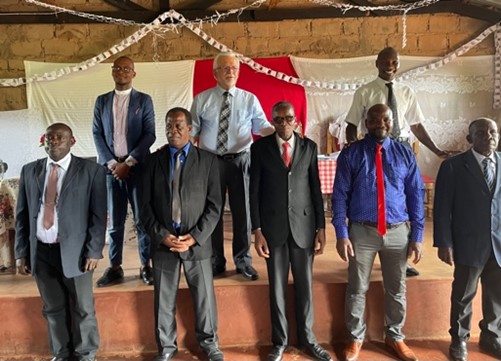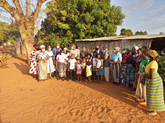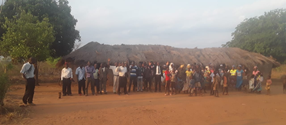 We want to express our sincere appreciation to our prayer partners and supporters for your faithful commitment to our ministry this year. May the grace of our Lord be with you.
Joe & Maggie DelportJoe Delport