Dear Mission Partner,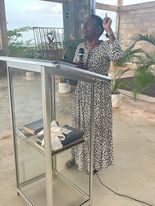 Greetings to you in the mighty name of Jesus Christ, our Lord and Saviour. I hope all is well with you and your family. Maybe you or one of your loved ones have not been well. I pray for the hand of the Lord to touch and comfort you in a great way. I would like to thank you for your continued prayers and financial support. THANK YOU SO VERY MUCH.
I am doing well both physically and spiritually, continuing with the work of the Lord, bringing souls to the kingdom. I am thankful for God's grace, for I know it's not by our might or power, but it's by the Spirit of the Lord. Glory to His holy name!
I was so blessed to have my son, Shama, and his family visiting me for two weeks at the end of February. I really enjoyed being with my grandchildren for this short time. I had an opportunity to join them to visit the island of Zanzibar. It was my first time going there, so it was quite an experience to see so many mosques. Every lady and all of the little girls had their heads covered. Please pray for the people of Zanzibar that they will be more open to the gospel.
I also traveled to Kilosa this month for ministry to our church there. Due to changes in weather, drought has been a challenge to the farmers in Tanzania. There has been no rain and poor crops. Many Maasai cows died at the end of January and part of February because of the drought. Please pray for rain in Tanzania.
Thank you again for being such a blessing to the people of Tanzania and to me.
Until next time, please remember:
A MISSION'S PARTNER IS A MIRACLE CANDIDATE.
Yasinta Mrema