IPHC Expands into Saigon, Vietnam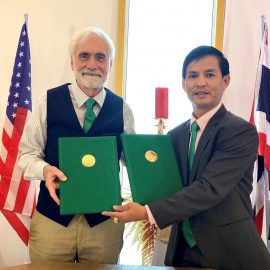 Continental Asia Regional Director Russell Board traveled to Thailand Oct. 11-15 to meet with two delegations from Vietnam to discuss ministry partnerships. As a result, IPHC now has its first congregation in Saigon, Vietnam: Love Church, led by Pastor Joshua.
According to Board, Rev. Sabu Abraham, a short-term missionary with WMM, met Pastor Joshua around 8 years ago through a mutual acquaintance in California. He invited Joshua to visit the campus of Father's House Theological Seminary in Kerala, India, where Joshua and Board were able to then meet. Abraham later visited Joshua in Vietnam and ministered there.
Abraham has been teaching at the Thailand Theological Seminary (TTS) in Thailand and Joshua became interested in bringing seminary classes to Vietnam. Eventually, the Lord brought it all together.
Plans are now being developed to establish a seminary program in Saigon, Vietnam under the auspices of TTS.
TTS is thriving under the outstanding leadership of Dr. Wallapa Wisawasukmongchol and now has 10 campus locations scattered throughout Thailand where students can pursue bachelor's, masters and doctoral programs.
"We thank God for the pastors and leaders being equipped in all aspects of ministry," Board said.