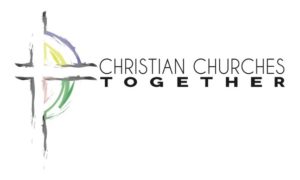 From Christian Churches Together (an assembly of Christian organizations witnessing together to the reconciling power of the Gospel of Jesus):
There should be no schism in the body,
but that the members should have the same care for one another.
And if one member suffers, all the members suffer with it;
or if one member is honored, all the members rejoice with it.
1 Corinthians 12:25-26
"To our sisters and brothers in Christ facing persecution and martyrdom,
We greet you in the name of our Lord Jesus Christ.  We write to you as Christians living in the United States where we do not face immediate danger of persecution and martyrdom in living our faith as do you.  We write as Christians troubled not only by the persecution of our fellow believers and other religious communities, but also by the attempts of some seeking to eradicate Christian communities in what can only be named genocide. We write as Christians conscious in the midst of our confessional diversity, seeking to heed more faithfully the teachings of our Lord and the exhortation of Saint Paul in a perfect manner.  Still, the divisions will be healed only as we "care for one another," recognizing the suffering of those who proclaim Christ Jesus as Lord in the Holy Spirit.
And therefore, we write as those who desire to express our care for you in the time of your travail.  You know firsthand the experience of the Apostle Paul who addresses the Corinthians (2 Corinthians 4:8-10):
We are hard-pressed on every side, yet not crushed; we are perplexed, but not in despair; persecuted, but not forsaken; struck down, but not destroyed— always carrying about in the body the dying of the Lord Jesus, that the life of Jesus also may be manifested in our body.
This is in accordance with the teaching of our Lord who teaches that there will be those who believe the persecution of His Church will be of service to God.  Lamenting your sorrow and pain, we give glory to God in these days that you, despite being hard-pressed, perplexed, persecuted, and struck down, have maintained your faith in the Cross and Resurrection of our Savior.  That you continue to fight the good fight and endure, we are thankful, for the witness of those who suffer for the sake of righteousness has always been the most powerful testimony to those who as yet do not believe. Your steadfastness is also an inspiration to our fellow believers who may be tempted to complacency in the absence of an external threat.
We also heed the words of the Apostle James (Iakovos) (James 2:15-17):
If a brother or sister is naked and destitute of daily food, and one of you says to them, "Depart in peace, be warmed and filled," but you do not give them the things which are needed for the body, what does it profit? Thus also faith by itself, if it does not have works, is dead.
You exhibit your faithfulness to the Lord amidst persecution and martyrdom, but we, who do not face the same trials, exhibit our faith by our concern for you.  In Christ Jesus we seek actively to lessen your pain and suffering because of our love for you, and we do this so that working together here and throughout the world, that which divides us may be overcome.  In this, our own faith may be strengthened by what we may learn from you and your steadfast commitment in time of trial…"