SEASON'S GREETINGS
We have a lot to be thankful for! We are thankful for our health (we are still here), family, friends, and life in general, but most of all, we are thankful for you and God's goodness. The following are a few quick updates.
GULF COAST REGION: THE HARVEST CONTINUES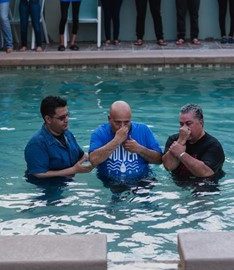 In the Baja Mexico area alone there have been over 400 registered baptisms within the last 90 days. At El Shaddai International, 99 new converts were baptized.
GOD IS IN THE RESTORATION BUSINESS
We have been holding meetings in the Baja California/Mexico area. We finally were able to coordinate our calendars to hold a meeting for our home church (Congregacion Cristiana Internacional Eliezar) on the field, (yes, we have one, and it is highly recommended). Every place we have been, we have found marriages are under a strain.
SAN FELIPE-SEA OF CORTEZ
The San Felipe work is growing. Over fifty families attend the work, PTL. The downside, the pastor informed me this month, without warning they were told they had two weeks to leave the building they have been renting for years. It is not the end of the world, but proves to be a challenge on such short notice.
ENSENADA CHILDREN'S PROJECT COMPLETED
The children's building was able to be completed in a timely manner and a little over budget, but acceptable. The kiddos are now having services inside as opposed to outside, and they are safe from the wind and rain. A big shoutout to the North Carolina Conference and Church of The King in Katy, Texas.
M25 DOWN BELOW THE BORDER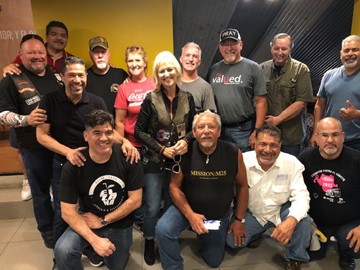 Last, but not least – M25. The group came down to visit the chapter that started some years back. They held three services running just under 1,000 in attendance along with a bike run. Gary Burd did such a good job preaching. I think he almost started to speak Spanish. It was so good to see Gary, Carolyn, and the group.
Space does not afford us the opportunity to share everything going on - Holmes Bible College, School of Ministry, meetings, Guatemala, Belize, etc. The information we share is a highlight to all that is going on.
Blessings, Ron
PHYL'S WORLD: NEW ADDITION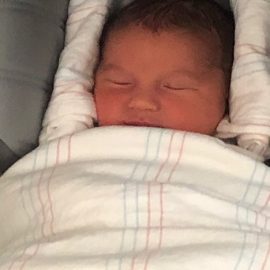 The addition to our clan arrived August 12 and General Conference gave us the opportunity to spend time with the newcomer. We are incredibly blessed. Of course, his grandpa said Christmas will be getting more expensive, lol. But we really don't mind. We love our family!
Soon we are coming out on furlough. We hope to get to see and visit many of our friends.
Love and Blessings, Phyllis
IN CLOSING
As Phyllis mentioned, we are coming out at the end of the year for furlough. Our calendar is already filling up. We would appreciate the opportunity to visit as many churches as we can before returning to the field.
If anyone would like to schedule us after January 1, our contact information is listed, or you can message us through Facebook Messenger. Our U.S. number works here on the field, so direct calls are not a problem.
Blessings,
Ron & Phyllis Roy