"Teach us to realize the brevity of life, so that we may grow in wisdom." - Psalms 90:12 (NTV)
When my sister passed away last year, just four months before my husband did, I began to consider how our lives can stop at any moment, and when that happens, our opportunity to serve God on this earth also ends. So, I have decided to spend each day of my life serving God and showing others the love and mercies of our great God. Our lives can make a difference in the lives of others if we commit each day to be a blessing to the people around us in one way or another. Starting with our family and then with those who cross our path, they can receive a simple smile from us, a word of encouragement, or an act of service; and that can be a great testimony of God's love for them.
Last month I was reminded of the vision on which the Oasis Center is based:
To be a place of refuge where people can come to feel safe and accepted; experiencing the love of God and building relationships and trust among the people who work in the Red-Light District.
To help them get out of that environment and lifestyle.
To share the Gospel of Christ and the Hope we have in Jesus.
I have been able to see how points one and three have been fulfilled. Twice a week, Oasis opens our doors to connect with the community that works in the district, prepare and share free dinners, and bake desserts for birthday celebrations, and every day we have Bible devotionals with a time of worship, prayer, and study of God's Word, followed by open and honest conversations about what we have read and any other question they may have. We have seen amazing transformations and lives committed to Christ.
But, so far, we haven't done much to fulfill the second point. At the beginning of this ministry, we had a Refuge Home where we received some girls who wanted to stop working in the district, but it didn't last long. We continue to offer Jewelry-making classes, teach some basic cooking skills, and have English and Flemish language classes, but this is not enough for us to help them get out of this job. Although we haven't been of great help in this regard, during the last year we learned that five brave girls decided to stop doing this work. Praise God!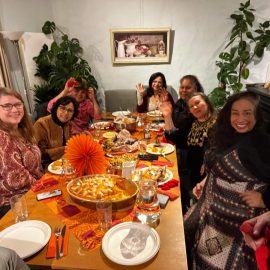 The good news is that on December 6 we will be signing the papers for the purchase of the building. When that happens, our plan is to open, in another location, a Second-Hand Boutique, giving us the opportunity to offer jobs to those who want to get out of the Red-Light District. Our Boutique will be aimed at the student community nearby, which is looking for sustainable clothing. I will continue to keep you informed of our progress.
I also want to tell you that on Tuesday, Nov. 22, we hosted a Thanksgiving dinner at the Oasis Center. We had a great time sharing the benefits of being grateful for the blessings we receive from God. We are planning to do another great meal for Christmas on December 22.
As for Church activities, after the photographic exhibition we carried out at Christian Community where we had 106 visitors during the eight days we were open, we were convinced that we could open our place to function as a full-time Coffee Shop. For that, we are making an appointment with our consultant to start navigating this option. This is going to be a great opportunity to reach more people with the Gospel of Christ. Already, for a few months now, on the third Sunday of every month, we've been using our facility to hold an event called Coffee Connect. It is open to everyone who wants to practice Dutch through games and conversation over a cup of coffee.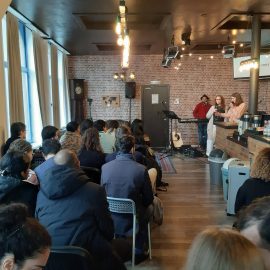 Other good news at CC, as we call it, is that for several Sundays now, we have been at our maximum capacity. Last Sunday we had 44 people! It is time to think about 'expanding our territories'. Our senior pastor is considering renting the space next door to use for children's ministry and occupying the basement for the overflow attendance.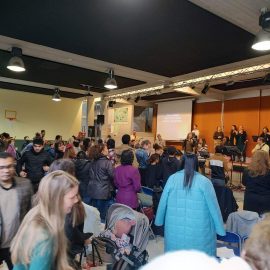 In December, I will have the last class on the Holy Spirit for this term in the Bible School. It has been a great time learning more about the Fruit and the Gifts of the Spirit in these last classes.
My constant prayer for you is that the Lord will continue to shine His face upon you and bless you. Your financial support makes it possible for me to continue serving my beloved Lord in this place, and for that, I say thank you from the bottom of my heart. I want to wish you, your family, and your church a Merry Christmas and a Happy New Year in 2023.
Lulu Salazar
Missionary to Belgium