Hello Everyone!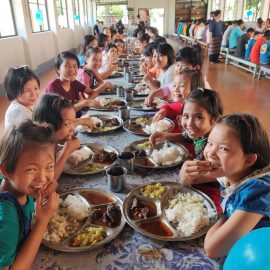 I don't know about you, but for me it seems impossible that it's December. In a few weeks we will be entering a new year and I hope my 2022 prayer for us - to have a realization that regardless of where we live and whatever chapter of our lives we are in, we would know our assignment is to bring His presence into the world - was answered.
I often share that People to People Ministries (a.k.a. presence bearers, that's my addition) is the humanitarian branch of World Missions Ministries. W. Phillip Keller in his book Rabboni: The Life Story of Jesus writes of ministries such as this saying, "We who claim to follow in His footsteps do well to remember this. Our responsibility to our generation is to come to them with open, outstretched hands. In the right we bear the word of truth, the great good news of salvation for men in body, soul, and spirit. In the left we carry all the social services needed to minister likewise to body, soul, and spirit."
Updates from Asia
Recently, celebrations in four cities in India were held commemorating 100 years of IPHC Ministry. In one location, Rev. Russell Board, Continental Asia Regional Director shared, "The Chief Minister of the state was an honored guest at the Ranchi celebration. This is especially remarkable in a nation where the ruling party is hostile to Christians. He commended the many productive efforts of IPHC in meeting the needs and facilitating the development of disadvantaged communities, and gratefully welcomed the prayers of the congregation." It was also remarkable that a local television network covered and aired his remarks and presentation of gifts from many leaders. The churches have been given great favor because of your giving to disaster relief, water wells, etc., enabling a greater presence in their communities.
In Thailand, People to People Ministries is registered as Hands of Hope Foundation which allows funding to be sent for child sponsorship and other types of outreaches. As the government has continually evaluated the foundation, they have been very pleased with our program and extended our capacity to do more. They now allow us to assist with foreigner's documentation in obtaining visas, which has opened the door for more ministry workers. We are so grateful our impact in this nation goes far beyond what we would dream of asking for.
I rejoice in knowing many lives are touched by the presence of God through PTP. I'm grateful for the generosity poured out through giving hearts enabling ministries to expand in nations. I'm thankful for the resilient spirit God places in children, who through so many challenges the past couple of years are finally back in school, playing with friends, and thriving as you pray for them. You can check out more from PTP and see various opportunities to invest in the nations by visiting their website at iphc.org/ptp/.
Thank You
To everyone who prays and continually sends your support, thank you, thank you, thank you! And now time for a shout out to you, MERRY CHRISTMAS and HAPPY NEW YEAR! I am expecting together we will see God do great things in 2023!
Many Blessings,
Debra Crook