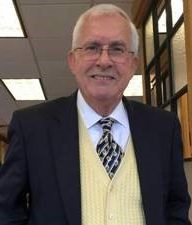 World Missions is grateful for the life of John Burnette, and we thank God for his ministry. He worked with the IPHC World Missions Ministries Division from 1973-1974 as a missionary to Hong Kong. He used his teaching and leadership experience to serve at Wing Kwong College. Our prayers are with his loved ones at this time.
"Mr. John Douglas Burnette, age 81 of Wilkesboro, husband of Norma Jean Setzer Burnette, died Saturday, June 10, 2017 at Wake Forest Baptist Medical Center.
Funeral services will be held 2:00 PM Tuesday at Wilkesboro Baptist Church with Dr. Chris Hefner and Rev. Alfred E. Andrews, Jr., officiating. Entombment will be in Scenic Memorial Gardens. The family will receive friends from 6:00 until 8:00 Monday at Reins-Sturdivant Funeral Home.
Mr. Burnette was born March 15, 1936 in Barnesville, Georgia to Harvey Daniel Burnette, Sr. and Myrtle Florence Cook Burnette. He attended Emmanuel College, Lenoir-Rhyne College, and received his Masters and Education Specialist degree (Ed.S) from Appalachian State University. He served as the principal of multiple schools over a twenty-seven year period. He was a member of Gideons International – South Camp and also served as a Christian educator missionary. He served as Interim Pastor and performed with Seniors on Stage. He was a member of Wilkesboro Baptist Church where he was a church choir member and former deacon.
He was preceded in death by his parents and his brother, Harvey Daniel Burnette, Jr.
He is survived by his wife of 58 years, Norma Jean Setzer Burnette; two daughters, Alisa Vaness Burnette and husband, Johnny D. Anderson, of Panama City, FL, and Susan Vatrice Burnette of Moravian Falls; four grandchildren, Jonathan Thomas Burns, Matthew Gregory Burns and wife, Rachel, Brent Austin Walker, and Micah Bryan Burns; and two sisters, Nelle Goodman of Cantonment, FL, and Carolyn Adams and husband, James, of Barnesville, GA.
Flowers will be accepted or memorials made to Gideon's International – South Camp, P.O. Box 323, Wilkesboro NC 28659."
Source: Hugh Hoyle