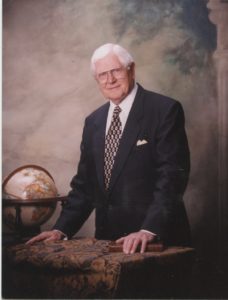 Rev. John Parker passed into eternal life on Sunday, July 17th, 2016. He was surrounded by his loving family and friends.
"The World Missions Ministries family extends its deepest condolences to Mrs. Edna Parker, David and Irvina and family, as we collectively honor and reflect on the life and legacy of missionary statesman, Rev. John Bertram Parker.
John and Edna Parker officially served as IPHC Career Missionaries for forty-five years. John recorded in one of his journals that they lived on four continents and traveled in some 50 countries, ministering in 35 of them.
I read a quote recently that stated, "Everyone leaves a footprint in his or her lifetime that affects generations long after we leave this world." The footprint of John and Edna on the missionary fabric and global ministry of the IPHC is indelible.
Mrs. Edna, we thank you for loving and caring for John so tenderly for the past 67 years. You were part of every success that John enjoyed as your gifts empowered and released John to exercise his unencumbered.
David, we also honor you and Irvina for showing us all how to love and care for our parents. David, you are a good son. I know your father was so very proud of you, as we are.
Mrs. Edna, David, and the extended Parker family – scripture pronounces a blessing on those that mourn. May that special anointing be extended to you as you mourn the loss of your husband, father, grandfather and great-grandfather.
Know that your global missionary family will be praying for you in the days, months, and years to come."
-Talmadge Gardner, Executive Director, IPHC WMMD
____________________
"Throughout its history, the International Pentecostal Holiness Church (IPHC) has produced and sponsored some of the finest and most dedicated missionaries in the world. Perhaps none is more deserving of honor than John Bertram Parker, who became known as the missionary statesman of the IPHC.
John was born June 5, 1927, in Rocky Mount, North Carolina. He was the second of eight children—three boys and five girls—born to Roy Cleveland and Lillie Haney Parker.
Though the Parkers lived three miles from the Pentecostal Holiness Church in Rocky Mount, Lillie made sure her brood was in services every time the doors opened. She walked with the children to church and back on Sunday mornings and sometimes on Sunday evenings when her health permitted.
John learned early in life the disciplines of hard work and responsibility. When his mother passed away on his 12th birthday, John and his older brother, Wiley (14), assumed many of the household chores and care of their younger siblings. Yet, John never missed school or failed to pass to the next grade. He graduated high school in 1944, at age 17, with high honors.
During a revival conducted by Rev. N. J. Ward, John fully surrendered his life to the will of God. He immediately sensed God calling him to preach the gospel. Though he understood the need to prepare himself for his calling, he also recognized that he had no financial resources to underwrite a formal education. But that didn't stop him from pursuing the training he needed. In the fall of 1944, he enrolled at Holmes Bible College in Greenville, South Carolina. At that time the school operated on a faith basis and was available to anyone who wanted to prepare for ministry.
The North Carolina Conference granted John ordination in August 1945. Two years later, the conference assigned him as pastor of the Bethel PH Church when he was only 20 years old. He served as pastor of Bethel from 1947 until 1951.
Though he had earned his bachelor's in theology from Holmes, John felt directed to continue his education. He enrolled at East Carolina University and began working toward a B.S. in English. He continued on and earned his master's degree.
During John's senior year at Holmes, a friend had introduced him to a fellow student and instructor, Edna Grace Harrell, from Garland, North Carolina. John and Edna were a perfect match, as both knew they were called of God into missionary work, specifically China. They were married June 21, 1949.
The Parkers were ordained as missionaries of the Pentecostal Holiness Church at the 1951 North Carolina Annual Conference. Since China was a "closed country" at the time, the young couple accepted an appointment from the World Missions Board to go to Costa Rica. Amid tears, good wishes, and blessings from the church people they loved, they departed for this new adventure on Christmas Day of 1951.
For the next 46 years, this tall, dignified man and his tiny, yet spunky, companion served God and the International Pentecostal Holiness Church as missionaries on several continents and in numerous countries. The Parkers remained in Costa Rica for 23 years. From 1978 until 1986, they lived in Hong Kong as John served as Asian Supervisor, working primarily in China, the Philippines, India, Indonesia, Singapore and South Korea.
He was a teacher/administrator at the Pentecostal Bible Institute in Chile for two years (1986-1988) and served as European Supervisor for about five years (1988-1993). From 1994 until 1997, John completed several special assignments, including teaching in the advanced training programs in 10 different countries.
In 1996, Southwestern College of Christian Ministries (now Southwestern Christian University) bestowed on John an honorary Doctor of Divinity.
John and Edna Parker officially retired from World Missions December 31, 1997, yet he continued to serve wherever doors of opportunity opened. Being fluent in Spanish, John served as Coordinator of the North Carolina Conference Hispanic Ministries. He taught the Goodwill Adult Bible Class at Northwood Temple in Fayetteville for 11 years until his failing health forced him and Edna to sell their North Carolina home and relocate in Oklahoma City to be near their only son, David and his wife Irvina.
The Parkers have two grandchildren, Jennifer (Shane) Terry and Ryan (Jessica) Parker. They also have three great-grandchildren: Aubrey and Tristen Parker and Jasper Terry.
Fellow missionary and close friend Charlene H. West concluded the biography she co-authored with Edna Parker (John Parker, Missionary Statesman, 2014), with these words: "John Parker, Missionary Statesman, teacher, author and Bible scholar: his life is one whose accomplishments cannot be counted out in numbers. He has prepared others who have prepared others, and they, in turn have prepared others… Those who have been taught will keep sowing the seed of the eternal Word they have been given. Lives will continue to be changed; the work of the Lord will grow, and the spiritual 'children' of John and Edna Parker will continue to rise up and call them blessed!" "
-Shirley G. Spencer
____________________
Funeral arrangements are as follows:
Oklahoma City:
Family Viewing
6:00 to 9:00 pm Tuesday, July 19
Mercer Adams Funeral Home
3925 N. Asbury
Bethany OK 73008
Celebration Service
2:00 pm Wednesday, July 20
River of Life
6901 NW 150th Street
Oklahoma City, OK 73142
North Carolina:
Family Viewing
5:00 to 8:00 pm Friday, July 22
Cromartie-Miller-Lee Funeral Home
401 W. Cumberland St.
Dunn, NC 28334
Celebration Service
11:00 am Saturday, July 23
Culbreth Memorial
8443 Fayetteville Rd.
Falcon, NC 28342
Interment will follow at the Falcon Memorial Cemetery.
In lieu of flowers, the family suggests donations to the John Parker Memorial Fund for refurbishing the Costa Rican Bible Institute. Donations can be sent to IPHC World Missions;PO Box 12609; Oklahoma City, OK 73157.

Save