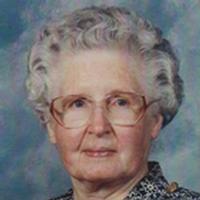 "Louise Owens Gschwend, 88, passed away on Tuesday, June 28, 2016 at Hospice House of the Carolina Foothills in Landrum, SC.
Louise was born in Tryon, NC on August 28, 1927. A native of Polk County, she was the daughter of the late Edgar Grady Owens and Catherine Elizabeth Parker Owens and wife of Rev. Joseph Ronald Gschwend. Upon graduating from Tryon High School in 1945 she attended Holmes Bible College in Greenville, SC. After graduating, she attended Furman University where she earned a Bachelor of Arts in Education in 1955. While attending Furman University, she taught at Holmes Bible College, where she met her husband, Rev. Joseph Ronald Gschwend. They were married on February 6, 1955 and celebrate 61 years of marriage. She became an ordained minister in 1966 in the Redemption Ministries Conference of the International Pentecostal Holiness Church and was ordained as a missionary in 1971. Along with her husband, she faithfully served on the mission field in Africa for 25 years. Before leaving for the mission field she taught in the public school system for 13 years. She is loved by all who've been privileged to be touched by her life.
In addition to her husband, she is survived by a son Phillip Gschwend and his wife, Freda Sheehan Gschwend; a daughter Margaret Gschwend Gilmore and her husband, Aaron Gilmore; four grandchildren, Joseph Gschwend, Adrian Gschwend Hammond (Eric), Khristina Kitchen (Kenny), and Gloria Gilmore; and eight great grandchildren, Kayla, Kendra, Khloe, Kelton, & Kaiden Kitchen, Isabelle & Anya Gilmore, and Noah Hammond. Other surviving relatives include sisters-in-law, Nancy Owens Hammett and Beverly Owens; and brother-in-law, Frank Travers. She was predeceased by three brothers, Oscar Owens, Richard Owens, and Edward Owens; and four sisters, Ruby Hammett (Benny), Cecil Hyde (Hollis), Rebecca Godfrey, and Mable Travers.
Donations can be made in Louise's honor to Hospice of the Carolina Foothills, 130 Forest Glen Drive, Columbus, NC 28722 or to Upward Christian Fellowship, 991 Upward Road, Flat Rock, NC 28731 for the Cuba Bayamo Church Construction."
Source: McFarland Funeral Chapel