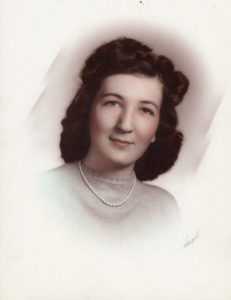 World Missions Ministries extends our love and prayers to the family of Mary Alice Pate at this time. We are grateful to the Lord for her life and faithful ministry. We take peace in the knowledge that she is at home with Jesus.
"Mary Alice Pate, age 93, passed away on August 21, 2017. Heaven said "Enough!" and called her from our arms to Jesus' arms. She was born on January 21, 1924 in Rockingham, NC to Abner "Azz" & Leona Jenkins. At the age of twelve, Mary prayed a prayer that would change her life. "Lord, I'll go anywhere and do anything if you'll save me from my sins." After graduation from high school, Mary went to Holmes Bible School in Greenville, SC where she met her future husband, Manuel Lamar Pate. After marrying, they prepared to go to Africa as missionaries for the International Pentecostal Holiness Church (IPHC).
On November 2nd, 1956 in New Orleans, LA, Mary, her husband, and two young daughters, Cathy and Lydia, boarded a Lykes Line cargo ship headed for South Africa. After reaching South Africa, their ship sailed up the east coast from Capetown to Durban, where they disembarked on December 4th. In January 1957, they arrived in Zambia, Central Africa to replace the senior missionaries, Rev. and Mrs. Guthrie, while they returned to the States on furlough. After much prayer, in December 1958 they moved to Zimbabwe (Rhodesia), Central Africa to pioneer a work. During their first missionary term, they planted and built seven churches in seven years. Where there was no church building, they worshiped in thatch-roof structures, under trees, and in rented buildings. In 1961, Mary and family rejoiced at the birth of son Manuel. Many Sundays, Mary would arise early, bake biscuits, fry chicken, pack the family into Dad's truck, and head out to rural villages for three to four services. At day's end, weary but rejoicing, she returned with her family and the skeletal remains of her fried chicken.
On September 1st, 1972, after a sudden illness, her husband passed away. Stunned and grieving, Mary held her family tightly together, carrying on the missionary work despite having to navigate the increasingly tense political situation in Rhodesia which led to the seven-year war for independence. In 1975, she returned to the States where she completed her Bachelor's degree in Theology at Southwestern College in Oklahoma City. She also got a job in the prayer tower at Oral Roberts University in Tulsa, OK and prayed with callers from all over the States and the world. In 1985, she returned to the now independent nation of Zimbabwe where she completed a five-year term. After furlough in the States, she returned for a second term, but suffered a cervical spinal cord injury after a fall in the capital city of Harare. Mary was hospitalized in two Zimbabwean hospitals, and then on November 8th, 1991 was airlifted to St. Mary's Mayo Clinic hospital in Rochester, MN where she underwent surgery and months of intensive therapy, After discharge from the hospital, Mary went to live with her children.
After missionary retirement, Mary continued her prayer ministry, praying for her family, nursing staff who came to the house, the missionary work, and for anyone in need. She was a devoted wife, mother, and grandmother. She was a prayer warrior and loved to read the Bible. With family and friends around her, she delighted in sharing stories of Africa and always enjoyed a good laugh. Her faith sustained her through life's tragedies and adversities. She is preceded in death by her parents, four sisters, and two brothers. Mary is survived by her children Cathy Harrick, Lydia Pate, and Manuel Pate, as well as four grandchildren and three great grandchildren.
Many heartfelt thanks to McNeil's Funeral Service, The Bridge, IPHC, Crossroads Hospice, Dr. Elwood Williams, and Deaconess staff who have cared for her over the years. A memorial service will be held on Friday, August 25, at 10am at The Bridge church in Mustang, OK. Donations may be made in Mary's honor to the IPHC World Missions department. Online condolences may be made at www.mcneilsfuneral.com"