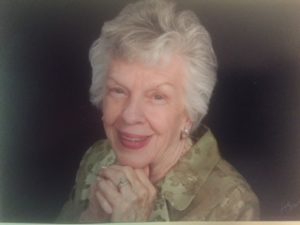 Rev. Esther Rose Gamble Gardner, 86, of Burlington, NC, went to be with her Lord and Savior on the 30th of January 2018.
Born in Greenville, PA, on the 12th day of October 1931, she married Dr. James A. Gardner on September 11, 1954, who preceded her in death.
A graduate of Holmes Bible College and Furman University in Greenville, SC, she served on the Mission Field of South Africa for 20 years [10 of those as an IPHC Career missionary] and as a faithful pastor's wife.
Surviving are two sons: Bishop James T. Gardner (Stephanie) of Oklahoma City, OK; and Rev. Derrick V. Gardner (Martha) of Collierville, TN; and daughter Rosemary Gardner of Burlington; five grandchildren: Brandon (Miranda), Whitney (Phil), Addison (Lorena), Katie Beth, and Gabriella; and four great-grandchildren. She also had many nieces and nephews who considered her a mother figure.
A memorial service will be held at Trinity Worship Center on Saturday, February 3rd at 11am. Pre-service visitation will be from 10am to 10:50am. Committal will take place privately.
Memorials may be made to: Trinity Worship Center, IPHC World Missions Ministries, or Hospice of Alamance.
World Missions Ministries extends our love and prayers to the family of Rev. Esther Gardner. Esther, alongside her late husband Dr. James A. Gardner, established a strong ministry foundation in South Africa, serving as missionaries for 20 years. In The Simultaneous Principle, Dr. Rev. Frank Tunstall shares part of their story:
At the end of their first year in Krugersdorp, Gardner felt definitely that the Lord was leading him to start a Pentecostal Holiness Church. The first service began March 17, 1958, and the "West Rand Times" carried the announcement. The church was organized in August with 13 members. Jimmy and Esther Gardner were the first P.H. missionaries anywhere in the world to reach indigenous status; the Krugersdorp congregation was able to pay their full salary and expenses. Gardner retired as a missionary in July 1977.
In his soon to be released book, A Collection of IPHC Missionary Short Stories, Dr. Tunstall includes some specific details about Esther's ministry:
Esther was especially gifted at playing both piano and organ. She was also a leader who organized a Woman's Auxiliary in the Krugersdorp Church and served as its president until 1975. The agenda of her meetings with the women included a devotional, business, fellowship, and the traditional South African "tea time." They catered weddings and other events, sponsored bake sales, and tithed on all the proceeds to the conference Woman's Auxiliary treasury. She also served as president of Woman's Auxiliary for the Rand District. She came to be recognized as "mother" by ladies across the Rand.
Rev. Esther Gardner leaves a legacy, carried forth by Bishop James T. Gardner, Executive Director of World Missions Ministries; Rev. Derrick V. Gardner, pastor of Compassion Church in Germantown, TN, and Rosemary Gardner, an active member of Trinity Worship Center in Burlington, N.C.