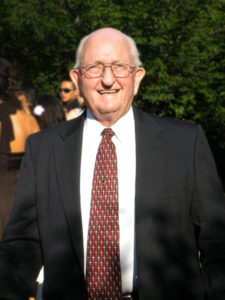 May 13, 1925 – August 31, 2018
On Friday, August 31, 2018, at 4:45 am, the Earth lost a gentle soul, and Heaven added a new voice to join in the unending praise. After 93 years of preaching, teaching, loving, and caring, Rev. James ("Jim") Harvey Gamble left us to join his wife, Bertha in Heaven.
Jim was born on a homestead in Niche Valley, Alberta, Canada. For the eighth child in a family of twelve children, life was hard, and times were lean. However, the family's faith was strong, and their home was full of love. Both parents emphasized education, and those years ingrained in Jim a work ethic and determination that lasted a lifetime.
Kneeling at his mother's knee at the age of five, Jim asked Jesus Christ into his heart to be his redeeming Savior. At the age of ten, Jim felt God's call on his life to be a missionary. He obeyed this call and dedicated the rest of his life to missions, teaching, and caring ministry.
As he prepared for ministry and throughout his life, Jim applied himself to education. Today, we would refer to him as a life‐long learner. He first received a diploma in Bible and Religious Education from Pacific Coast Bible Institute (PCBI) in Chilliwack B.C. Canada; then a diploma in Theology from Western Bible College in Winnipeg, Canada. Later, he received two Bachelor of Arts degrees, one in Theology and the later one in Religious Education from Oklahoma City Southwestern College (now known as Southwestern Christian University). In 1972, Jim received a Master of Arts in World Missions and Cultural Anthropology from Bethany Nazarene College (now Southern Nazarene University) in Bethany, Oklahoma. In 1975, he earned a Master of Arts in Sociology from Central State University (now the University of Central Oklahoma) in Edmond, Oklahoma. Even in his eighties, Jim was taking courses in creative writing and poetry from Eckerd College in St. Petersburg, Florida.
While studying at PCBI, Jim met and married Bertha Martens. From their wedding on August 6, 1947, throughout their lives together, Jim and Bertha were much more than a married couple. They were partners in everything they did for 61 years. From raising four children, pioneering churches, teaching, and serving God wherever called or sent, they did it together.
Jim's first pastorate was the Pentecostal Holiness Church in Winnipeg, Manitoba, from 1948 to 1950 as he studied at Western Bible College. The two were appointed as missionaries in 1950. With a toddler and a brand‐new baby, they headed north on the Alaska Highway to start the mission of planting new churches. This highway was nothing more than a gravel trail through the northern Canadian wilderness. They arrived in the small Athabaskan village of Northway, Alaska, in October 1950 to a temperature of minus 25 degrees Fahrenheit! Over the next 20 years, Jim and Bertha established churches in Northway, Tetlin, Fairbanks, Bethel, and Nunapiachuk. During three long winters in Northway, they conducted a minister training that resulted in two graduates becoming fully ordained by the International Pentecostal Holiness Church (IPHC). Lives they touched in Alaska are still touching other lives and spreading the love of God.
In 1970, Southwestern College invited Jim to establish a Department of World Missions to train outgoing missionaries. Once this was up and running, the college president asked Jim to form and lead a Department of Sociology. Along with developing course material and heading up these two departments, James taught courses in both areas.
In 1977, James accepted a call to teach Bible and related courses at Faith Bible Center, attached to West Texas State University in Canyon, Texas. There, Jim and Bertha's home became a "home away from home" for about 20 students from Taiwan. Lifelong relationships were formed.
In September of 1979, the IPHC sent Jim to Korea as Field Superintendent. For two years, Jim and Bertha lived on Young Moon Mountain, where Jim was dean of missions in the Ministerial Training College. They then moved to Seoul, where he served another two years as dean of the four‐year IPHC college. Eager young Korean students, who also became true lifelong friends, have gone on to be great church leaders and scholars. Upon returning from Korea in 1983, Jim served as dean of Agape Korean Bible College, a four‐year school training pastors in Los Angeles, California.
In 1985, Jim accepted his final pastorate. He served the folks at Christian Evangelical in Port Angeles, Washington, for five years. At age 65, when most would be retiring, Jim became a social worker and peer counselor to seniors in Port Angeles.
In December 2003, at age 78, Jim and Bertha moved to St. Petersburg, Florida, for a well‐deserved retirement and to be near their son Norman. They became residents of Westminster Suncoast.
Bertha predeceased Jim in 2008. He recovered from this tremendous loss and enjoyed several more years of retirement, moving to Westminster Woods on Julington Creek in Jacksonville, Florida.
In the last few years, Jim experienced declining health and was indeed ready to go home to be with his Lord and Savior. Jim is survived by four children: Harvey (Penny) Gamble, Norman (Josette) Gamble, Joyce (John) McCullock, and Phillip (Ryan) Gamble, along with seven grandchildren and seven great-grandchildren.