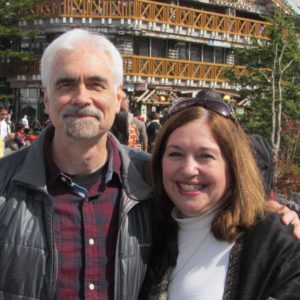 Greetings from Japan!
STRATEGIC ADVANCE IN INDOCHINA
In January, Russell traveled to Maesai, Thailand on a multi-purpose mission. He joined missionary Albert Gonzales, former missionary Jeff Willhoite, and Pastor Steve Willis, in teaching a two-day seminar to pastors and leaders from Thailand and Myanmar. The conference theme was "Walk in Christ," and featured challenging and inspirational material, rich with wisdom from Scripture and years of ministry experience.
In addition, strategic consultations were held with national leaders and mission personnel from Thailand and the US to lay out plans for the continued development of the Mekong Discipleship Center (MDC). The vision for MDC is to make disciples, equip leaders, and train church planters to spread the Kingdom of Christ throughout the Golden Triangle region (Laos, Thailand, and Myanmar) and beyond.
One piece of big news: The Lord has opened the door to initiate new training programs in the closed nation of Vietnam!
VILLAGE CHURCH PLANTS IN INDIA
In February, Russell journeyed to India together with son-in-law Hiro, and grandson Justin. They joined groups from the U.S. and the Philippines to form a multi-national team with medical and children's ministry personnel. Basing in the South India city of Srikakulam, they made daily trips to seven different village locations to boost the ministry of local pastors and church planters.
Setting up medical clinics inside or adjacent to the churches raised the profile of the local ministries, and tangibly blessed the villages. The current political climate in India is hostile to Christianity, with Hindu radicals defaming and attacking believers. But, in these villages, many Hindus entered churches for the first time and came to realize that they are places of love and healing.
The local believers had been praying fervently for this team mission for months, and the results were evident: no incidents of opposition, sufficient medicine to last through all the clinics, invitations to minister in village schools, a beautiful spirit of unity and cooperation among the team and their Indian hosts, and numerous testimonies of God at work!
The local believers were impressed by the sacrifices made by the team members in time, effort, and expense, while the team was impressed by the sacrifices of their hosts in faithfully serving Christ in spite of opposition from family and neighbors. Everyone was blessed and Jesus was glorified!
POINTS FOR PRAYER
• Pray for the continued construction and development of the Mekong Discipleship Center (WMM project #74015P), and for Pastor Chang who is now directing the ministry.
• Pray for open doors and new outreaches into Vietnam and Laos.
• Pray for the safety, courage, and witness of believers in India who serve Christ in a hostile environment. Pray for the light of Christ to shine brightly in the darkness.
• Pray for more laborers and financial resources to spread the gospel to unreached areas of Asia. Pray for wisdom and strength for us as we lead the work of WMM in this vast region.
• Pray for revival in Japan!
Thank you for your partnership in the gospel!
"Lost people matter to God, and so they must matter to us." – Keith Wright