Dear Supporters,
We want to share our hearts and vision for the Caribbean and West Indies. God has grown the nations that we currently serve (the Dominican Republic, Cuba, Haiti, Jamaica, Trinidad, and Guyana). These countries are established in leadership and are expanding to impact, not only their own nations, but those around them as well.
God has given us the promise and the call to touch the Caribbean. However, what is truly exciting to us is a promise that God made to us; the Caribbean will touch the nations. We see the fulfilled promises before us.
Moving beyond and expanding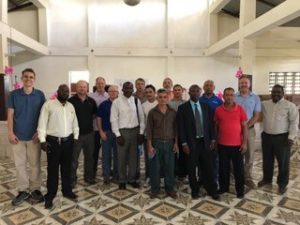 • Trinidad is actively sending missionaries to Suriname and Guyana.
• Guyana is actively ministering to many indigenous groups.
• Cuba has missionaries that planted and are pastoring a thriving church in Angola Africa, as well as sent a mission team to Haiti.
• Jamaica has sent and established Proceeding Word Ministries in Bronx, NY.
• The Dominican Republic has sent ministers to the following countries: USA, Panama, Guatemala, St. Thomas.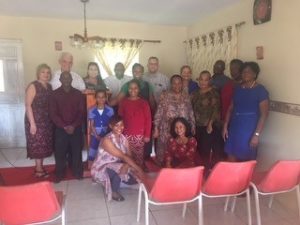 We, accompanied by Dr. Harold and Anna Dalton, went to Curacao in May to begin the process of formally organizing a church. Curacao is part of the Netherlands, and six languages are spoken there. During our visit, we were quickly reminded of the need to stretch beyond our current borders and reach the 23 remaining nations in the Caribbean.
To reach these nations and fulfill God's will, we find ourselves at a crossroad and realize that we must go where we have not gone before and operate in cultures and languages that are new. In the Caribbean, there are more than 50 spoken languages, 28 nations, 12 territories, 44,122,882 people, while compiled of more than 7,000 islands. The most impactful news as a believer is that we still have 12 unreached people groups. Both our vision and prayer is to "go" ourselves and mobilize the Caribbean to "go."
You are a critical member of the Caribbean ministry. We are coming to the USA to give great reports of the Caribbean Advancement. We also will be raising an additional $1,500 monthly. You can be a part of this incredible ministry. We have open dates to speak at your church, small group, or meet you for lunch.
For your convenience, you can give at https://give.iphc.org/missionaries/217983 or mark a check with #66041S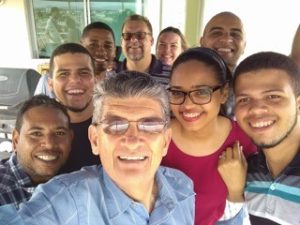 Our tentative schedule while in the USA for Furlough:
• August-September: North Carolina, South Carolina, Virginia, and Florida
• October–November: Oklahoma, New Mexico, California
• December–February: North Carolina, South Carolina, Virginia (Preaching Photo)
Contact us at 706.567.4115 or by email at dbclowers@yahoo.com.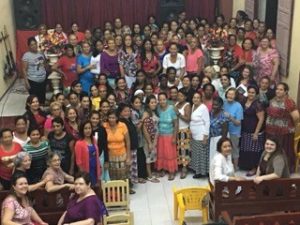 TEAMS
• Starlight Team • Lendahand •Westwinds • Advance • Trinidad • Haiti
Thank you to the many teams that have come to the Caribbean to serve sacrificially.
Prayers are appreciated for:
• Divine appointments to connect and raise the needed finances
• Divine connections to network effectively throughout the Caribbean
• Completion of Victory Training Center in the Dominican Republic
• The Caribbean Church to be established influentially and economically
• Missionary team to be expanded throughout the Caribbean
• Influential churches to be established in each nation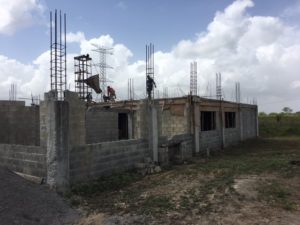 Projects
Guyana: Floodwall at North Sophia Church at the cost of $1,500 account number #68506P
Dominican Republic: Victory Training Center multi-purpose building $8,000 account number
#67002P.
Darrel & Bonnie Clowers