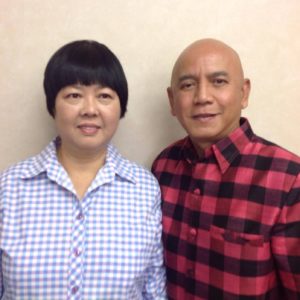 Dear Partners and Friends,
We are thankful to God for the continued growth of ministry here in Thailand. Your continuous prayers and unwavering support make this possible. Indeed, our labor in the Lord will never be in vain. As of January 2018, ACA churches increased from 56 to 60 since November 2017. The harvest is plenty, but the laborers are few. Please keep praying that the Lord of the harvest will send more laborers in this predominantly Buddhist nation.
We were encouraged and blessed to see the progress of the construction works at Indo-China Missions Training Center in Mae Sai. Thanks to the Cornerstone building team (Dennis Bost, Melvin Pitman, Marvin & Kathy Goodnight, Ronnie Tolbert, Colon Faulkenber, Donald McGruder, Billy Medford, and Brittany Pierce), led by Rev. Wayne Knight from North Carolina, for their outstanding construction job and sacrifices at ICMTC, January 10-18, 2018. More than that, Rev. Wayne Knight spoke at The Lighthouse Church and Rev. Marvin Goodnight at Acts Church that Sunday morning. In the afternoon of this same Sunday, Kathy Goodnight ministered to the women's group at Acts Church. They had accomplished their missions beyond our expectations. This event, followed by the discipleship training conducted at the center last January 26 & 27, was led by Pastor Steve Willis of Valley Harvest Ministries in Virginia, together with Pastor Jeff Willhoite, Rev. Russell Board, Dough Nelson, Jim Cox, and myself. On Sunday, January 28, Pastor Jeff Willhoite, Pastor Steve Willis, and Rev. Russell Board ministered to three different churches in the area. The installation and confirmation of Pastor Chi Chang to be the director of the center was unanimously agreed upon by the leaders of IPHC and National Director, Dr. Wallapa Wisawasuk-mongchol, on January 29. This installation was an excellent sign of great success towards the fulfillment of the center's vision.
Indeed, it is more blessed to give than to receive. We had a wonderful Christmas Celebration with the Akha people on December 29, 2017, in KhonSuey, Chiang Rai. There were about 120 people who came and most were children. Thanks to Potter House Church in Manassas Park, Virginia, Ron & Linda Field, Paul & Rose Ehmke, and Doug & Jill Nelson for their generous giving to make the celebration possible.
God is good! The relationship of our organization with the Thai government is getting healthier than before as we continue to do our part to help Thai people improve their quality of life. We do this through the People to People Child Sponsorship Program, as well as our free English program. In this program, we educate the people in attendance on good moral and right conduct with free counseling.
Thank God that through our foundation of over 50 pastors and leaders, both local and foreign workers can avail of the medical benefits by paying around $15 monthly. This includes doctors' services, hospitalization, and medicine. Moreover, through our Hands of Hope Foundation, 14 of our foreign volunteer workers (mostly Filipino pastors) will get their visa and work permit. The IPHC Thailand or Alliance Church Association is registered in the Thai government as a religious organization while the People to People Ministries or Hands of Hope Foundation is registered as a Non-Profit Organization. It is a favor from God that we are operating legally.
Thank you, and God bless us all.
Your Co-laborers in Christ,
Brother Albert and Sister Jiep Gonzales