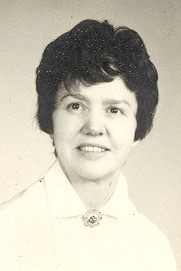 Eleanor Deane Cates Rousseau, age 92, passed away Tuesday, June 5, 2018, at her home in Newnan, GA surrounded by family. She was born in Newnan on September 19, 1925, to the late Herman Pratt Cates and Janie Cole Cates.
Along with her parents, Eleanor is preceded in death by her husband James Rousseau. She is survived by her step-children, Kenneth Rousseau, Hank Rousseau and his wife Denise; niece, Kathy Parham and her husband James; nephew, Chris Cates; great-nephews, Mark Parham, Shawneen Parham, Brenden Parham; sister, Ruby Cates and brother Herman "Princeton" Cates.
The funeral service for Eleanor is Friday, June 8, 2018, at 11:00 AM in the chapel of McKoon Funeral Home, 38 Jackson Street, in Newnan with Rev. O.C. Collins and Rev. Steven Craven officiating. The family will receive friends on Friday from 10:00 AM until service time at the funeral home. Burial will be Friday at 3:00 PM at Franklin Springs Cemetery in Royston, GA.
Eleanor arrived in Hong Kong in 1947 with Evelyn and Sybil Rousseau to begin her missionary work.  Until the opening of Wing Kwong College, Eleanor's primary work was with students of Wing Kwong Primary School in Shaukeiwan.  She taught Bible classes and had special services on Tuesday, Wednesday, and Thursday for students who wished to receive Christ as their personal Savior. In 1954, Eleanor Cates and Mavis Lee Oakley, who had left Hong Kong due to the Korean War, boarded a ship and set sail to return to Hong Kong since the war had ended.  In 1974, when Principal John and Norma Jean Burnette and their family decided to leave Hong Kong, the principalship of the high school (Wing Kwong College) fell on the shoulders of then assistant principal Miss Cates. She served for 41 years in Hong Kong and retired from World Missions Ministries in November 1988.  Eleanor then felt a calling to Israel where she served after her retirement.
"The IPHC missionary family extends its condolences to the Cates and Rousseau families.  Eleanor lived and modeled an extraordinary life.  She was a faithful servant and a revered missionary. Her legacy in Hong Kong continues to bear fruit." – Bishop Talmadge Gardner