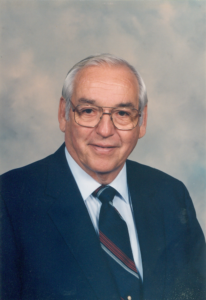 The World Missions Ministries family extends its condolences to Mrs. Marjorie Townes Hough and the family of Rev. Robert Hough who went to be with the Lord on Saturday, November 11, 2017. Rev. Hough served as an IPHC career missionary in Cuba from 1957-1961 and in Mexico from 1969-1974.  Rev. Hough also served the IPHC as the Conference Superintendent of the Texas Conference [Grace Bible Ministries] from 1975-1986.
Rev. Hough was the first graduate of Southwestern Christian University in Oklahoma City, Oklahoma to become a missionary.  In 1957, the Houghs moved to Cuba for their first missionary assignment. Though there was political unrest, he continued to pursue his burning desire to preach the gospel to the Cuban people. In 1959, Rev. Hough became the superintendent of the Cuban Conference. In The Simultaneous Principle, Dr. Frank Tunstall recalls a time when Rev. Hough was arrested at a Batista checkpoint, and accused of being sympathetic to Castro, and was sprayed with diesel fuel to be torched. He begged for his life, asking the soldiers to call another checkpoint where he was known. After many failed attempts, one final call to the other checkpoint proved successful. The soldiers vouched for him, and he was released. In 1961, he received notice that he had 24 hours to drive to Guantanamo Bay Naval Base. He narrowly escaped Castro's soldiers and left Cuba. Forty years later, Rev. Hough joined a team from the Heartland Conference and returned to Cuba where he was able to see the fruits of his labor as he learned that a baby that he had dedicated during ministry in Cuba was now serving as the Superintendent of the IPHC Cuban Conference. According to Dr. Frank Tunstall, "Rev. Robert Hough was the last IPHC missionary to depart Communist Cuba."
Rev. Hough began his ministry in Mexico in 1969. The Foreign Missions Board appointed Robert as Field Superintendent and the General Executive Secretary for Mexico. This title gave him oversight of the two conferences in Mexico at the time: The Northeast and the Pacific Coast Conferences. In 1971, he initiated the first minister's summit in Mexico, called "Fiesta Pentecostes."
Rev. Hough left Mexico in 1974 and was appointed as Superintendent of the IPHC Texas Conference in 1975.
Throughout Rev. Hough's life, he served the IPHC and the kingdom of God with honor and bravery. He will be remembered as a man of great passion, and love for God's people.
Rev. Hough's visitation [1-3:00PM] and funeral service [3:00PM] will be held at Siler City Pentecostal Holiness Church in Siler City, North Carolina on Thursday, November 16, 2017.
"World Missions Ministries is indebted to Rev. Hough and his family for their sacrificial service to the Kingdom and the IPHC as Career Missionaries. I am certain that Robert once again experienced the fruits of his labor first-hand as he met brothers and sisters in the Lord from Cuba and Mexico who preceded him in death and now reside along with him in their heavenly home.  From reading the accounts of his life and ministry it is obvious that the hand of the Lord rested on Robert in a supernatural way. We honor his life and missionary/ministry legacy."
Bishop J. Talmadge Gardner