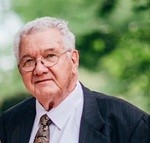 Rev. Woodrow Wilson Stevens was born March 2, 1932, in Blue, OK, the eighth of nine children to James Cully and Aran Lee (Arndt) Stevens. He went to meet his beloved Savior on Friday, March 23, 2018, at the age of 86.
Woody accepted Jesus Christ as his personal Savior on October 28, at the age of 17. At the age of 20, he married his sweetheart Patricia Ann Browne in McAlester, OK. He attended Southwestern Bible College and was a graduate of the University of Oklahoma. Other employment included carpenter and accountant before committing to a life of full-time ministry. He also served in the United States Naval Reserve during the latter part of WWII. Woodrow served as an ordained minister of the IPHC for over 50 years and served a term as missionary to South Korea. He was known for his study and memorization of God's word, visiting and meeting new people, tender-hearted and compassionate, loved to sing, tell stories, and pray for others. He was a loving husband, father, grandfather, uncle and loved all his extended family and friends.
Woodrow was preceded in death by his wife of 60 years on January 18, 2013. He was also preceded in death by his grandson Conner Stevens. He is survived by his daughters, Patti Coleman and husband Randall of Nolensville, TN, Peggy Coleman and husband Bill of Magnolia, TX, Pam Jones and husband Brian of New York City, and son Padgett Stevens and his wife Marci of Oklahoma City; his brother Joe Stevens and his wife Georgia of Oklahoma City; his grandchildren Heather Fallis and husband Derick, Kristen Patterson and husband Brian, Matthew Coleman and wife Melissa, Aran Bruce and husband Robert, Austin Jones and wife Logan, Brett, Chloe, Danielle, Emily and Finn Jones, and Cameron Stevens; his great grandchildren Zoey, Kylie and Josiah Fallis, and Emma Spalding.
The family will receive friends from 6 to 8 p.m., Friday, March 30 at Vondel Smith Mortuary North, 13125 N. MacArthur, Oklahoma City, OK. Funeral services will be at 10:30 a.m. Saturday, March 31 at Liberty Christian Center, 1121 S. Post Road, Midwest City. Interment will be 3:30 pm at Memory Gardens Cemetery, 25 Cemetery Road, McAlester, Oklahoma.
In lieu of flowers, donations can be made in memory of Rev. Woodrow Stevens to his grandchildren, The Fallis Family, and their missionary work in Southeast Asia. Donations can be made online at http://s1.ag.org/fallis5give or by mailing a check made out to: Assemblies of God World Missions, 32811 Clearwater Court, Magnolia, TX 77354 or I.P.H.C. World Missions, P.O. Box 12609, Oklahoma City, OK 73157. To express condolences, please visit vondelsmithmortuary.com.
"Rev. Stevens was a prince of a man. I will miss our periodic visits, prayer times, and discussions. Rev. Stevens always prayed for missionaries."  – Bishop Talmadge Gardner