Ukraine Marks One Year Since Russia's Full-Scale Attack
- World Missions Ministries Communications Office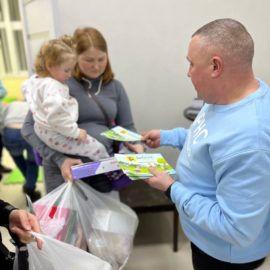 UKRAINE ­­– Today, Feb. 24, 2023, marks one year since Russia's full-scale attack on Ukraine. As lives have been lost, threatened, and changed forever, the Church of Ukraine has been active in letting the light of Jesus shine through these dark and perilous times. IPHC World Missions Ministries and IPHC family around the world have rallied with Ukraine in prayer and through giving as IPHC Ukraine has used all proceeds to implement humanitarian efforts from the very start.
To date, IPHC WMM has seen over $865,000 raised for the Ukraine Emergency Relief Fund. These donations have been used throughout the year to provide, food, shelter, warmth, medicines and so much more.
"From even before the beginning of last February 2022, World Missions started to send aid to our 225 IPHC churches scattered across Ukraine," Eurasia and the Middle East Regional Director Bob Cave said. "Every week in this last year we have sent about $10,000 because of your generosity. Dima Loiuk, IPHC Ukraine Humanitarian Director, and his team of 38, mostly from our rehab centers, have delivered food, medicines, baby needs, blankets, and other needs."
The latest effort in Ukraine was for generators, batteries, sleeping bags, lamps, and thermos kettles to be purchased for the purpose of turning at least 70 IPHC churches into "Safety Points" for displaced persons in towns and villages. Thanks to the generosity of IPHC family around the world, these 70 locations have become true Places of Hope throughout Ukraine, according to Cave.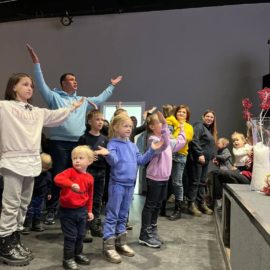 Amidst hardship and war, IPHC Ukraine has not grown weary but has continued to expand under the leadership of IPHC Ukraine's Bishop Valerii Reshetinskiy. It's not only humanitarian aid that has taken place throughout the year, but churches continue to be planted where people are able to gather and worship, read the word, join a community, and be filled with the hope and joy of the Gospel.
At the IPHC 29th General Conference in Jacksonville, Florida in July 2022, Bishop Reshetinskiy brought the need for church plants before the body. The response was great and from July to date over $464,000 has been raised for Ukraine church plants.
The body of Christ continues to grow in the face of adversity and IPHC Ukraine continues giving all glory to God as He meets the needs of His people.
A Word from Bishop Valerii Reshetinskiy:
Beloved IPHC family,
It has already been a year of great trials that the Church endures in Ukraine. This is the treacherous aggression of the Russian Federation in Ukraine and its genocide of the Ukrainian people wherever the so-called "Russian peace" comes.
All world politicians, diplomats, experts, and generals allowed Ukraine to stand no more than one week. And then the occupation and genocide.
All pastors of evangelical churches in Ukraine were on the hit list as American spies, but God did not leave Ukraine and God remained faithful to us. Contrary to all forecasts, Ukraine stands, lives, gains strength and wins. And, in this unequal battle against a nuclear aggressor, great help and support was provided by our IPHC family. Thanks also to your prayers and your faithfulness and your compassion. We stand and win.
Putin wanted to freeze us this winter, and you warmed us through fuel generators, warm clothes, and blankets. Putin wanted to starve us to death, and you gave us food, bread and clothed us. Almost all winter Ukraine was in darkness, and you gave us light and hope. Putin hoped that we would die from diseases, and you sent us medicines that were like a cure for us. Putin wanted to destroy all churches, but many of our churches have increased several times and we have already been able to open new churches where possible, and in February this year, a new IPHC Ukraine church was opened in Florida, U.S.A!
We sincerely thank you and bow our heads before your loyalty, sacrifice, and dedication. May God bless all IPHC and reward every church, every family, and every person individually, and reward 1,000 times with His mercy and blessing. We will win together! Ukraine will become a missionary country and a spiritual granary for many nations of the world!
Sincerely, always yours,
Bishop of Union Ukrainian Missionary Church - IPHC Ukraine Valerii Reshetinskiy
--------------------------------------
To read more of ministry efforts over the year in Ukraine, visit WMM's Updates From Ukraine. To give, visit the Ukraine Emergency Relief Fund or Ukraine Church Plants Project.