*Update 05/17/2022
The following story was recounted to Lilia Shvets, who works in publishing at our IPHC Christian Hope Church (our mother church in Kiev), by Luibov Yermolenko, who leads our prayer ministry there. She tells of her 87-year-old mother's experience. This is one story of thousands that should urge us to pray that this war will end and that we all will be able to return to some form of peace. The goal is still to win the lost and plant churches.
By Bob Cave, Regional Director of Eurasia and the Middle East
Just One Family's Experience
Bullets flew over Vorzel like a midge in the summer. Sometimes it seemed that they expanded under our windows. We stayed in the house with my neighbor, and it was not so scary when we were together. From time to time, we had to run to the cellar to hide. All day and night: bullets, alarm, cellar, house, and then roll call.
My brother Serhiy, his family (wife, Lena, their son, Sasha), and our mother, Maria Kyrylivna, live in the village of Vorzel near Kyiv. From the first day of the war, they had been staying at home, and within a few days, it became impossible to leave. Missiles, bombs, daily firefights, looting, and destruction were all over. Russian tanks drove through the streets of the village. One of them stopped near my mother's house. The soldiers targeted the main gun directly at a large beautiful building across the street. They started shooting at it. It was terrifying! They destroyed it just because it was new and beautiful. There was a grandmother with two grandchildren in the cellar. It's a miracle that they survived. Their big house had burned down.
Russian soldiers also came into my mother's yard. They went around the yard, shot at the air a few times, and entered the outdoor kitchen. However, within a few minutes, they left by God's mercy! My family and I, along with our brothers and sisters in the church, had been praying to the Lord every day to protect my family. Only God could have closed the eyes of the enemy!
Later, the gas and electricity were turned off in the village. My brother took our mother to his house. Sometimes there were opportunities to cook soup on a fire, which they ate during those weeks. Every day, Sashenka (my nephew) walked around his grandmother's house and their own house. He anointed it with oil, blessed it, and prayed to the Lord to protect and defend the whole family. He would also pray the same protection over all the residents of Vorzel and their homes. Sashenka asked Christ to intercede and close the enemy's eyes so that they wouldn't see people and their properties. How adult our Sashenka became. He seemed to be the same boy, but he was our support. The Lord gave him strength and confidence.
When the green corridor was finally allowed to open, the occupiers banned the driving of cars. It was seven kilometers to the green corridor. Of course, my mother would not be able to cope with such a distance. My brother and his wife and son refused to leave her there alone. Therefore, they all stayed together. I knew and believed that Jesus would stay with them as well.
Of course, I was very worried. They had spent all these weeks in the cellar under daily bombardment. However, we continued to pray and ask our Heavenly Father to protect everyone!
One day, a sister in God from our church Lesya Hrushko and brother Maksym Smirnov called me and said that they were giving a green corridor for one more day. Our mother was very worried, and she cried that she did not want to and could not go. She wanted to die at home. However, I persuaded her on the phone, prayed with her, and cried with her. The Lord calmed my mother's heart, and she agreed to leave. 
Within 15 minutes, my brother, his family, and our mother got together, got into the car, and left the village. Thirty-seven kilometers made up the distance they had to travel! Our volunteers and an ambulance were waiting for the people near Kyiv. The girls had baked fresh bread and cooked hot food. My mother said that when she had taken a slice of carefully baked bread, for the first time in her life she noticed how incredible the bread smelled. Living our daily life, we often do not notice and do not appreciate the grace that the Lord gives us from heaven every day. My mother was standing there in a dirty coat, sniffing this baked bread, and crying bitterly. She said that she had never eaten such good bread in her life.
It is even difficult to remember those first minutes of our meeting. My mother, my brother, his wife, and my nephew were standing there, gray and pale. During those weeks they had spent in the occupation, something had changed in them. 
I took my mother to my home. Serhiy and his family went to our relatives. The first weeks were not easy. My mother listened to something all the time, she was afraid of every sharp sound, and sometimes she froze and started to sigh heavily. I tried to help her with everything. We constantly prayed together. Thank God my mother recovered and returned to her home. My brother and his family also returned. God saved the houses. Now, my mother is at home, planting her vegetable garden. Almost all the citizens have returned. They are planting vegetables and cultivating gardens. 
Our people are strong despite everything, they have not fallen into depression, but they look to the future with hope. Our mother was born on August 1, 1935. She went through those difficult times of World War II, hunger, and perestroika. God saved my mother's life and guided her through those terrible times, and now Не continues to protect her. He hears His children and remains as their faithful, loving Father! He strengthens us, and He is our hope! My mother was very happy to return home as she exclaimed, 'This is my land. I have to plant everything already!' Our strength is in the Lord!
Brothers and sisters of different denominations are constantly helping. People are trying to help each other, be a comfort, and protect each other from terrible memories. The love of Christ unites all of us! Glory to the Lord of everything!
Ukraine, keep on praying! We know that the Lord is with us and will guide us through this difficult time. Our victory is with God!
Liubov Yermolenko, The leader of the praying group of Christian Hope Church 
*Update 05/12/2022
Nothing is the same, except our Lord!!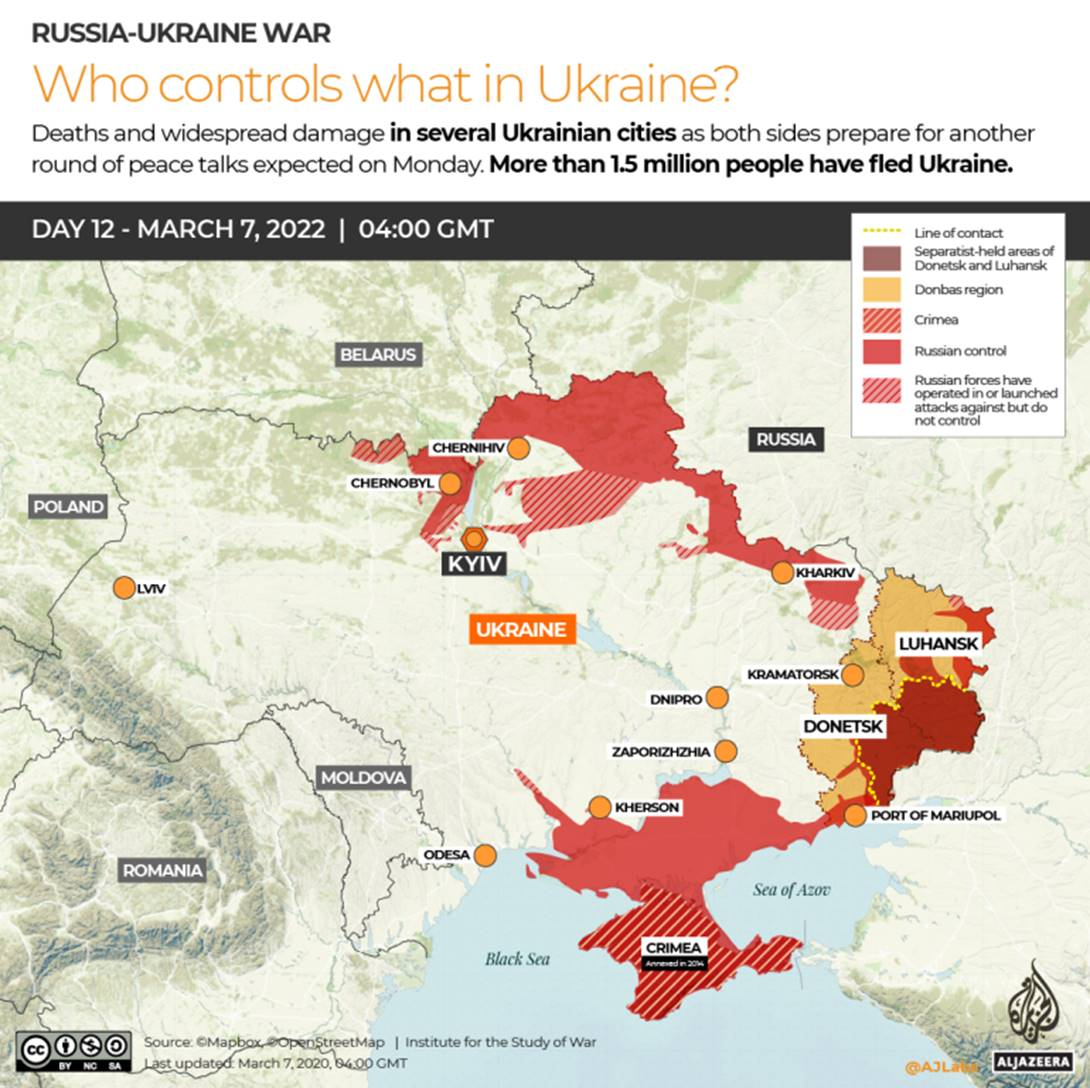 We have all seen the images and videos of the devastation of a beautiful country in the last two and a half months. The complete flattening of the city of Mariupol, a city of 450,000 people, now contains less than 100,000 individuals, and at least 20,000 innocent civilians have been killed in all sorts of bombing and artillery attacks.
Our IPHC Ukraine churches there are in ashes. Back in pre-war/pre-Covid Ukraine, we had 225 churches with 19,500 members. Today, almost all of our churches are still operational. Praise the Lord! Our leadership, led by Bishop Valerii Reshetinsky, who is still living in his church office in Kiev, is constantly discussing planting new churches wherever the refugees may scatter. They will meet wherever they can gather two or three families. Many remember that this is how they began just after Communism fell in the early 90s, meeting in forests, community buildings, and homes. We are talking about resilient people with a strong spiritual focus.
In 2014, when Russia invaded for the first time and took over Crimea, we had 18 churches. Since then, they have operated under Russian rule and persecution. It is the same story in Luhansk and Donetsk, with at least 20 churches in that occupied territory. They've had eight years under Russian rule and bullying, but they are still a shining light in their villages and city communities.
We thank you so much for your generosity and prayers for our Ukrainian brothers and sisters. We know that this is not going to be a quick fix, and as you see in the pictures below, many people are eventually going to return and have to start from scratch. Yet, they keep expressing how grateful they are and how they wish they could give you a big hug for your help.
By Bob Cave, Regional Director of Eurasia and the Middle East
*Update 05/10/2022
UKRAINE UPDATE FROM THE POLISH SIDE, by Harold Presley
Harold Presley, Regional Director of Northwest Europe, recently traveled to Poland along with new Missionary Trevor Clowers. Their mission was to meet Roman and Christina Danylyshyn, Ukrainians who moved to Poland five years ago to start a church there. Their God Story is taken from Harold's report, as follows.
**********************************************************************
Here's a snippet of Roman and Christina Danylyshyn's story. How did this young Ukrainian family end up as permanent residents in Poland with their own law firm and church just in time for a war to break out in their home country? We must begin with a promise out of the oldest story of all.
"God is our refuge and strength, always ready to help in times of trouble." - Psalms 46:1 (NLT) 
Roman and Christina Danylyshyn have been living in Poland as missionaries sent from their local congregation in Ternopil, Ukraine, since late 2017. Right before the lockdown in 2020, they found out they were pregnant. God gave Roman two tasks: first, become a qualified lawyer in Poland and, second, open a coffee shop ministry/business for-profit. Therefore, that's what they did, and Christina studied to become a paralegal. 
Right before Covid hit, they separately heard the Holy Spirit urging them to sell the coffee shop. They were hesitant at first, thinking the other would not want to sell, not knowing both had heard the same thing. They waited a month or so, and the Holy Spirit prompted them again. This time they obeyed, and the day after they sold the business, the street in front of the coffee shop went under construction, ripping up the sidewalk. It shut down business for weeks. A loss they would not have survived. God's perfect timing and provision were realized.
They then focused on the church that had begun through the coffee shop. They preached in Polish and Ukrainian, reaching both nationalities. During this time, they were also able to work as lawyers helping Ukrainian people with their documents, visas, and other legal matters, as there were many Ukrainians immigrating to Kraków long before the invasion.
In February of 2020, Roman had to go to Ukraine for business. Whilst there, Covid broke out, and he was unable to cross the border into Poland to return to his pregnant wife and three kids. 
Meanwhile, Christina had little money and no way for Roman to send her any because the money transfer stations were not functioning. However, Roman had stored up meat and frozen enough for them to live on, another prompting of the Lord that led to rescue and provision.
Christina tried to schedule an ultrasound as she was not feeling well, but it was a wait of six weeks. Sadly, when she was finally able to see the Doctor, the baby had already died. They informed her that the baby had been dead for about four weeks. She left her three kids home alone, the oldest being 12, to undergo the required medical procedure and a two-day hospitalization.
Upon receiving this news, Roman went to the border for a third time, trying to be with his wife and children. Upon arrival at the Ukrainian border, he was allowed through to the Polish border, where he pleaded his case to the officers. They told him that the person who made those decisions would not be on duty until the next day. When he drove back through the neutral zone to the Ukrainian border, they told him that because his car had a Polish registration, he was required to pay a 2,000 EURO ($2,200) fine. Therefore, he went back to the Polish border and spoke to the same officer who told him that if he was on duty, Roman could stay on their side of the neutral zone. By then, it was 4:00 PM, and Roman would soon learn that this officer's shift had ended. 
The new officer did not want him to stay and levied an exorbitant parking fee. Other officers got involved, shifts changed with new authorities to appease, and an incredible drama carried on for nearly 36 hours. This included him being chased at gunpoint, reparking his car several times in and out of the neutral zone, being required to stay in his car overnight with the engine off, and a no-sleep policy strictly enforced as the temperature dropped to a bitter minus 17°. If the purpose of travel had not been so tragic, it would have been a comedy of errors par-excellence! Indeed, as Roman and Christina re-tell the story, they are most animated, and their narrative is peppered with both laughter and tears. Finally, he and his car survived the ordeal. One guard heard enough of the gospel from Roman's narratives to pray for salvation, and the family was reunited! 
A few months later, Roman heard the Lord saying Russia would invade Ukraine, so he persuaded his parents to sell their home in Ternopil and move to Poland with them. They did, and they shared accommodations making living arrangements for two grandparents, two parents, and three kids in a two-bedroom apartment. The grandparents booked their bus tickets to travel into Poland on February 25, 2022, the day after Russia attacked Ukraine. The first bus was shot and destroyed before arriving to pick them up. Fortunately, they were able to get on the next bus and evacuate Ukraine. 
Everything about Roman and Christina's story testifies that God has prepared, equipped, and positioned them for such a time as this through their obedience to His instruction. 
Now, Roman and Christina are assisting 312 refugees in Kraków. Of these refugees, 176 are children. Of those children, 45 have pneumonia because of prolonged exposure to the dampness and cold while escaping. 
As a certified lawyer in Poland, Roman knows how to fill in and process the required documents for these refugees. They are able to send food, medical supplies, generators, clothes, basic hygiene products, and toiletries by fronting their own funds and tapping into every form of favor and goodwill that is available. 
As of May 1, 2022, they have acquired and distributed 630 tons of supplies within 65 days. The requests are pouring in from churches in Ukraine and from men fighting on the front line. Roman and Christina are doing all this work without personal compensation. They have been living on their savings and faith that "God will provide because He said He will." Another of their frequent exclamations is: "Today is a beautiful day!" They exemplify faith and God's goodness.
Although the Danylyshyns began by housing and feeding more than 1,000 women and children at the onset of this cruel invasion, their refugee friends were dispersed to various accommodations and now receive daily help from a variety of sources. In the first week of May, more than 60 children were being assisted directly. However, Christina was quick to say, "It could be 100 next week. We never know." 
I personally met one couple who this dynamic duo helped in Kraków. They had escaped Ukraine with five orphans. The family of seven, including a two-year-old, now live in a make-shift apartment inside an industrial building. The father was able to get work on a construction site. 
The Danylyshyn's law firm, "Get Legal," has not been practicing for profit since the invasion began. Their rented hall that was for church services has become a resource center and hub of activity, assisting the Ukrainians who are escaping the war and sending supplies into Ukraine to people who are otherwise starving. They receive donations from across Poland and Germany in every imaginable way, from bin-liners filled with used clothing, to neatly packed and labeled shoeboxes filled with personal hygiene products and, of course, money. Their ministry and church are named "New Life Ministries."
I have been praying for Poland for years. I've asked the Lord for the right timing and location to initiate ministry. I've prayed for local workers, evangelists, and church planters. It's just like the Lord to reveal all of these during a time of war.
As I write this, Pastors Tom and Mandy Polk, from North Carolina, are with Roman and Christina in Poland at the refugee camp with 75+ people. This camp is supervised by our faithful sister, Gayana Omelchenko, and her husband, Sasha. Dmitryi Loiuk, our humanitarian director, just escorted a group of "evacuees" from Novovolynsk to Berlin. Now, he will drive back to Długie, Poland, to be with Gayana, the Danylyshyns, and the Polks. The next plan is for Roman to supply two tons of food to fill Dmitryi's van as he drives back through Kraków to the refugee center in Novovolynsk.
The latter aspects of this plan are indeed needful for survival but also designed to bridge the gap between the Danylyshyns and our long-standing Ukrainian members. This kind of work is one of the Polk's fortė. They are a God-send. I look forward to more updates and insight from Tom and Mandy in the next couple of weeks.
Thanks goes to Trevor Clowers for accompanying me on my recent visit to Kraków. He ministered to the people with a keen sensitivity to the Holy Spirit. He also initiated and rolled up his sleeves to accomplish good productive labor in the piles of goods being prepped for shipping. It was Trevor's detailed daily journal that formed the draft of this report.
We believe this diaspora pouring out of Ukraine will become deposits of the life and love of Jesus across Europe. In these difficult situations, "forced movers" from Ukraine are vibrant carriers of salvation, healing, and reconciliation. 
I pray along with the prophets, Isaiah and Habakkuk, 
 "Let the earth be filled with the knowledge of the glory of the Lord as the waters cover the sea." - Habakkuk 2:14 
To give to this relief fund, please click here! 
*Update 05/06/2022
THOUSANDS OF VILLAGES NEED HELP
Last week, there was more tragic news from Mariupol. A city with 450,000 people is now flattened, and around 100,000 of those people are still hiding out in burnt-out structures. Although some were evacuated, people are still held hostage in the city steel mill. Another humanitarian organization that I am acquainted with sent a three van convoy to Mariupol and attempted to make a food run to the desperate people left behind there. The drivers were Bible School students from L'viv. The food was from my home city in Edmonton, Canada, and it was flown in on a cargo plane that is making regular weekly runs. The Russians ambushed the trucks as they arrived in the city. Two young men were killed. One was able to turn his van around, and he escaped.
Please pray for our humanitarian workers and pastors who all stuck to their churches while bombs were falling. Pray for soldiers like pastor Max and especially Bishop Valery Reshetinsky, as he has been overseeing our operations from his church/office/refugee center since Feb 24.
There is still a building full of refugees housed and fed there. Services are held on Saturdays, with 500 Messianic Jews who rent our sanctuary. Additionally, our own services are held on Sundays.
I had a one-hour Zoom meeting with Rabbi Boris Grisenko this past Saturday. His congregation of 2,200 in several locations has scattered around Europe. He and Bishop Valerii see this as an excellent opportunity to plant new congregations wherever our people end up.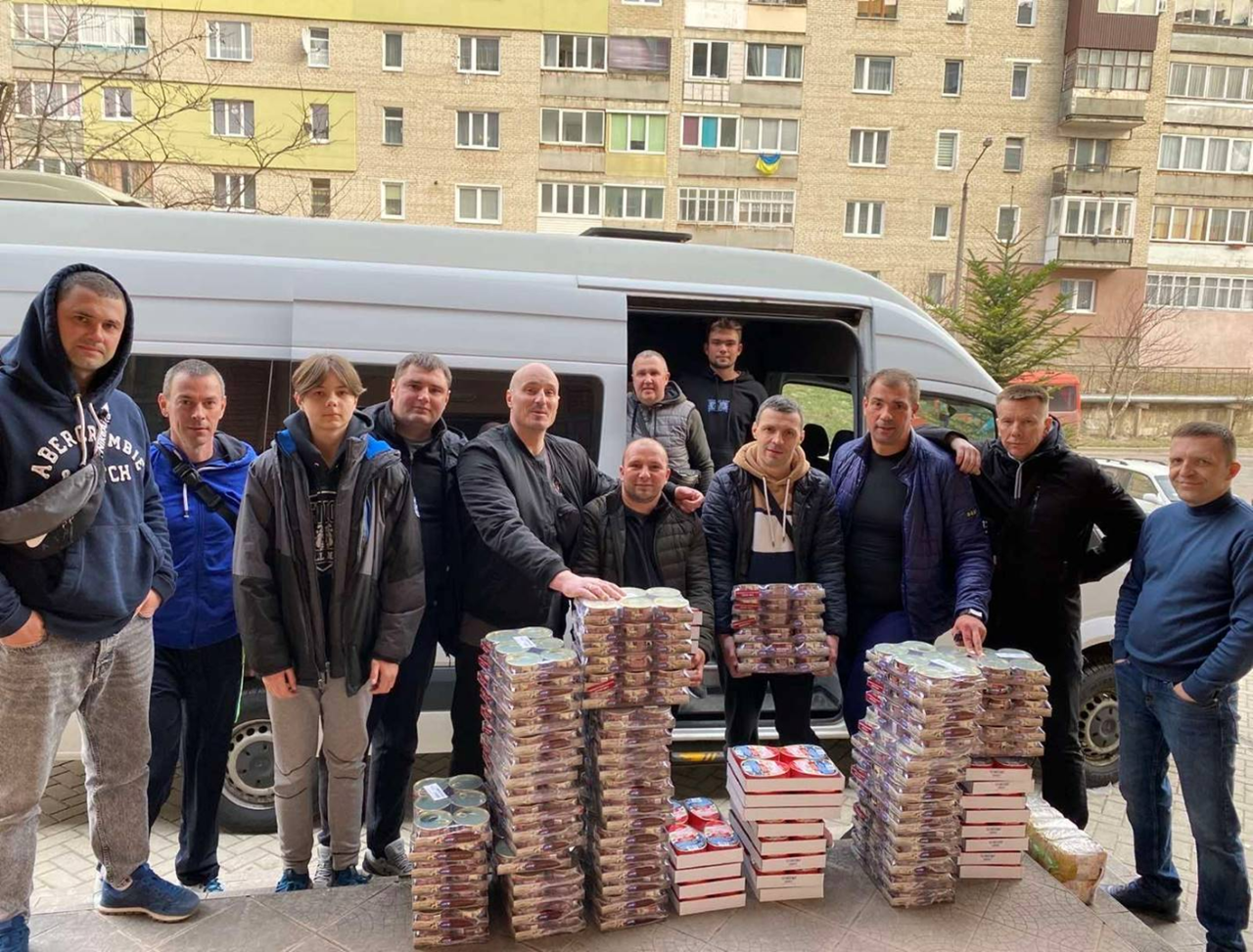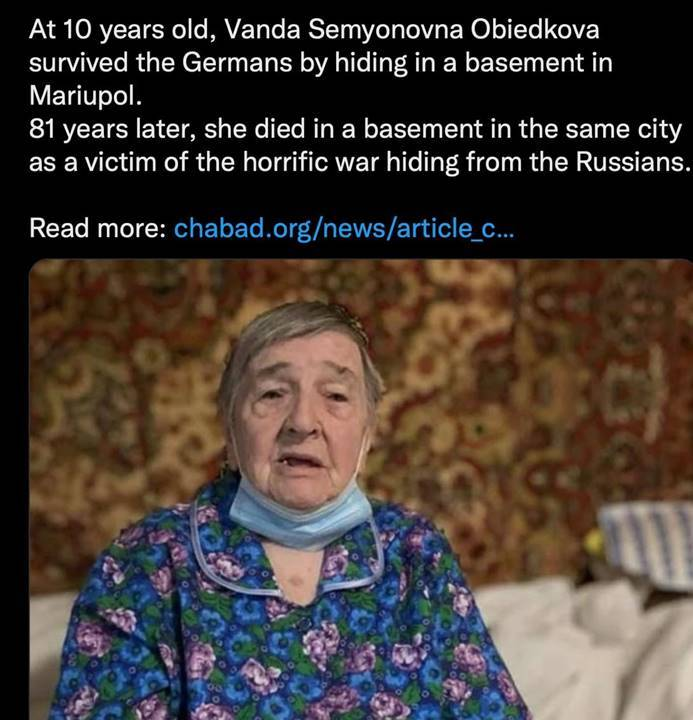 To give to this relief fund, please click here! 
Blessings,
Bob Cave, Regional Director of
Eurasia and the Middle East
*Update 05/05/2022
UKRAINE UPDATE: HUMANITARIAN HAMPERS DELIVERED
As we continue to turn your Ukraine Relief funds into food, here are some of the faces that are benefiting. The whole food supply chain system is under heavy stress, and many areas are cut off completely. Dima Loiuk and his team try to get food to those who are most needy. There are some places where things seem almost normal in one part of a city, while others deal with chaos.
I spoke to our representative Andrey Zaremba, who was assessing the refugee situation in L'viv, and the section of the city that he was in was pretty much normal. However, Russia has fired cruise missiles at L'viv and the airport repeatedly. Our IPHC refugee center in Novovolynsky is just 70 miles North, so pray that the small city stays out of the line of fire. As Andrey, Dima, and Bishop Valery move around, they always have to be alert that death could be around any corner.
Of course, we are a long way away from this war and can become pretty comfortable if it's not right here with us, so I very much appreciate that hundreds of our churches and individuals have been so generous to give to the Ukraine Emergency Relief Fund, project number 41502P.
Dima and his team say a big thanks for the ability to deliver humanitarian aid on a new cargo bus. We continue preaching the gospel and sharing food products with people who are continuing on without their homes or any livelihood. For the majority of them, food baskets are the only opportunity to receive food.
To give to this relief fund, please click here! 
 Blessings,
Bob Cave, Regional Director of Eurasia and the Middle East
*Update 05/04/2022
WAR AND THE CHILDREN
War is a terrible thing for all at any time, and especially for children as nothing makes sense. Russia brought war to Ukraine on February 24 and, since that time, the UN says 153 innocent children have been killed. Forbes says that the number is 186 killed and 344 injured. In the first five weeks, 22 schools were attacked every day and, in the city of Mykolaiv, just recently the Children's Hospital came under attack.
*Update 05/02/2022
Greetings, dear Bishop Doug Beacham, Bishop Talmadge Gardner, and Bob Cave!
Thank God! It is so wonderful that during our great trials, we have real friends who truly share our pain and problems.
Thank God for you, and thank you very much for your faithfulness, friendship, and help! May God bless you abundantly and reward you because you are helping IPHC Ukraine continue to live and win!
I would like to inform you that all of our churches are in touch, hold a spiritual position, and are working for the glory of God!
We have completely reorganized into a military regime: an intense prayer life, constant evangelism, and helping thousands of people with food, medicine, and clothing. We are also delivering spiritual and humanitarian assistance to the military, many refugees, and evangelistic convoys in the west of Ukraine.
We are still expanding our base near Lviv, where the responsible leader is pastor Dmitry Loyuk. We are also expanding the base for refugees in Poland, where the responsible leader is Gayane Omelchenko. We are now working with the churches in the liberated territories, which basically includes the Kyiv region. Some prayer houses need to be repaired because they were shelled. 
I would like to share a good testimony:
The letter to the Hebrews says: "By faith... turned to flight armies of aliens." (Hebrew 11:34).
In March, we announced a three-day fast, as Queen Esther had, for the salvation of Ukraine and Kyiv. By the end of this fast, the 35,000-strong group of troops, which sought to take Kyiv and included several thousand tanks and armored vehicles, suddenly, unexpectedly, in fear, and hastily fled from Kyiv, and four regions of Ukraine were immediately liberated: Kyiv, Zhitomir, Chernihiv, and Sumy. This is a real biblical miracle! God is fighting with us for Ukraine! 
In April, we again declared a three-day fast as Queen Esther had since a big offensive of the enemy was planned in the East and South of Ukraine. U.S. Secretary of Defense Lloyd J. Austin sаid: "We are ready to turn heaven and earth and do everything so that Ukraine wins this war!"Thank God! These are words on the level of a biblical miracle! 
As a result of this fasting and prayer, the U.S. adopted the Lend-Lease law, which means that Ukraine will urgently receive the most modern weapons from the U.S. and other countries without restrictions or any conditions!
I know that the IPHC from all over the world prayed for Ukraine. Thank you! Pass on this testimony and gratitude to all IPHC churches! This is truly an example of divine intervention! 
We understood and believed that we could and must move mountains! Our Lord is Great! The prayers of saints have the power to transform the world. Prayers penetrate and reach even the Pentagon, the Bundestag, and the parliaments of many countries of the world!
On May 8, we again announce the World Prayer Viche for repentance and the conversion to God of the entire people of Ukraine and the complete liberation of Ukraine from the Russian occupiers. 
Never believe one word of Putin and his team! The UN Secretary-General António Guterres met with Putin and arrived in Kyiv the next day. Putin launched five ballistic missiles at Kyiv after him during his stay in Kyiv!
We have already started new ministries in Berlin and Poland! Also, almost every day, we send humanitarian convoys to different regions of Ukraine.
Thank God for you! Please pray for Ukraine!
With love and gratitude.
Yours faithfully,
Bishop Valerii Reshetinskyi
To give to this relief fund, please click here! 
*Update 04/29/2022
UKRAINIAN UPDATE: HUMANITARIAN OUTREACH
Our Ukraine humanitarian director, Dima Loiuk, is happier today because of you, IPHC churches and individuals, for donations to the Ukraine Emergency Relief Fund that enabled him to purchase a used cargo van. His team of about 30 volunteers from our drug rehab centers are crisscrossing the country with our two vans. These volunteers distribute tons of food and supplies to some of our 225 churches.
Our second large van can also be used as a bus, and refugees are being transported out of the dangerous areas and brought to safer places. In Kiev, we have Krushinka, a 40-bed drug rehab center, and from there, they can be taken to Novovolynsky, 20 miles from the Polish border. They are driven across the Polish border if they are ready to vacate the country altogether.
In Krakow, Poland is Pastor Roman Danylyshyn and his wife, Cristina. They have a refugee center that is processing families and finding housing for them. Several properties down from there is our IPHC Polish refugee center, run by Guyana Omelchenko. There, Guyana, who is our Children's Director from Kiev, has taken over a fairly modern summer camp on a lake with 150 beds.
Again, there is a lot of thankfulness coming from thousands of Ukrainian brothers and sisters. As we can all see, this is not ending quickly, and all is back to normal. Hundreds of thousands of homes, lives, and jobs have been lost, and we hope to stay with them all the way through this mess. Thank you!!
Dima says; "Greetings, 
We want to express our deep gratitude to the whole IPHC family for the financial help in buying a freight bus. Thanks to this transportation, we can buy food, diapers, and things needed in Poland. We are also able to deliver other humanitarian aid from Europe to Ukraine, then distribute it to people in need.
 To give to this relief fund, please click here! 
*Update 04/28/2022
UKRAINE UPDATE FROM MISSION/REFUGEE BASE IN TURKEY
Since the beginning of the Ukraine/Russia war, refugees have been coming to our IPHC Base in Kusadasi, Turkey. As was mentioned in our April 4 post, when we featured our Ukrainian national missionaries, Igor and Lena Lavrischev, their driving trip from Kiev to Turkey took eight days. Now that they are there, they've set things in motion to accept other fleeing refugees. Some of the main themes are to keep children's schooling going and keep them occupied, whether they are a refugee or still stuck in Ukraine.
Igor and Lena have lived frugally as IPHC national missionaries for over 20 years. They are worthy of your support. If you or your church can help, it would be much appreciated; Project #43301P Turkey Lavrischev Igor.
You can give directly to this project at https://give.iphc.org/project/turkey-lavrischev-igor
 Blessings,
Bob Cave, Regional Director of Eurasia and the Middle East
LENA, MOTHER AND TEACHER, SENDS THIS REPORT
We felt led to organize a children's program, so we began gathering kids together to do things like soccer, English, arts, and ministry time to make them feel at home, loved, and cared for. 
They have also resumed lessons with our Kyiv school online. Our children are now scattered across Europe, in Sri Lanka, Germany, Poland, Sweden, and Turkey.
Some kids stayed back in Kyiv, and it was very important to reach out to them daily and help them study. I will tell you about a 10-year-old boy named Andrey. His family did not leave because he has elderly grandparents. Throughout the days of the war, Andrey has been sleeping in the bathtub.
There have been a few more of our school kids who stayed back with their families as well, living in homes with their windows covered with blankets and pillows. Our teachers would teach with breaks for sirenes.
We have also been in touch with our brothers in Christ who stayed back. In Ukraine, in one of our churches near our parents' village, the pastor, who is also our coworker in ministry in Turkey, has signed up for the local Militia Defensive Unit. This pastor called me and asked for support in buying a thermal imager so they could see who was coming to attack them in the dark. It was a matter of safety for our brothers from the church. It is a sum of $1,500. I prayed, feeling so weak but then the Lord spoke to me to call a brother from Russia who we baptized in Turkey in 2001! He got married to a Ukrainian and is living in Kyiv. HE PROVIDED THE WHOLE SUM OF MONEY. It was a big and fast miracle.
We have been supporting people to evacuate their children out of the war zones. Sometimes it has been days of writing back and forth before they decided to leave their homes and venture into the unknown. 
At the same time, we would go out for pro-Ukrainian protests here in Turkey and keep all the local ministries going because we are the only missionaries to many. Our kids are needed to lead worship almost every other day of the week.
*Update 04/25/2022
GUYANA IS A FORCE TO BEHOLD
Our Ukraine Children's Director, Guyana Omelchenko, continues to care for children after her husband, Sasha, and four children arrived from Kiev, Ukraine, to a small village near Poznan, Poland. The location is at a summer campground that was given over to the refugees who put Gayana in charge.
I first met Guyana years ago as she served as the Ukraine Children's Director with Bishop Valerii in our mother church in Kiev, Ukraine. She oversaw many local outreaches, with ongoing classes inside and outside the church. Some of these included classes in the church for disabled children every day after school, as well as classes at the orphanage for kids that were not as mobile. Guyana is always a bundle of energy who is able to encourage everyone to become involved in ministry with her.
Now, she is running our refugee camp in Poland. This is approximately a three-hour drive from Berlin, Germany. There are 150 beds in the camp, and 75 of these beds are filled with IPHC refugees from our mother church in Kiev. Being that it is an evangelistic camp, there are great opportunities to share the gospel with non-believers that get assigned to this location.
***BIG NEED: Sasha and Guyana's vehicle is totaled and pronounced unrepairable. We want to help them replace it with a dependable used Van, especially since their car was the only vehicle in the center.
Our IPHC church in Berlin is trying to find a replacement. If you could help financially, please let Harold Presley, our IPHC missionary in London, know, and he will provide you with the appropriate project number hpresley@iphc.org. 
Blessings, 
Bob Cave, Region Director of Eurasia and the Middle East
*Update 04/21/2022
AN IPHC UKRAINIAN PASTOR WRITES FROM HIS HEART
*** Pastor Alexander is one of our IPHC Ukraine pastors who is located about 12 miles outside of Kiev. He has also planted and oversees a district of churches in the Boryspil area, near the international airport. Phillip Gschwend participated a few years ago in planting another daughter church there, and they have stayed in touch ever since. Phillip asked him what he would say to the church in the U.S. at this time. His response is as follows. 
I am writing on April 14, 2022, the 50th day of the war that Russia has waged against Ukraine.
First of all, we want to thank all of the Christians in the U.S. and worldwide for many years of prayers for the church of Ukraine, especially when we lived in the USSR under the Iron Curtain. For the last 30 years of Ukraine's independence, you have not only prayed for us, but you have also helped develop Ukraine spiritually. Sermons, seminars, evangelism, charitable assistance and, of course, the opening of many new churches have radically changed our persecuted Ukrainian church of the former USSR and our entire country. With your help, we have gained religious freedom.
As the IPHC Ukrainian church of Jesus Christ, we want to declare that the war unleashed by Russia is a genocide of the Ukrainian people. The Kremlin hates the evangelical church of Ukraine, which preaches the gospel of God's grace. We have experienced this hatred in the destruction of houses of prayer, the murder of our Christians, and the burning of Christian literature and thousands of Bibles.
During this war, many Christians have been forced to leave their villages and cities and move to safer places and countries. I think that many Christians will not return to Ukraine, and that will certainly affect our quantitative and qualitative staff.
The church of Ukraine continues to serve people by assisting in the evacuation of women, children, and the elderly to safe places. The church is also providing shelter for refugees from hot areas and cooking for soldiers, refugees, and the needy, as people have been left without work and livelihoods. Most of the people are unemployed because their businesses are not working. We have a long and extensive work to do in healing the souls of people who experienced the hell of this war, who were raped, beaten, and robbed by Russian soldiers.
We began to understand the Bible in a different way through the prism of suffering and imminent death. Today, because businesses are not working, we have been able to meet for 50 days every day in the church and through the Zoom program. We have become content with our food and clothing.
God did not leave Ukraine. He is with us in basements, bomb shelters, under fire, in danger, and at worship services. He has very serious conversations with us. He purifies and brings us closer to Himself. Most importantly, He prepares us for the time when all Christians, all over the world, will be persecuted, hated by all nations, and killed for the name of Jesus Christ. The time is near for the coming of the Lord Jesus Christ for the Church.
Pastor Alexander, IPHC Ukrainian Pastor
 To give to this relief fund, please click here! 
*Update 04/20/2022
PASTOR MAX'S STORY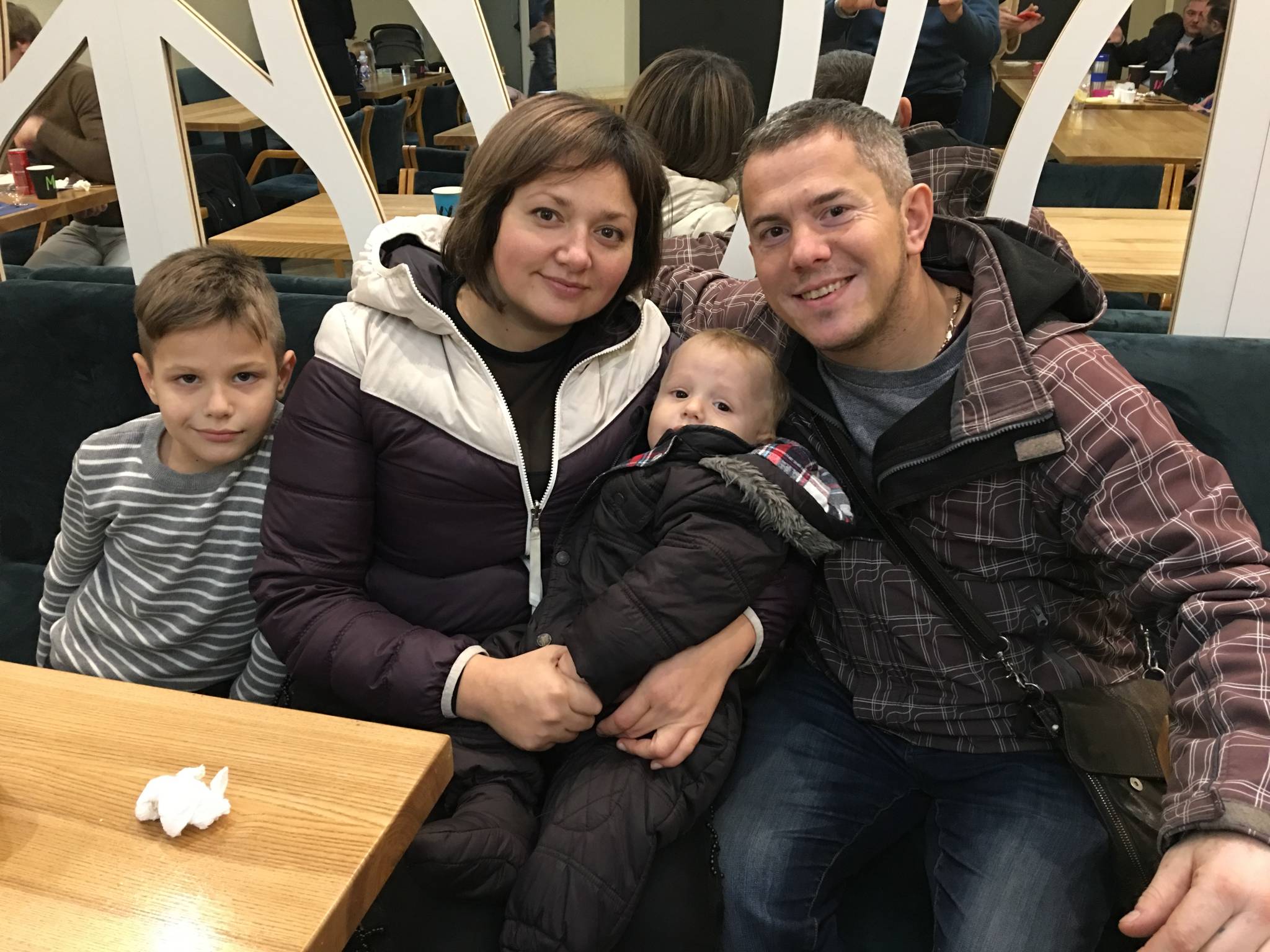 Maxim Ganan was a Kiev police captain, a drug addict, and is now our drug rehab director at our largest rehab center located in Krushinka (about 20 miles outside Kiev). Today, he is also a Soldier in the Ukrainian Military. I met Max about five to six years ago when we were going to plant a new church in the town of Krushinka. 
The IPHC Ukraine has a drug rehab center there, and we wanted to plant a church in the same area. Pastor Max shared his story with me about how he had a pretty good job as a police captain on the Kiev police force. However, he said, "I went astray and let the position of power and drugs bring me down." Fired from his job and addicted to drugs, Max hit rock bottom and ended up in one of our drug rehab centers, found Christ as his personal Savior, and started serving Christ and other rehabilitated drug addicts at the Center.
By the time I met Max, he had gone to Bible school and had been licensed as a pastor assigned to the Krushinka church plant. Plus, he was now the director of the Krushinka Rehab Center. I watched him not only serve the men that were in rehab, but I also saw him go out and serve the local community. I spent a number of days with Max as he interacted with the poor of the town. He didn't just simply drop food hampers at the doors of the needy. He took the time to build relationships with the families.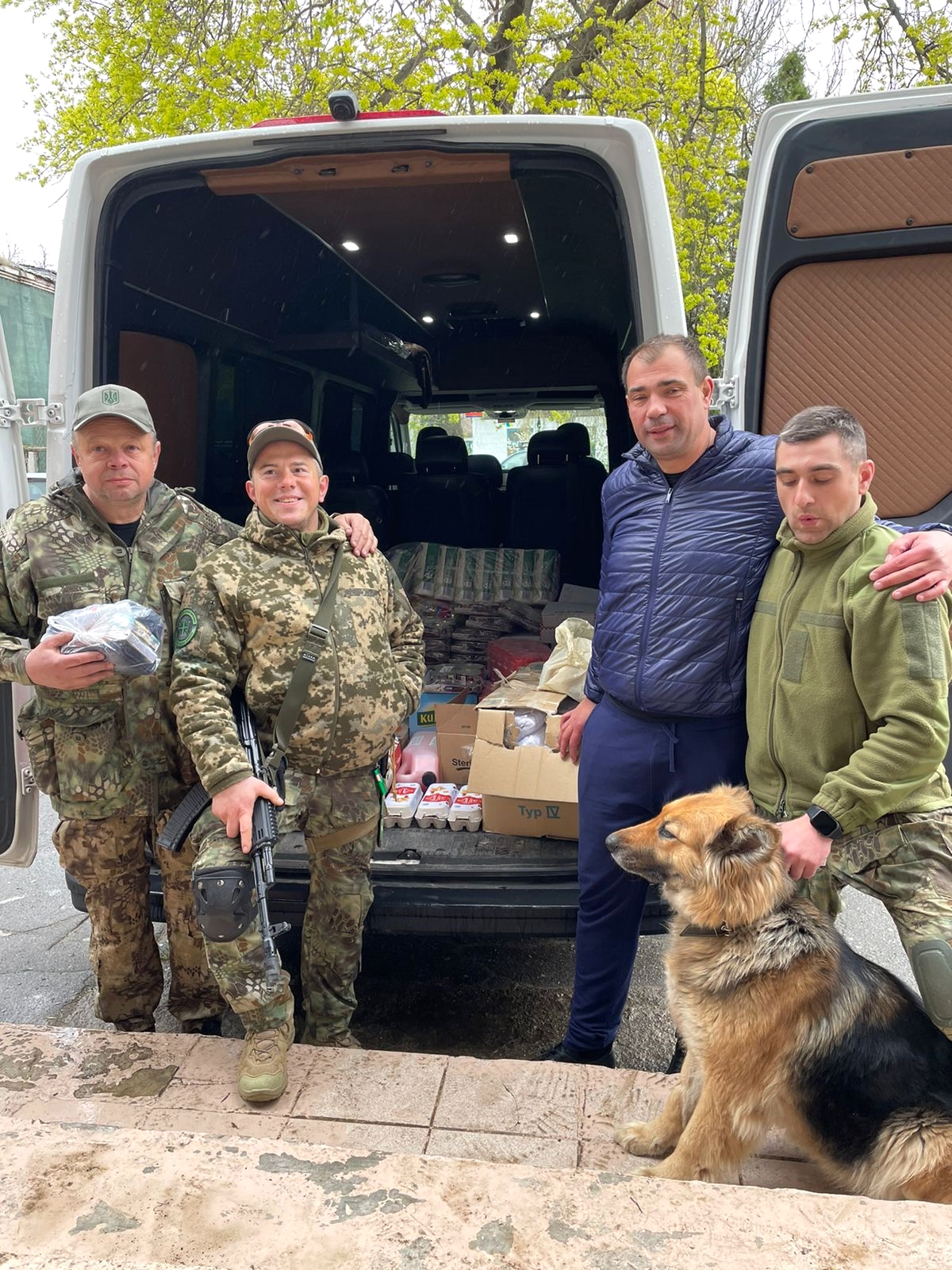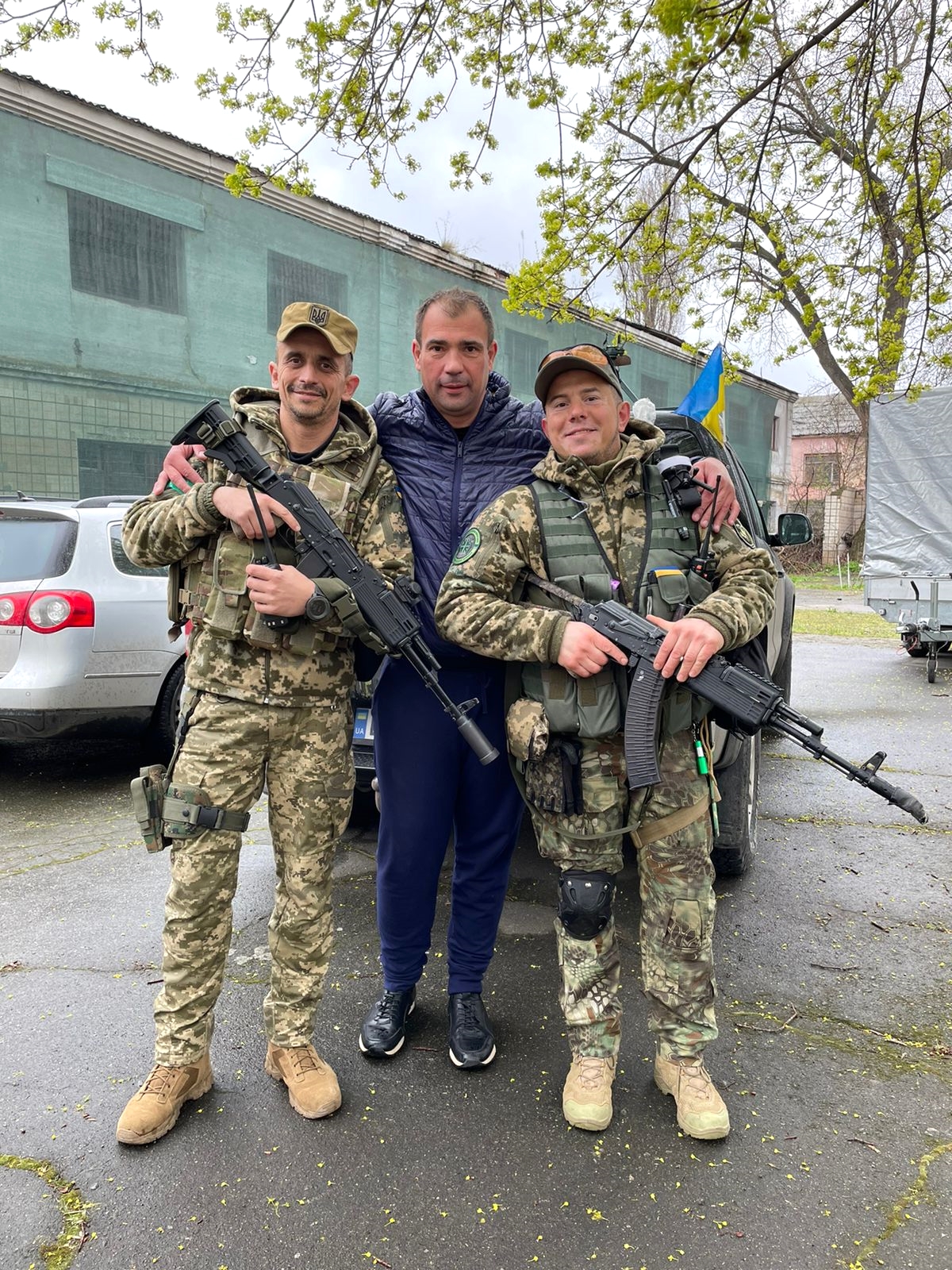 Today, Pastor Max is back in uniform. This time, of course, with the Ukraine Military, and he hopes he can shed that soon and get back to his town, wife and two children, and the people he loves in Krushinka. In the meantime, he is a born-again, on-fire believer who is receiving many evangelistic opportunities among his comrades.
The hope now, with the dispersion of the millions of Ukrainians across Europe, is that many others will also be carrying the gospel of Christ. For years, our missions school in Kiev trained leaders and pastors in the hope that they might evangelize across Europe. Some did, but most planted churches in Ukraine. Now, many are rooted out of Ukraine and are scattered across Europe. May there be a mighty harvest in the wake of this dispersion.
 To give to this relief fund, please click here! 
Blessings, 
Bob Cave, Region Director of Eurasia and the Middle East
*Update 04/19/2022
UKRAINE UPDATE THROUGH A 16-YEAR-OLD'S EYES
Below is an account of a 16-year-old's, Karina Omelchenko, view of the war. She is Gayana's (our Kiev Ukraine children's director) daughter. Gayana and her husband, Sasha, and their family have been running a refugee camp in Poland since they fled Kiev.
Blessings, 
Bob Cave, Region Director of Eurasia and the Middle East
On February 24 at 5:00 am, our whole family was awakened by a terrible noise. We realized that a black cloud hung over our country, our city, and our family. We realized that Russian bombs were falling somewhere very close to us. My 7-year-old brother David asked me, "Karina, is this all true, or did we get into the movies? How could war come to our house?" 
I cried and did not know how to answer him. He was one of our entire family who dared to admit that the war had come. My younger sisters, Dayana and Sophia, were trembling with shock. David ran to the window and called out to us, "Girls, look at the real rocket!!!"
We all hid under the bed out of fear. Our parents didn't know what to do. They sat as if petrified, and suddenly our younger brother shouted with a confident voice, "Pack up, we have to go somewhere!! I don't want us to sit in the basement during the bombing! I've only seen this in scary war films." 
We realized that we must obey Davidik. Dad went to a gas station, where he stood in line for four hours to fill up 20 liters of diesel. My mother ran to the store to buy bread and other products. She stood in line for three hours, but she could not buy bread. We all packed our backpacks in a hurry. Dad asked us to take only the essentials because we are a big family: mom, dad, grandmother, four children, and three dogs. There is not much space in the car. To the sound of a siren and the sound of bombing, we stuffed anything into our backpacks that we could because everyone was nervous, and everything felt out of our hands. 
At that time, David burst into tears, "I Can't Find My Lolo"! Lolo is David's friend, a small, soft penguin toy that was presented to his brother for his birthday when he was one year old. "I will not leave without Lolo. I will not leave him alone. He is still very small, and he is a year younger than me. He is only six years old."  
The whole family, instead of collecting documents and other important things, rushed in search of the toy. It seemed that the penguin hid on purpose and did not want to leave his native apartment. After two hours, the search was successful. We all got into the car and drove off without knowing where we were going. 
There were endless traffic jams on the roads. Bridges were closed. Panic. Fear. Uncertainty. Miraculously, we managed to leave Kyiv. By narrow country roads, bypassing the areas that were bombed by Russian fascists, we were heading west. In four days, we got to the Polish border, and all this time, we stared intently out the windows of the car and prayed to God to save us from rockets, bombardments, shelling, and Russian tanks. 
We were without bread because it could not be bought anywhere. We slept right in the car because the hotels were all full. When we finally arrived at the Polish border, we realized that to cross it, we would have to stand in line for a day or two. I looked out the window and saw thousands of cars and buses where children and women were sitting. The faces of all of the people were frightened and unhappy and, in their eyes, I saw hopelessness and uncertainty. 
To my right, I saw a little boy saying goodbye to his father at the border. The son did not want to let go of his father's hands, and he held them tightly and shouted that he would never leave without his father. That scream still rings in my ears. At this time, a Polish border guard approached us. He smiled at David and our penguin, Lolo, and said, "Everything will be fine, baby. Welcome to Poland. We are your brothers. We will not leave you in trouble."
 To give to this relief fund, please click here! 
*Update 04/15/2022
UPDATE FROM DIMA LOIUK, HUMANITARIAN DIRECTOR, UKRAINE
Dear Bob, 
Thank you so much for everything you and our IPHC friends are doing for Ukraine and for full victory. Thank you for the prayers and finances to buy the cargo truck/van. Tomorrow, I am going to Ivankov near Chernobyl to deliver humanitarian aid. Today I bought two generators, and I will take them to the local church and organize the feeding of people there so that people can charge their phones and communicate with relatives. 
On Sunday, I preach in Kyiv in the church and, after the service, I will go to the south of Ukraine to the soldiers. I will bring them canned food and a lot of other food as well. On Monday, I will evacuate people to our base in Western Ukraine, and then I will take them to Europe. Part of my team went to different European countries, and we will open new IPHC churches there. In Berlin, we began evangelization for Ukrainian refugees in a Catholic church and have already opened the first homegroup. 
** Updated Communication from Dima to Bob, Pertaining to the Message Above
Dear Bob,
Thank you, we received the finances for the Cargo Van!
God blessed us, and yesterday humanitarian aid was loaded, and some of the brothers went to the cities and villages that suffered from the invaders.
Some of the products and things will be taken to Ivankov (Zhmeevka), where our church and center were, which were occupied by the Russians. I was there, and there were people without the necessary supplies, food, and even electricity. We bought a generator from the ministry, and the brothers will take it there along with food and supplies. Some people will go there to serve in order to restore the Drug Rehab Center and help local residents. Those places have suffered greatly.
 Some of our humanitarian team are also going to go to the war zone in the southern region of Ukraine. We will send you a photo from there in the next few days. We pray to God to protect and bless them and all who are there.
We also continue to serve those people who were evacuated and are in this Western city at the base. We have delivered to them food, essentials, and we have sown the Word of God into their lives.
We continue to deliver and send humanitarian aid to people in need in different parts of Ukraine.
 Thank you all, and God bless all of you for your essential prayers and financial help. 
Love,
Dima Loiuk, Humanitarian Director, Ukraine 
A Call to Fast and Pray, Bishop Reshetinsky
First of all, thanks to the hundreds of individuals and churches for your continued financial generosity to our IPHC brothers and sisters in Ukraine. The thousands of pictures and TV images have painted a very sad scenario of day-to-day life. It's hard to imagine if we compare it to one of our U.S. states being invaded, while the rest of the states wouldn't/couldn't help.
Our leader in Ukraine, Bishop Reshetinsky, who has been headquartered out of the mother church since February 24, is praying that the Lord will not only bring this war to an end but that THOUSANDS will come to Christ in the process.
Bishop Reshetinsky and I have talked for years about how to send many Ukrainians across Europe and the whole ex-soviet union to share Christ and, yes, we've sent national missionary workers to many countries and locations. We even have a unit in Moscow that has planted several daughter churches. Now, in one act of war by the Russians, millions of Ukrainians are dispersed, and many have the true gospel of Christ in their hearts to take with them.
As I mentioned, in 2014, when Russia last invaded a limited territory of East Ukraine, there was great fear in the land and our churches mounted up to do compassionate evangelism, where they led thousands to Christ across Ukraine. There has always been a "religious" spirit there but not all have heard a true presentation of the gospel of Jesus. Therefore, it is a fairly open door when a religious person meets an on-fire born again believer in the middle of chaos. Please pray for these refugee evangelists as they are dispersed around Europe and beyond.
The needs are great and we are sending $10,000 - $20,000 a week by bank wire transfer. We are so thankful that there are some banks open. These funds are for buying food, water, and fuel to help transport the food and rescue people stuck in unhabitable locations. We need a cargo van for food transport, and we are currently using any cars that are available. They just need $15,000 to purchase the needed van. We will wire that today, and we hope to continue with further donations. Once again, a big thanks to all for the prayers and finances for Ukraine.
Bishop Reshetinsky asked me today if I would invite our people of the IPHC Churches in North America to join him and his people in a three-day fast and prayer for the situation and opportunities in Ukraine from April 18-20.
To give to this relief fund, please click here! 
Blessings, 
Bob Cave, Regional Director of Eurasia and the Middle East
*Update 04/12/2022
Our Bishop in Ukraine Brings Latest Update from Kiev, Ukraine
Bishop Valerii Reshetinskyi has been holed up in the mother church in Kiev since Feb 24, when the war with Russia began. His wife, grown daughter, and granddaughter were sent to stay with friends in Norway. The church is housing refugees and emergency city workers. Please continue to pray and give to the "Ukraine Emergency Relief Fund #41502P"
Thanks,
Bob Cave, Regional Director of Eurasia and the Middle East
Greetings to our dear brothers, IPHC leaders, General Superintendent Bishop Doug Beachem, Executive Director of World Missions Bishop Talmadge Gardner, and our Regional Director and trusted friend Bob Cave! I apologize for not being able to respond to emails promptly for a while.
With the beginning of the war in Ukraine, many were forced to become refugees. One of my secretaries ended up in Switzerland, and the other one in Lithuania. Now, communication has been established and I am able to be constantly in touch with you.
First of all, from the bottom of my heart, I am thankful to you all for the great help, support, and prayers that we feel and always see from you! We are very grateful to God for having you with us! The IPHC is truly a spiritual miracle, brotherhood, and family on this planet! I thank God so much for you!
Let me share a little about our circumstances. Back in November 2021, at night, I heard a loud voice: "There will be war!" I shared this with all the pastors, and we began to prepare so that each of our churches and each prayer house would become a place of survival and help for the people around.
We thank you for sending us $60,000 through Bob Cave. This is money that we have distributed throughout Ukraine between our churches. This money was used to buy food and fuel. When the troops arrived, our churches were already prepared: clear communication and coordination between the churches and members had been established.
We were forced to evacuate some churches from the east and south of Ukraine since the Russian army immediately entered these regions. The Russian occupiers have been instructed to destroy all evangelical churches, as they are considered American spies. The occupiers are especially preying on pastors and chaplains.
Back in 2014, in the east of Ukraine, occupiers from the Russian federation shot four pastors. Russia's aggression began on February 24 at 4:00 am, simultaneously in the north, east, and south of Ukraine. This occurred exactly according to Hitler's script.
Putin was sure that in 72 hours Ukraine would fall. The West and all Western intelligence services were convinced of this. Everyone counted the number of tanks, missiles, planes, guns, and soldiers. However, they did not take into account that there are hundreds of living evangelical churches in Ukraine, which unanimously immediately opened a prayer front. An unprecedented and miraculous touch from the Spirit of God was given to the entire people of Ukraine! Ukraine has become a big, united family!
Crime almost stopped and hundreds of thousands of volunteers came to the defense of their country. I am writing you the truth. Putin has unequivocally stated that his ultimate goal is the total extermination of Ukraine, as he failed to bring it back under Russian control.
The war began unexpectedly with a widespread rocket attack on the entire territory of Ukraine. The entire infrastructure, schools, kindergartens, railway stations, chemical and food industries, as well as other important objects of the country's life were destroyed.
However, this "blitzkrieg" plan failed. Ukraine, to the surprise of Putin and the whole world, withstood and inflicted heavy losses on the enemy. Today is the 42nd day of the war. Russia has already lost about 160 of the latest aircraft, almost 150 helicopters, almost 60 of the latest tanks, about 19,000 military dead, and several types of other armored vehicles have been stopped. Putin is furious! Seven of his best generals were killed during the war.
Five days ago, the Russian horde moved away from Kyiv and left all the northern regions of Ukraine: Kyiv, Chernihiv, and Zhytomyr regions. I don't know what information you have about this war, but I want you to know the whole truth! In the liberated territories, everyone saw the atrocities unprecedented in the history of mankind that the Russian army committed! There were thousands of tortured civilian people, and hundreds of corpses lay on the streets. Women and underage girls were raped. There were assassins, beasts, and marauders!
People were thrown into wells, crushed by tanks, and safaris were organized for all people who came across their path. On this, they did not stop. This Russian horde robbed abandoned houses. Even the pots and pans were taken out of the houses. It was many times worse than what we know was under Hitler. Even secular politicians were forced to admit that this was not an army, but rather a bunch of demons who had escaped from hell!
Putin is furious at the defeat and now wants to strike at the south and east of Ukraine, threatening to use nuclear weapons as well. Dozens of villages and towns in Ukraine have already been leveled by Putin. However, Ukraine does not give up and we believe in VICTORY! None of the members of our churches were hurt, everyone is alive and in safe places.
Since the first days of the war, I have been in the church complex in Kyiv all the time. We accept refugees, and we have opened a food and medical center. We deliver food and necessary supplies for children, the disabled, and the elderly. We help the military and, from the first day of the war, we have fed one of the military fire departments, which puts out fires after shellings. We also help other churches throughout the territory of Ukraine.
We organized the evacuation of a large number of people with our transport, about 15 convoys to the west of Ukraine. Near Lvov city (this is on the border with Poland), we justified a reception center for refugees. There, the leader is pastor Dmitry Loyuk. We also opened a refugee reception center in Poland (near the city of Poznan). Our sister, Gayana Omelchenko, leads there.
We constantly have services and prayers, and other churches come join us. We are mastering a new strategy for evangelism in times of war, and we pray that the spiritual uplift of the Ukrainian people will be further transformed into the spiritual and moral awakening of all of Ukraine. We are planning to open new churches from our refugees in Europe. This is how we live.
On March 18, 2022, the greatest miracle happened that we did not think about! Bishop Talmadge Gardner informed us that IPHC World Missions Ministries decided to completely pay off our loan and our debts to the IPHC! We wept with joy! We bow down to you and sincerely thank you all for such a gift! There are no words to express all our feelings!
May God reward this ministry 100,000 times! We also thank our brother, Donavan NG, from Hong Kong. We used the released finances from the payment of the loan to help people. I pray that the Lord will give us something to do that is useful and good for the IPHC! We extend heartfelt gratitude to you for the financial support of our current expenses!
We thank the Lord for our friend, Bob Cave, who helped us cover all of our utility expenses during the winter, and we also received six wire transfers of $9,900 from him during the war. Thank you very much!
PS: On April 10, after our morning church ministry, I personally visited the city of Bucha (20 km from Kyiv) with the chaplain and with the Ukrainian military. We distributed food, medicines, and other humanitarian aid to people. We met and talked with many people who lived on the territory for 40 days under the occupation of the Russian army.
They all cried and told me about all the atrocities and the genocide of the Ukrainian people. Murders, robberies, looting, and rapes of small children were reported! It's true! People are buried all over the city. Now, they are being dug up, identified, and buried again. This week, we again want to send a humanitarian convoy.
With love and gratitude,
Bishop Valerii Reshetinskyi
*Update 04/06/2022
As you may know, the members of our team recently traveled to different cities in Western Ukraine. Every day is a search for seeking God's face and His guidance. We are grateful to have a chance to be together at this moment. The Lord takes care of us every day, and we are exceedingly grateful to Him for everyone who prays and supports us.
Now, we are in one of the western cities of Ukraine (Novovolinsk), which is located 20 km away from the Polish border. We visited the local church here and offered them our help. God blessed us with the opportunity to serve Him and the people around us. One of the opportunities we have received here is to help organize a shelter for refugees.
Below are photos of the buildings that can accommodate about 500 people. There are some necessary tasks that needed to be finished to make these places livable, such as water heaters being installed, conducting electricity, installing batteries, finishing shower rooms, organizing a cooking area, making repairs in some of the rooms, buying some of the stuff that refugees need, etc. Our brothers, who work in the construction industry, have made a list of goods that should be provided. The ministry allocated finances for purchasing all of the building materials, boilers, plumbing fixtures, fittings, etc.
The work has recently been finished in one of the buildings. Approximately 70 people can be accommodated there. We used to be in that position and we know what it means to be in the shoes of refugees. The construction continues in other buildings.
We also keep sending small buses with humanitarian aid to places affected by the war. The buses are being sent to Kyiv and other places with people who have suffered from hostilities, where there is a shortage of food and essentials. For instance, there is still a great need for baby food, diapers, medicines, etc.
A small number of the people from our  Mother Church led by Bishop Valerii Reshetinsk stayed to serve in Kyiv and the region. They take people in who need shelter, food, medicine, and other necessary things. They also take in a humanitarian convoy to distribute food and things to those in need, and they deliver to people who are limited in movement. Our brothers carry on a humanitarian convoy to other cities every 3-4 days.
A passenger minibus that was used to transfer humanitarian aid to Kyiv was also able to pick up and evacuate 18 people on the way back. They had been running through the forest all night from the Russian-occupied village of Zhmeevka, where our church and one of our drug rehab centers were located. 
The evacuation of the population is carrying on. We helped some people to cross the border. On the other side, they are being met by volunteers from Europe. Some people remain to be migrants in the western part of Ukraine. Now, we are looking for an opportunity to purchase a cargo bus to increase the amount of assistance for other cities and villages.
Amid this challenging time, the hearts of many unbelievers are open to hearing the gospel of Jesus Christ. Many people who received help with food and other things heard about Jesus and His Church. It is amazing to see the active power of the Holy Spirit through the word of God being preached in the lives of those who are ready to accept Jesus as their personal Savior.
May God's blessings be upon you!
Sincerely,
Dmitry Loiuk and the IPHC Barnabas team ministry
*Update 04/04/2022
Turkey/Ukraine Connection: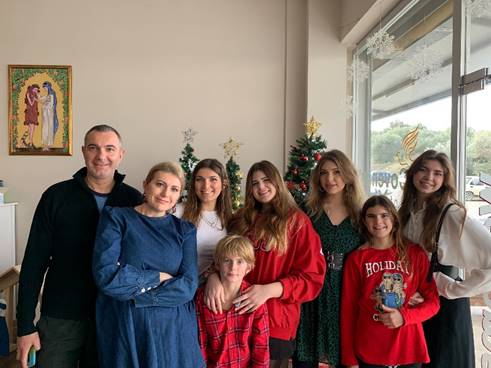 Igor and Lena Lavrischev are our National Missionaries from Kiev, Ukraine, and they had lived in Southern Turkey since 2002 until their visas ran out. Now, they shuttle back and forth from our missionary base in the Izmir area.
Unfortunately, they were all back in Kiev when the war broke out, and they needed to get out of "dodge." They split up the family and started driving their old car to Turkey. They traveled through Ukraine, Moldova, Romania, Bulgaria, and finally into Turkey. With breakdowns and lots of hospitality toward "Refugees" along the way, they made it in 10 days. Usually, this is only a two-hour airplane flight.
Igor and Lena have a wide ministry in the southern Turkish region, especially among the Kurdish and Russian-speaking Turks. They also run an effective training base in both Turkey and Ukraine.
We pray that the Lord will continue to use their gifted family there in Turkey where they all speak the language. Thank the Lord for watching over them all as they made the trek.
*Update 03/29/2022
Orphans from Ukraine to Poland
Many of the hundreds of thousands of Ukrainian refugees pouring across the border into Poland are children, some without parents. Pastor Roman and Christina Danylyshyn are originally from Kiev and were sent out three years ago by Bishop Valerii Reshetinsky to Krakow Poland to plant a church. Now it has turned into a large refugee center with hundreds of families fleeing the war with no place to go.
Of course, now, Roman and Christina have many orphan children to look after. They are putting five to six children and two women in small houses that they can find so that they are not alone in a big crowded facility. Our European churches are sending as much help to Krakow as they can, but they need your help as well. The group photo below is of kids on the Ukrainian side waiting to be escorted into Poland. The individual kids are now in Poland and just received some new shoes.
We are collecting funds from our churches and individuals and wiring them to the need as quickly as possible.
Can you help? Thank you so much!
Ukrainian Orphans Receive New Shoes in our Polish Refugee Center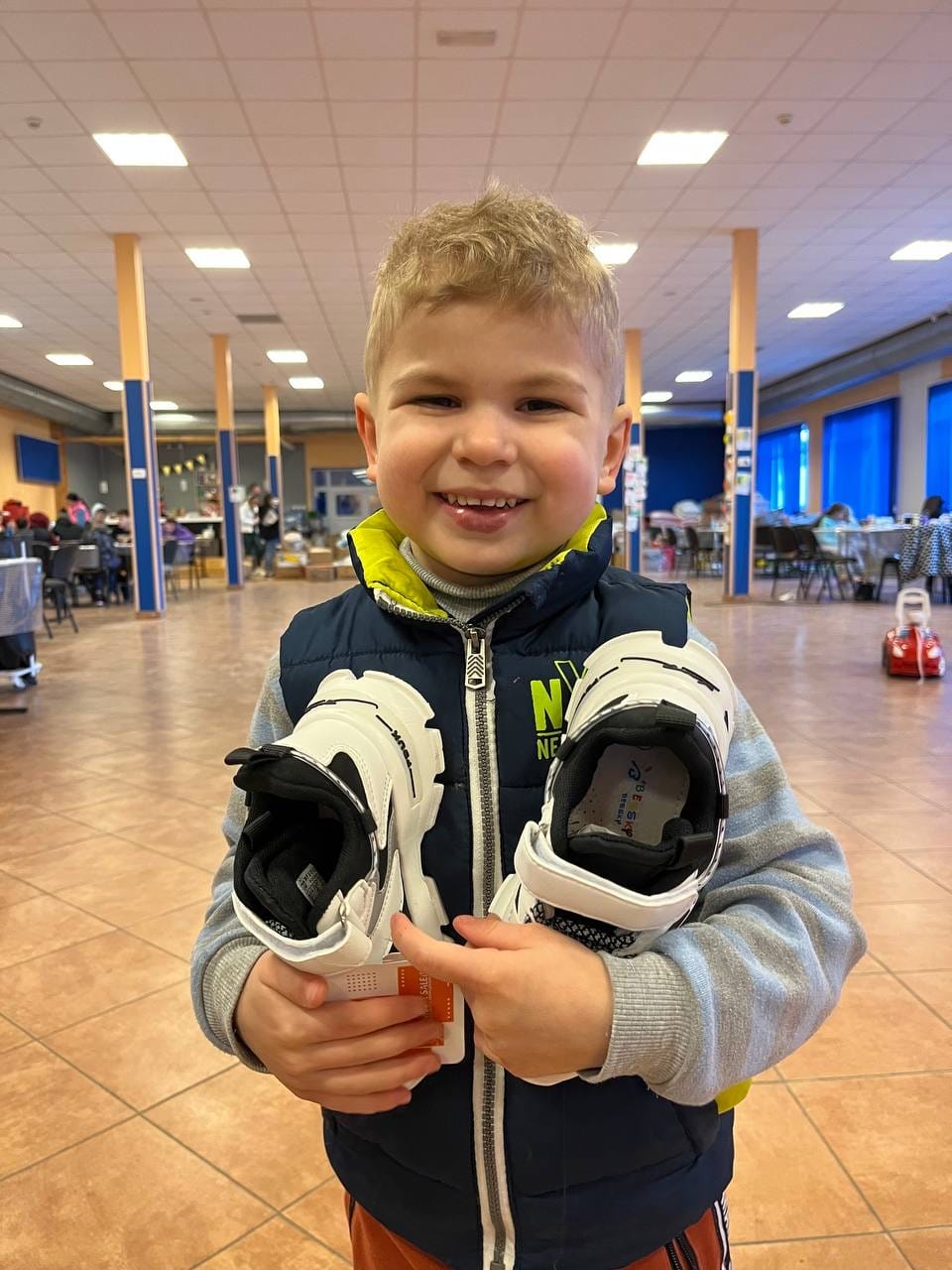 *Update 03/28/2022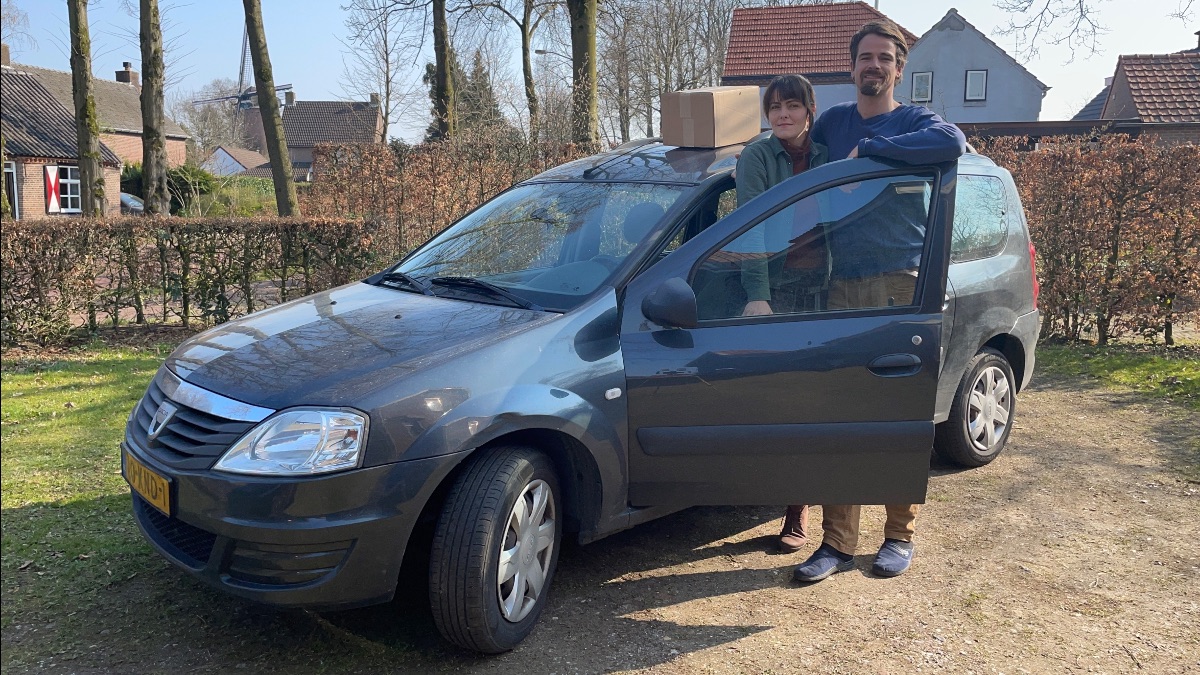 THE STORY CONTINUES………
Matt and Femke Helland (our IPHC missionaries in Amsterdam) are good friends of Willem and Vera, and he has been given a second car to drive with Willem and give over to Pastor Roman's ministry.
How can we in America help? GIVE A CAR!!
Many have a spare car that they are not really using. Give it to the Ukraine Emergency Relief Fund #41502P.
First of all, sell it and make that your "I gave my car to the Ukraine gift"!  OR, maybe you would sell something else of value that you are not using and covert that to cash.
We have over 19,000 IPHC members in Ukraine alone. They could use your help.
Thanks so much,
Bob Cave, Willem Fiege, and many others
View the update from 3/23/2022 to view the full story.
*Update 03/25/2022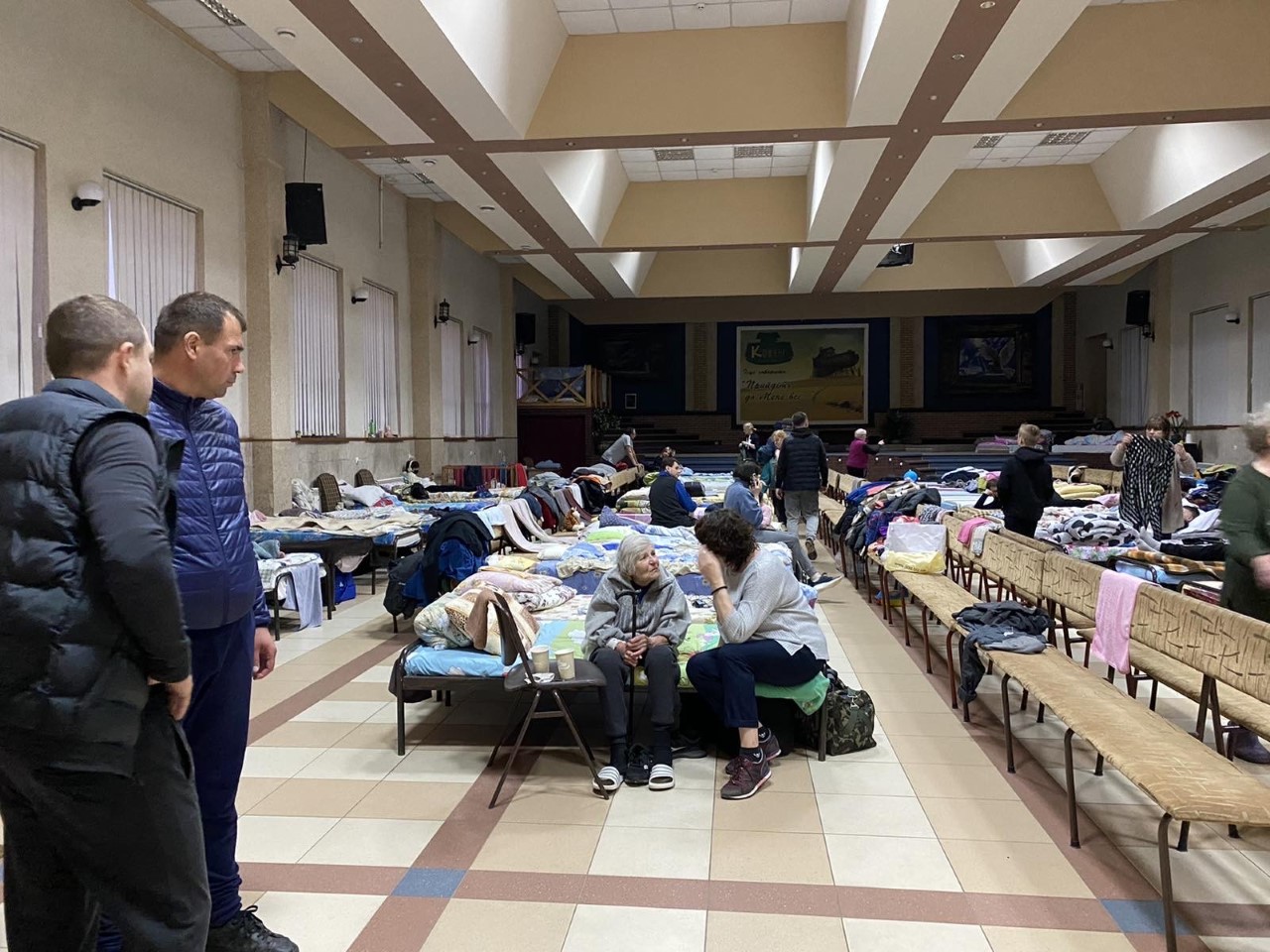 We wanted to inform you about our latest events.
The village of Zhmeevka, where our church and center were located, was completely occupied by the Russian military. Everything that was there was captured and looted.
Yesterday, the people who lived in this village fled from the invaders through the forest and mined fields all night.
In the morning, our brothers were able to pick up 18 people by bus, and in the evening, they deliver them here to the city of Novovolinsk. Thank God, we were able to receive them and place them, provide assistance, feed, and give them everything they needed. We want to get these people to safety in Europe.
We hope to evacuate about 100 more people in the near future in order to try to send them to Europe, where they can also receive assistance in safety if God allows.
Thank you very much for your prayers and support.
Blessings
Ukraine IPHC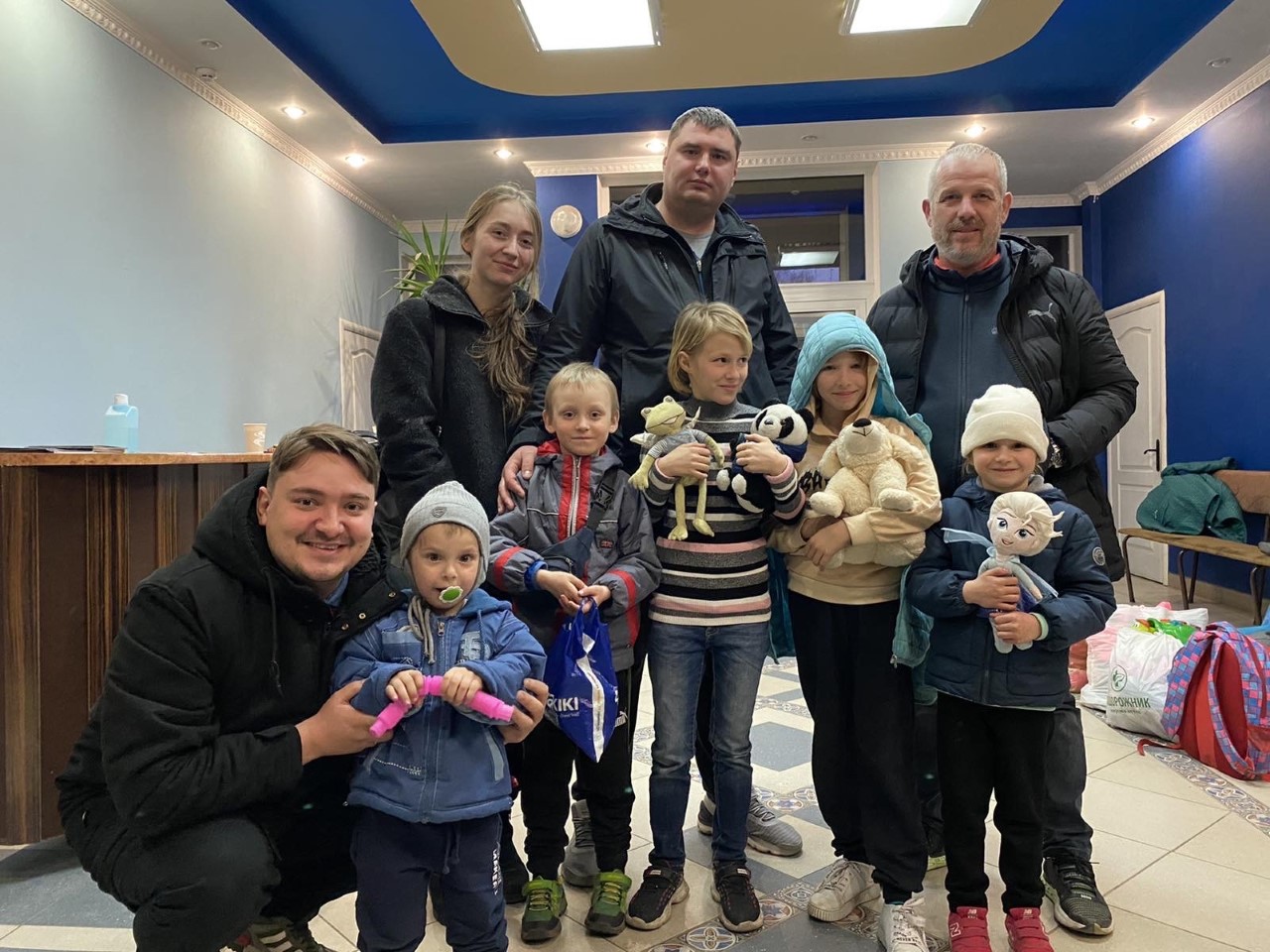 *Update 03/24/2022
*Update 03/23/2022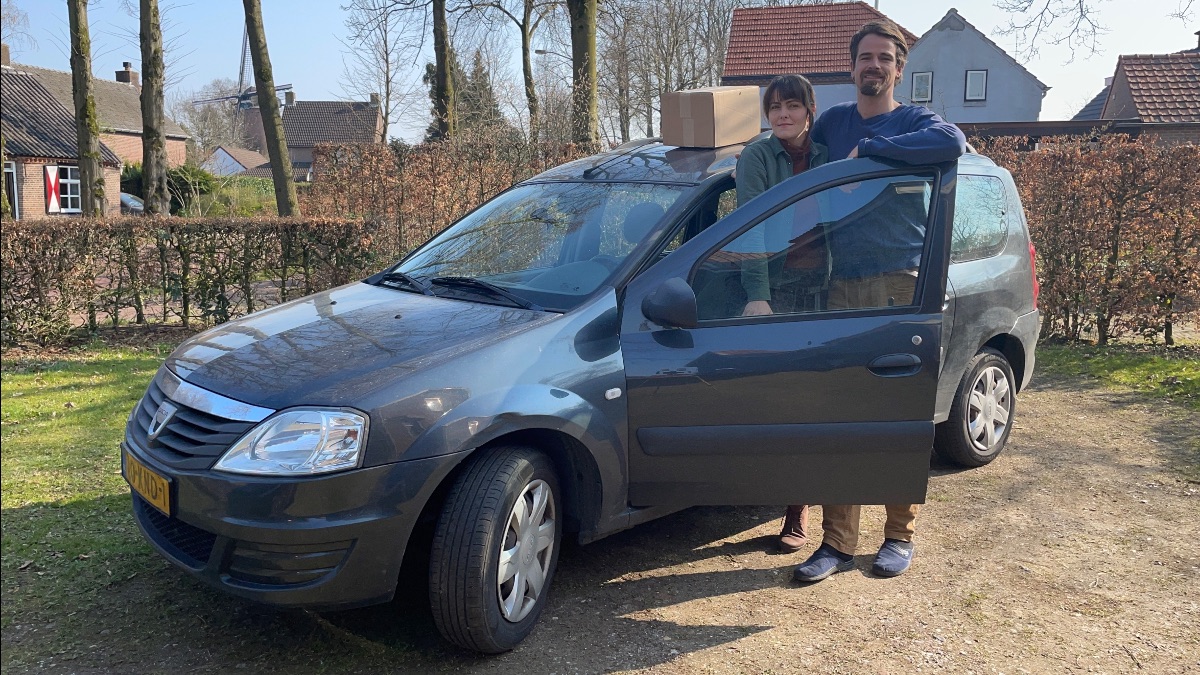 Wednesday morning Willem woke up with the impression that the Holy Spirit whispered: "Give your car to Roman from Krakow." Roman is a Ukrainian pastor who was sent out by a large church in Kyiv to plant a church on the Polish border some time ago. 
His ministry is flooded with requests for help from the roughly 500 refugees who have poured into the city. The situation is bad. There are traumatized orphan kids who need love and shelter. There are the penniless and homeless who need supplies. There are the wounded and sick who need treatment and medicine.
Trying to meet the needs, Pastor Roman was racing around in his car to transport refugees, goods, and medicine. However, a few days ago his car broke down and there was no way to replace or fix it. We received a message with a request for financial help to rent a car so his much-needed work could continue. 
When we contacted him on Wednesday morning to offer him our own car, we received the following reply: "I apologize, but my wife and I both rejoice and cry and thank God for His mercy!" That's when tears came to our eyes too. Our plan is now to drive to Krakow in Poland next Wednesday to hand over our car. We also want to pack the car with supplies that are in high demand among the refugees as there are shortages of baby food, bandages, and medicine. Help is welcome!
PLEASE PRAY
- For the provision of the needed medical supplies 
- For a safe journey to and from the Ukrainian border - For a smooth transition of the car and all documents - For a mighty impact of Roman's ministry
Thank you for your involvement in our ministry.
We are thrilled to work together with you to exalt the name of Jesus!
Much love,Willem & Vera Fiege
*Update 03/17/2022
Update from Bishop Valery Reshetinsky
*Update 03/03/2022
The Lord gave me a prayer for the Ukrainian people today from Psalm 31:14-22 (NIV), and verse 24 (The Message). Will you please pray this prayer for the people of Ukraine and pass it on to as many friends as you can?
Psalm 31:14-22 (NIV), and verse 24 (The Message)
"But I trust in you, Lord; I say, 'You are my God.' My times are in your hands; deliver me from the hands of my enemies, from those who pursue me. Let your face shine on your servant; save me in your unfailing love. Let me not be put to shame, Lord, for I have cried out to you; but let the wicked be put to shame and be silent in the realm of the dead. Let their lying lips be silenced, for with pride and contempt they speak arrogantly against the righteous.
How abundant are the good things that you have stored up for those who fear you, that you bestow in the sight of all, on those who take refuge in you.
Praise be to the Lord, for He showed me the wonders of His love when I was in a city under siege. In my alarm I said, 'I am cut off from Your sight!' Yet You heard my cry for mercy when I called to You for help.
Be brave. Be strong. Don't give up. Expect God to get here soon."
Thank you for your prayers. Much can be accomplished when we pray in agreement for the people of Ukraine.
John Hedgepeth
Pastor of Northwood Temple Church
*Update 02/28/2022
Dear Bishop Gardner and our IPHC Family:
Greetings to you from Bishop Valery at Christian Hope Church Kiev, Ukraine.
It has been four days since the Russian Army invaded our country on three fronts from Crimea in the South, Russia in the East, and Belarus in the North. Our God did not leave us unprepared or unaware of the imminent military aggression. He put a desire in the hearts of people like Bob Cave, our faithful friends and church leaders, businesspeople, and the PH churches to send support for us, that we would be prepared for such time as this.
I thank them all for doing their part and for their obedience to the Lord, under your leadership, to make our churches across Ukraine into storehouses of food, medicine, warm clothing, blankets, fuel, electric heaters, and water. We did not think we would need it, but we are grateful for it. Two weeks before the military operation in Donbas started, we had received $60,000 USD from World Mission's Ministries/IPHC. We were very excited about that. It was a very generous amount. It came as a Ukraine Relief Fund. We distributed it among thirty-eight churches in all regions of Ukraine. Our Pastors came to our head office in Kiev, and I explained to them what this fund is for and what they needed to do to be prepared in case of war.
They were very grateful and purchased food and other items on the list. After all the churches stockpiled food and other supplies, the war broke out. We are prepared to serve, minister, and meet people's needs. Our church in Kiev City, from Day one, has been taking families with children and pregnant women, providing them with room, food, water, heat, and spiritual, psychological, and physical support.
Many people are afraid and cannot cope on their own. The guest rooms at the mother church, the drug rehab facility, and offices are occupied with people who choose Christian Hope Church as the safest place in the midst of war. They are receiving help and being saved thanks to our God and your help. Praise the Lord!
Some of the pastors in our IPHC Network Ukrainian Missionary Church have joined Territorial Defense Forces to protect their communities. Some have joined the Army as chaplains to provide spiritual assistance as needed. This is the time for the Church in Ukraine to do great exploits for the Kingdom and the glory of God. We feel your prayers and support in the Spirit. The nation is united in one attempt to fight for freedom and independence. All our churches remain open and provide prayer support, shelter, humanitarian aid, food, and serve as Places of Hope.
Our churches in the East of Ukraine report that they are under heavy shelling. People are staying in bomb shelters. It is not safe to get out or travel. The fighting has intensified. It is a very similar situation in all major cities.
On Monday, reps from both sides will meet. Many people have left our cities and fled to the West. In many communities, there is a shortage of food supplies; stores are closed; there is no ATM service, no transit service, and no fuel.
Our hearts grieve with those who have lost their loved ones. We pray for this madness to stop and lives to be saved. Our IPHC churches in Bulgaria have aided those in need of refuge. Our hope is in Christ, and we remain committed to serving our people.
Thank you, our brothers, for supporting our hands and hearts and for fighting with us against principalities, the powers of this dark world, and against the spiritual forces of evil in the heavenly realms (Eph 6:12).
Pray and fast with us for spiritual freedom to remain and doors for the gospel to remain open in our country. Please pray for the war to end and the peace of God to reign.
Amen!
Andrei Shander
 ---------------------------------------------------
Thank you for giving generously to WMM's Ukrainian Emergency Relief Fund. As you read - $60,000 USD was sent to Ukraine prior to the start of the invasion of Ukraine by Russia.
Bob Cave will coordinate the details of moving additional relief monies to Ukraine in consultation with Bishop Reshetinsky and his leadership team.
Please designate your contribution as follows: "UKRAINE EMERGENCY RELIEF FUND #41502P."
Or you may give online at: https://give.iphc.org/project/ukraine-emergency-relief
Dr. Hugh Morgan commissioned the following prayer from Mary Anne Shropshire Weeks for the Christians and Citizens of Ukraine. I invite you to pray this prayer with us as we interceded for the Nation of Ukraine and our Ukrainian family members.
Bishop Talmadge Gardner
Executive Director,
World Missions Ministries
A Prayer for the Christians and Citizens of Ukraine
Author: Mary Anne Shropshire Weeks, Richmond, VA
"Heavenly Father, we come before You on behalf of our brothers and sisters in Christ as well for all of the citizens of Ukraine. We ask for mercy and that your Holy Spirit will be poured out on this nation. We thank You that Your heavenly hosts stand guard and protect Your people from harm. We ask for wisdom and divine strategies to turn this situation around for good. We are confident that You hear our prayers and that Your righteousness will shine forth in this nation for the good of the Kingdom of God, in Jesus' Name. Amen."
* Prayer used by permission of Dr. Hugh Morgan