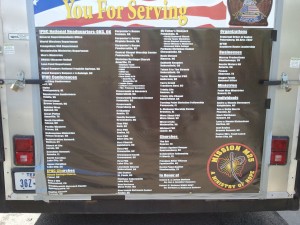 Mission:M25 has been blessed to serve some of our true National Heroes since 2006 in various capacities on Run For The Wall. Our efforts this year will take approximately 40 M25 team members from LA to DC on two routes, covering 12 states of this great nation.
We will serve as Sr. Chaplains, Chaplains and Rescue Riders, Missing Man Chaplain, Chase Vehicles and Hydration on two routes. We will hand out thousands of bottles of sports drink, water, fruit and snacks.
This will all be done to say "Thank You" to these men and women who wrote a blank check to our nation and signed it for our Freedoms, including our Freedom of Religion. Many of these men and women still hurt because of the lack of Welcome Home and Thank You's of past wars.
We are allowed to serve and live the life of Christ that hopefully they can see something in our lives that would cause them to want to know about our relationship with God, through the Holy Spirit. We operate under the mandate, Be A Light Not A Mouth, or as we refer to it, BALNAM.
We want to say thanks to all who have supported this national level outreach of fifteen days in the past and to those who have helped us already this year, including all of the General Bishops, several Conferences and many churches and individuals.
We ask you to show your gratitude for our Freedoms of this country by placing your ministry or personal name on our banner. We need a lot of names to make a huge impact. Our suggested donation is a minimum of $250 and it can be paid online at WWW.Missionm25..org or you can mail the check to M25, POB 30309, Amarillo, TX 79120.
Please have it to us by April 25, 2015.
Thanks for your consideration and most of all, we beg of you to keep us in prayer for open doors and safety of all riders.
Gary Burd, National M25 Director.