M25: Being A Light In A Dark Place —"Another Just Cause.."
Darkness can be revealed in many ways.  Mission:M25's awareness to such a "dark" area has grown to be more than a revelation…but a burden. In 2014, Mission:M25's National Director Gary Burd participated in Hoka Hey, a grueling 8,000 plus mile motorcycle ride from Key West FL. to Homer, Alaska. The Hoka Hey Motorcycle Challenge is designed to strip you of modern conveniences and leave you vulnerable to the unknown!  Without the aid of electronic navigation and the creature comforts of a hotel room; you must navigate the HHMC routes using the driving directions provided.  Braving the elements along these technical and scenic two lane roads, you will be forced to confront your demons. Alone on the road, the greatest battle will often take place within and it is at moments like these when true warriors take stock of what is most important and rethink their motives, their actions and their beliefs.
What came out of the adventure was new relationships with the Native American people.  From Hoka Hey came the experiences that led to the Crow Fair on the Crow Nation in Montana.The Crow Fair was created in 1904 by an Indian government agent to bring the Crow Tribe of Indians into modern society. It welcomes all Native American tribes of the Great Plains to its festivities, functioning as a "giant family reunion under the Big Sky." It is currently the largest Northern Native American gathering, attracting nearly 45,000 spectators and participants. Crow Fair is "the teepee capital of the world, over 1,500 teepees in a giant campground," according to 2011 Crow Fair General Manager Austin Little Light.
From there the darkness began to reveal itself.  Reports vary greatly depending upon Tribe location and data, but what is alarming is the amount of poverty and depression that exist on the Reservations of the Native Americans.  Unemployment levels range from double the current national average to as high as 80% of the tribe's available workforce.  There is much more that could be said but what captured the heart of M25 is the absence of HOPE. The "burden" began to motivate a call for action, "a just cause."  The question: How can M25 be a light in a dark place? Can M25 live out BALNAM (Be A Light And Not A Mouth) and really be a people of HOPE and A Place of Promise to this hurting and overlooked people group? Answer: Yes and Amen! The action plan: "Why not, during the Crow Fair, give away a most prized possession and a symbol of HOPE for the Native American, a "War Horse."  So, Aug. 17-21 during the Pow Wow tickets will be given away and after a short Christian devotion, an invitation to meet the Ultimate Warrior, Jesus Christ, the War Horse will be given away!
We are so honored that the hearts of Living Word PHC and Pastor Rick Haug have been captured by this need and have already purchased the Horse (Picture of JJ below).  Mission:M25 is humbled to have this opportunity and believe it is a new open door of opportunity to minister to an "overlooked" people (Matt. 25:36-40).  Please join us in prayer for our Native Americans that the true HOPE and HEALING will flow into the Reservations across America. May M25 be a light in a dark and depressed place!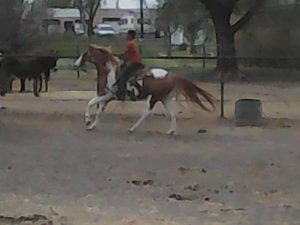 Photo Credit: Chaplain Philip Chandler
JJ is a Tabiano Paint Horse, born to race, raced, retired to ranch work, then rode as a therapy horse for veterans & handicapped children for 4 years and is now being used while waiting for his trip to Montana as a ministry horse for a ministry to the overlooked children in Amarillo TX. Bred and trained by Chaplain Philip Chandler
This article was written by Pastor Mark Richardson, Pointman of Cornerstone Conference & Pastor of Journey Church in Siler City, NC