Murrells Inlet Church Celebrates Re-Launch
For decades, the Murrells Inlet Pentecostal Holiness Church has been a small yet faithful congregation. Many would have written the church off as "dying" or "dead," but God had other plans. On October 16, the church celebrated its rebirth as Refuge Murrells Inlet, a daughter church of Refuge in Conway, S.C. During the service, Rev. Benji Wham was installed as the lead pastor.
Refuge, originally known as Conway PHC, celebrated its own rebirth under the leadership of Lead Pastor Jason Cook, who has led the church through a time of growth and a building project. Cook said once his leadership team decided to take on the Murrells Inlet location as a daughter church, choosing a senior pastor was simple.
"We chose Pastor Wham because of His overwhelming heart for God's people," said Rev. Cook. "We are confident in Pastor Wham because of His commitment, heart, compassion, and leadership ability. We believe this church will succeed because of the hand of the Lord on His life."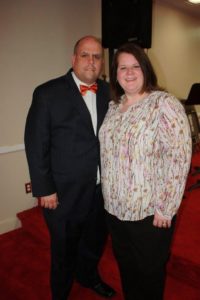 The service included members from Refuge Conway, Refuge Murrells Inlet, and Georgetown PHC, where Wham previously served as youth pastor. Distinguished guests included: Rev. Dean Morgan, SC-IPHC Assistant Superintendent; Rev. Morris Smith SC-IPHC Discipleship Ministries Director; Rev. Rabon Stewart, pastor of Socastee PHC, Rev. Kenneth Baber, former pastor of Murrells Inlet PHC; Rev. Jason Cook; Rev. John Hunter, Interim Pastor & Executive Pastor Refuge INC.; and Rev. Vernie Batten, Student Ministry Director Refuge INC.
Rebirth was a central theme of the service, with several speakers confirming that God has great plans for the Murrells Inlet congregation. Rev. Morris Smith delivered a sermon and prophetic word from Malachi 4. He admonished Wham to "preach the word at all times" and reminded him that pastors, lay leaders, and congregants sowed seeds that he will harvest. "Always remember that you are building on the shoulders of those who went before you," Rev. Smith said.
Rev. John Hunter, who served as interim pastor during the church's transition said, "I know what God has in store for this church…. God has shown me the many souls that will come to Christ through this church."
Rev. Greg Thompson of Georgetown PHC shared words of wisdom with Wham before praying a prayer of release over him. Rev. Jason Cook followed Rev. Thompson with an introduction to Refuge's core values and the vision for the church.
Rev. Dean Morgan concluded the celebration with a moving installation service confirming Rev. Wham as the new pastor. At the conclusion of the installation, conference leadership, district elders, former pastors, and the Refuge leadership team encircled Rev. Wham and his wife Patty for a time of prayer and anointing.
On October 23, the church celebrated its inaugural service with 80 in attendance.
Refuge Murrells Inlet meets Sundays at 10:30 a.m. and Wednesdays at 7:00 p.m. To learn more, visit refugemi.com or find them on Facebook at facebook.com/refugechurchmi.
By Mégan Alba