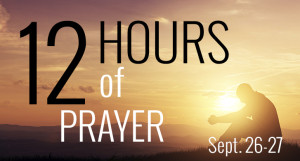 From Noon CDT (Central Daylight Time) September 26th, which will be 1700 GMT, until 1 AM CDT on September 27th we will be online together using our computers, iPads, and phones to agree in prayer for the IPHC and the world! We have shortened the time for this Global Prayer from 24 to 12 hours.  We did not have enough volunteers to cover all of the time slots so it seemed best to consolidate our prayer effort.
Ideally, if you have a computer with a webcam and microphone, you'll easily be able to participate; however, your tablet or smart phone will work, as well!
Here is the information to connect to this time of prayer:
September IPHC Day of Prayer
1.  Please join my meeting, Sep 26, 2014 at 12:00 PM CDT.
https://global.gotomeeting.com/join/281886037
2. You will be connected to audio using your computer's microphone and speakers (VoIP).  A headset is recommended.
Meeting ID: 281-886-037
GoToMeeting®
Online Meetings Made Easy®
Hosts will be online to keep the meeting open and alive as others from around the world come into the meeting. You don't need to sign up to pray, just use the link above, download a small software program to use the GoToMeeting site, and pray! Please join us!