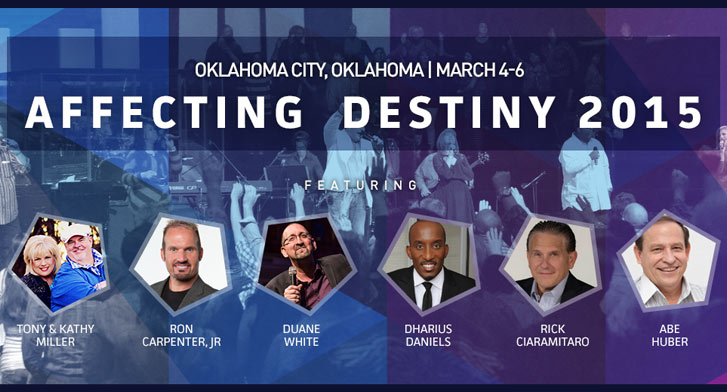 Affecting Destiny is a national and international gathering of pastors and leaders that will be held at The Gate Church in Oklahoma City, OK, March 4-6, 2015.  The conference inspires, equips and challenges church leaders who are committed to a conviction that Spirit-empowered ministry holds a relevant and significant place in the life of the modern church.
There is a resurgence, a movement of churches committed to focusing on and pursuing the presence of God and the power of the Spirit, which leads to transformed lives, communities, cities and nations.  Leaders across the nation recognize it's not time to abandon the roots and heritage of Pentecost and Spirit-filled ministry, but to embrace a fresh move of a Holy Spirit outpouring in the 21st Century.
Filled with anointed and inspirational preaching, as well as practical training, church staffs and leadership teams benefit greatly from attending Affecting Destiny.
This year's conference includes speakers with a variety of areas of specialization.
Bishop Tony Miller – Senior Pastor of The Gate Church, apostolic leader of DNI and founder of Destiny World.
Rick Ciarimataro – Leader of OBFF, an apostolic network of churches in Canada.
Dharius Daniels – Pastor of Kingdom Church, a dynamic ministry with multiple campuses in New Jersey.
Abe Huber – Pastor of one of the largest and fastest growing cell churches in Brazil.
Ron Carpenter, Jr. – Senior Pastor of Redemption, a thriving, multicultural, multisite church in Greenville, SC.
Register today at www.affectingdestiny.com