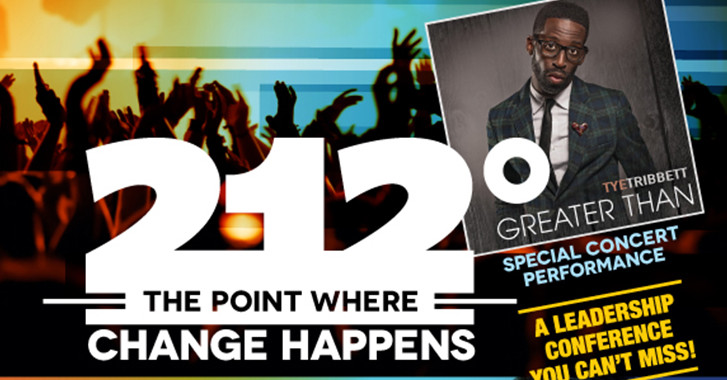 Apostle Ron Carpenter Jr., founder and pastor of Redemption Church in Greenville, S.C., is excited to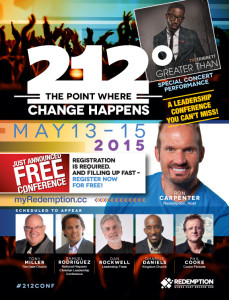 announce Redemption's Annual 212° Leadership Conference, May 13-15. The 212° Conference is all about "The Point Where Change Happens." As water boils and changes state at 212 degrees, so personal and leadership transformation can happen in the right environment of increased exposure, experience, and impartation. As an international kingdom leader, Apostle Ron's passion is that every person be empowered to totally fulfill their destiny, and impact their domain in the kingdom of God to become  "…on earth as it is in heaven."
Apostle Ron will challenge conference participants to become all they are created to be, and do all they are purposed to do, in all areas of their kingdom influence as leaders. He will be joined by other kingdom change agents including international leadership developer, Bishop Tony Miller of The Gate Church, Samuel Rodriguez, director of The National Hispanic Leadership Conference and Time Magazine's "100 Most Influential People In The World", Dan Rockwell, a corporate leadership guru referred to as "The Leadership Freak," and recognized in the "Top Fifty Leadership and Management Experts in America", Pastor Dharius Daniels, a cultural architect, innovative leader, and pastor of Kingdom Church, and Phil Cooke, a Hollywood producer, and a master of media and marketing.
Redemption's leaders will also share very practical Change Sessions to enable and empower kingdom implementation and maximum impact in a variety of marketplace, church, and parachurch environments.
Apostle Ron has waived the previously announced registration fees in order to make it possible for maximum participation and kingdom impact. However registration is still required and is filling rapidly, with a maximum capacity of 5,000. Register now at www.myRedemption.cc.