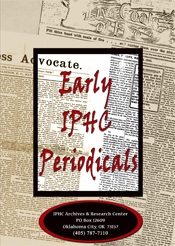 The IPHC Archives & Research Center is proud to announce the release of the eighth edition of our Early IPHC Periodicals disc. This DVD contains most of the early periodicals published by the IPHC. Each new edition of this DVD brings expansion as rare periodicals are located. The major addition in 2009 was the Live Coals of Fire (1899-1900). More recent additions include Apostolic Evangels, Holiness Advocates and the Way of Faith.
The 2015 revised edition adds IPHC Experience (2004-2013) and 19 issues of Pentecostal Truths. Pentecostal Truths was published in Hong Kong by Pastor Mok Lai Chi between 1908 and 1917. This important paper gives new insight into the start of Pentecostalism in China and the role played by early IPHC figures including Bishop J.H. King, T.J. McIntosh, Daniel Awrey, and Anne Deane, among many others. The translation of the original Chinese texts of 15 issues was done by Dr. Connie Au. Rev. Robert Yeung translated the 4/1909, 11/1914, 3/1915, and 4/1917 issues.
If you would like to order a copy of the Early IPHC Periodicals DVD, please call us at (405) 792-7158 or you may order online by visiting https://iphc.org/gso/home/archives/store/.